Happening / 7 champions, 7 sessions, 1 web-karate day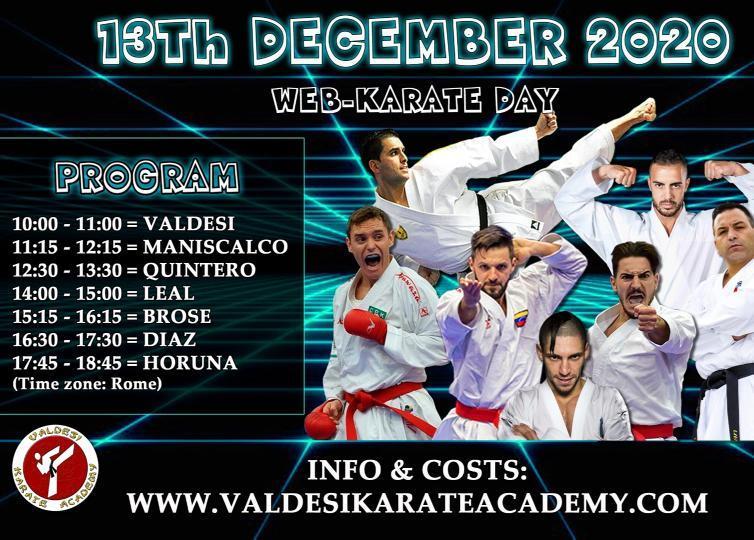 Save the date ! On Sunday, December 13, 7 great Kumite and Kata champions will each give an 1 hour class online. From 10 AM, Valdesi, Maniscalco, Quintero, Leal, Brose, Diaz and Horuna will follow one another to offer a unique day. This is the Web-karate day created by Luca Valdesi, the three-time Kata World champion. An event not to be missed.
By Ludovic Mauchien / Photo : DR
---
It's Christmas before time ! This Sunday, December 13, 7 great champions will offer 1 hour of online lessons, a unique experience initiated by Luca Valdesi. « I organized several competitions on the web in recent months », says the three-time Italian World kata champion. « money went to charity for COVID emergency. This time, I decided to organize a seminar with 7 champions to give more motivation to karatekas ».
3 Kata champions, himself, Damian Quintero of Spain and Antonio Diaz of Venezuela, as well as 4 Kumite champions, Italy's Stefano Maniscalco, 2006 World champion, Spain's Ivan Leal, 2000 and 2002 World champion, Brazil's Douglas Brose, 2010 and 2014 World champion, and Ukraine's Stanislav Horuna, the multiple European and World medalist qualified for the Tokyo Olympics, will take turns during the day.
Each will give 1 hour of class in English. Karatekas can register for all classes, 3 Kata sessions, 4 Kumite classes, or a single session with one of them. Schedule, cost and registration on www.valdesikarateacademy.com
Tags