European Games 2019 / Aghayev for a new record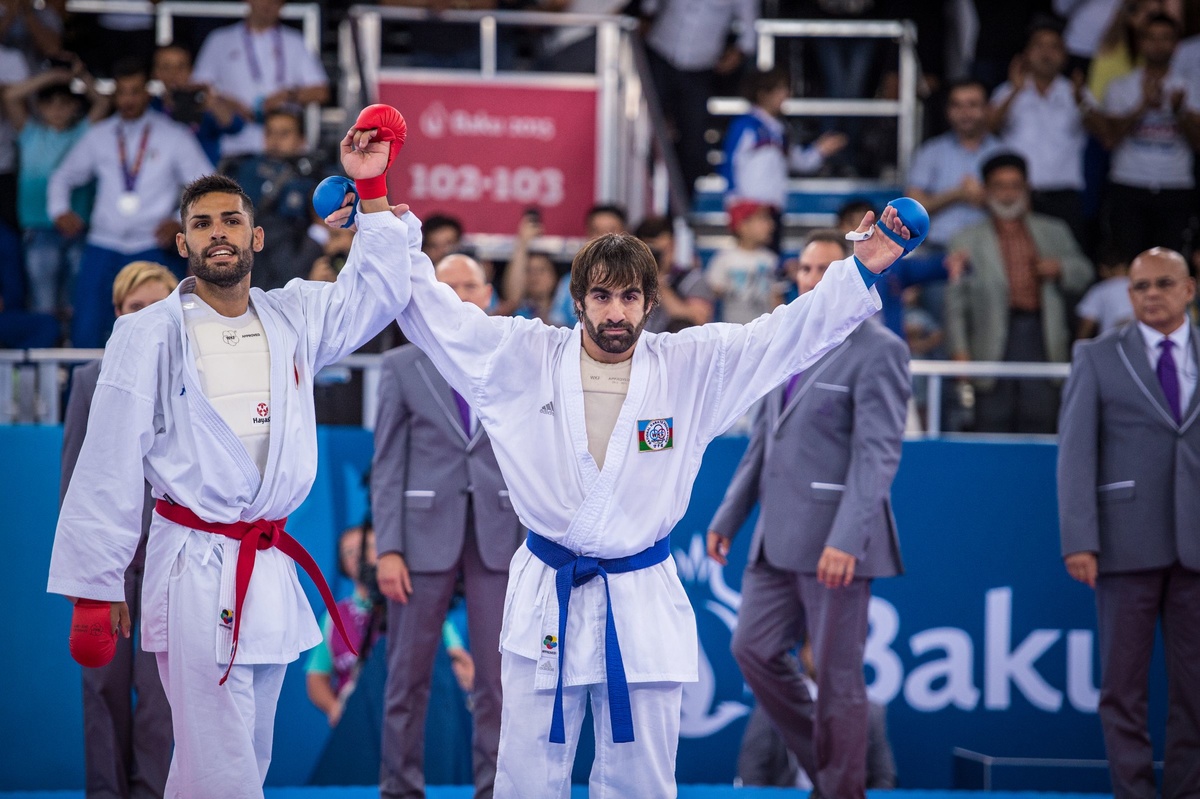 The final list of the athletes qualified for the 2nd European Games in Minsk (June 29-30 for Karate) was unveiled yesterday. 8 athletes are registered per category, the top 6 in the World ranking plus one chosen by IOC and one athlete from the host country. In 2015, in Baku, Azerbaijan finished 1st nation ahead of Turkey and France. Aghayev, Uygur, Farzaliyev, Ozcelik, Zaretska, Quintero and Sanchez Jaime will try to keep their title.
By Ludovic Mauchien / Photo : Kphotos
---
-60 kg
1 Evgeny Plakhutin (RUS)
2 Angelo Crescenzo (ITA)
3 Emil Pavlov (MKD)
4 Eray Samdan (TUR)
5 Firdovsi Farzaliyev (AZE)
6 Kalvis Kalnins (LAT)
7 Ilya Bulatau (BLR)
8 Bogdan Gogolosi (ROU)
Will Farzaliyev, winner in 2015, succeed to himself ? The challenge is high with the presence of the World champion and European runner-up, Italy's Crescenzo, and Turkey's Samdan, bronze medalist at the European championships, the two big favorites of the event.
2015 : 1. Farzaliyev (Aze). 2. Maresca (Ita). 3. Pavlov (Mkd)
-67 kg
1 Rafiz Hasanov (AZE)
2 Mario Hodzic (MNE)
3 Stefan Pokorny (AUT)
4 Luca Maresca (ITA)
5 Burak Uygur (TUR)
6 Yves Martial Tadissi (HUN)
7 Artsiom Krautsou (BLR)
8 Jess Rosiello (BEL)
In the absence of the World N°1, World and European champion, France's Steven Da Costa (he will participate in the K1 of Shanghai but will be forfeit for the European Games), the bets are open. Burak Uygur, the 2015 winner, is back in shape (finalist in Rabat). But beware of Tadissi and Maresca, finalist in -60 kg in 2015.
2015 : 1. Uygur (Tur). 2. S. Da Costa (Ita). 3. Aliyev (Aze)
-75 kg
1 Luigi Busa (ITA)
2 Rafael Aghayev (AZE)
3 Joe Kellaway (ENG)
4 Stanislav Horuna (UKR)
5 Gabor Harspataki (HUN)
6 Erman Eltemur (TUR)
7 Ivan Korabau (BLR)
8 Pavel Artamonov (EST)
Guess what ?! The final of the 2015 European Games was between Rafael Aghayev and Luigi Busa, as at the last European championships. The Azerbaijani, motivated as ever when it comes to fetching a title, will again try to break his record of international titles. Luigi Busa, recent European champion, and Stanislav Horuna, winner in Rabat, do not hear it that way, neither Turkey's Eltemur, 3rd in 2015, and Hungary's Harspataki.
2015 : 1. Aghayev (Aze). 2. Busa (Ita). 3. Eltemur (Tur)
-84 kg
1 Ugur Aktas (TUR)
2 Anton Isakau (BLR)
3 Nikola Malovic (MNE)
4 Valerii Chobotar (UKR)
5 Farouk Abdesselem (FRA)
6 Michele Martina (ITA)
7 Ivan Kvesic (CRO)
8 Alvin Karaqi (RKS)
3rd in 2015 (the only survivor of the podium), World N°1, reigning European champion, Turkey's Aktas is the great favorite for gold. But he will be wary of the World champion, Croatia's Kvesic, and especially, Ukraine's Chobotar, World runner-up and in great shape.
2015 : 1. Mamayev (Aze). 2. Tzanos (Gre). 3. Aktas (Tur)
+84 kg
1 Jonathan Horne (GER)
2 Slobodan Bitevic (SRB)
3 Asiman Gurbanli (AZE)
4 Gogita Arkania (GEO)
5 Alparslan Yamanoglu (TUR)
6 Andjelo Kvesic (CRO)
7 Aliaksei Vodchyts (BLR)
8 Tyron-Darnell Lardy (NED)
Only two titles still escape Germany's Jonathan Horne. The Olympic one of course and the European Games one. Finalist in 2015, the World champion and World n°1 has made of this European Games a goal. It will be necessary to be in great shape to shut him the road.
2015 : 1. Erkan (Tur). 2. Horne (Ger). 3. Nestorovski (Mkd)
Kata
1 Damian Quintero (SPA)
2 Ali Sofuoglu (TUR)
3 Mattia Busato (ITA)
4 Ilja Smorguner (GER)
5 Enzo Montarello (FRA)
6 Roman Heydarov (AZE)
7 Aliaksei Tarashkevich (BLR)
8 Silvio Moreira (AND)
The 2019 final may look like the 2015 one. Quintero vs Busato, the two best European kata men of the moment with Turkey's Sofuoglu, finalist at the European championships. Busato, 3rd at the Worlds and the Europeans, appears a little behind them. In any case, another podium than this one would be a surprise, as a defeat of Quintero, the World runner-up and European champion.
2015 : 1. Quintero (Spa). 2. Busato (Ita). 3. Yakan (Tur)
WOMEN
-50 kg
1 Sophia Bouderbane (FRA)
2 Bettina Plank (OST)
3 Serap Ozcelik Arapoglu (TUR)
4 Shara Hubrich (GER)
5 Kateryna Kryva (UKR)
6 Nurane Aliyeva (AZE)
7 Mariya Koulinkovitch (BLR)
8 Katarina Susac (BIH)
Finalists in 2015, Turkey's Ozcelik and Austria's Plank appear as the two favorites of the event. World N°1 and silver medalist at the World championship, Ozcelik remains on 5 podiums in a row (including 3 wins). World n°3 and European runner-up, Plank hopes to conquer her first title since 2015 (European champion). France's Sophia Bouderbane, European champion last March in Guadalajara, could well play spoilsports.
2015 : 1. Ozcelik (Tur). 2. Plank (Aut). 3. Recchia (Fra)
-55 kg
1 Jenny Warling (LUX)
2 Tuba Yakan (TUR)
3 Amy Connell (SCO)
4 Anzhelika Terliuga (UKR)
5 Dorota Banaszczyk (POL)
6 Jana Bitsch (GER)
7 Irina Sharykhina (BLR)
8 Ivet Goranova (BUL)
Only thing which is certain, the podium will be completely renewed compared to 2015. Ukraine's Terliuga, World n°1 and winner in Rabat, seems to have a step ahead of her opponents. But the World champion, Poland's Banaszczyk, Turkey's Tuba or Germany's Bitsch can also claim victory.
2015 : 1. Thouy (Fra). 2. Kovacevic (Cro). 3. Gasimova (Aze)
-61 kg
1 Merve Coban (TUR)
2 Tjasa Ristic (SLV)
3 Anita Serogina (UKR)
4 Gwendoline Philippe (FRA)
5 Jovana Prekovic (SRB)
6 Cristina Ferrer Garcia (SPA)
7 Anastasiya Dzyachkova (BLR)
8 Bettina Alstadsaether (NOR)
Turkey's Coban, World n°2 and European champion last March, and France's Philippe, World n°3, 9 medals in 11 international competitions (except Worlds and Europeans), are the favorites of these European Games. Ukraine's Serogina, 3rd of the last Worlds, and Serbia's Prekovic, World n°6, get ready to surprise everybody.
2015 : 1. Ignace (Fra). 2. Coban (Tur). 3. Lenard (Cro)
-68 kg
1 Alizee Agier (FRA)
2 Elena Quirici (SWI)
3 Silvia Semeraro (ITA)
4 Irina Zaretska (AZE)
5 Halyna Melnyk (UKR)
6 Miroslava Kopunova (SVK)
7 Maryia Aliakseyeva (BLR)
8 Katrine Pedersen (DEN)
This is certainly the most open category. 4 athletes can claim the gold medal. The victory should not escape the World champion and defending EG champion Zaretska of Azerbaijan, France's Agier, European champion last March, Switzerland's Quirici, World n°1, or Italy's Semeraro.
2015 : 1. Zaretska (Aze). 2. Buchinger (Aut). 3. Rakovic (Mont)
+68 kg
1 Laura Palacio Gonzalez (SPA)
2 Eleni Chatziliadou (GRE)
3 Titta Keinanen (FIN)
4 Clio Ferracuti (ITA)
5 Anne Laure Florentin (FRA)
6 Meltem Hocaoglu (TUR)
7 Katsiaryna Martynouskaya (BLR)
8 Hana Antunovic (SWE)
Turkey's Hocaoglu, 3rd at the European championships and winner in Rabat, seems to be in excellent shape. But the World champion, Greece's Chatziliadou, even Spain's Palacio Gonzalez, European champion last March, and France's Anne-Laure Florentin, are on the ranks to get gold.
2015 : 1. Martinovic (Aze). 2. Hocaoglu (Tur). 3. Zaytseva (Rus)
Kata
1 Sandra Sanchez Jaime (SPA)
2 Viviana Bottaro (ITA)
3 Dilara (Bozan) Eltemur (TUR)
4 Alexandra Feracci (FRA)
5 Jasmin Juettner (GER)
6 Veronika Miskova (CZE)
7 Maryia Fursava (BLR)
8 Patricia Esparteiro (POR)
Who can beat the World champion and multiple European champion, Sandra Sanchez Jaime, on the Old Continent ? Sincerely... nobody. Except huge accident, the Spanish will succeed to herself on the records. The suspense is complete for the other two accessits.
2015 : 1. Sanchez Jaime (Spa). 2. Scordo (Fra). 3. Bozan-Eltemur (Tur)
Tags