K1 Dubai / Da Costa, Ozcelik and Philippe see double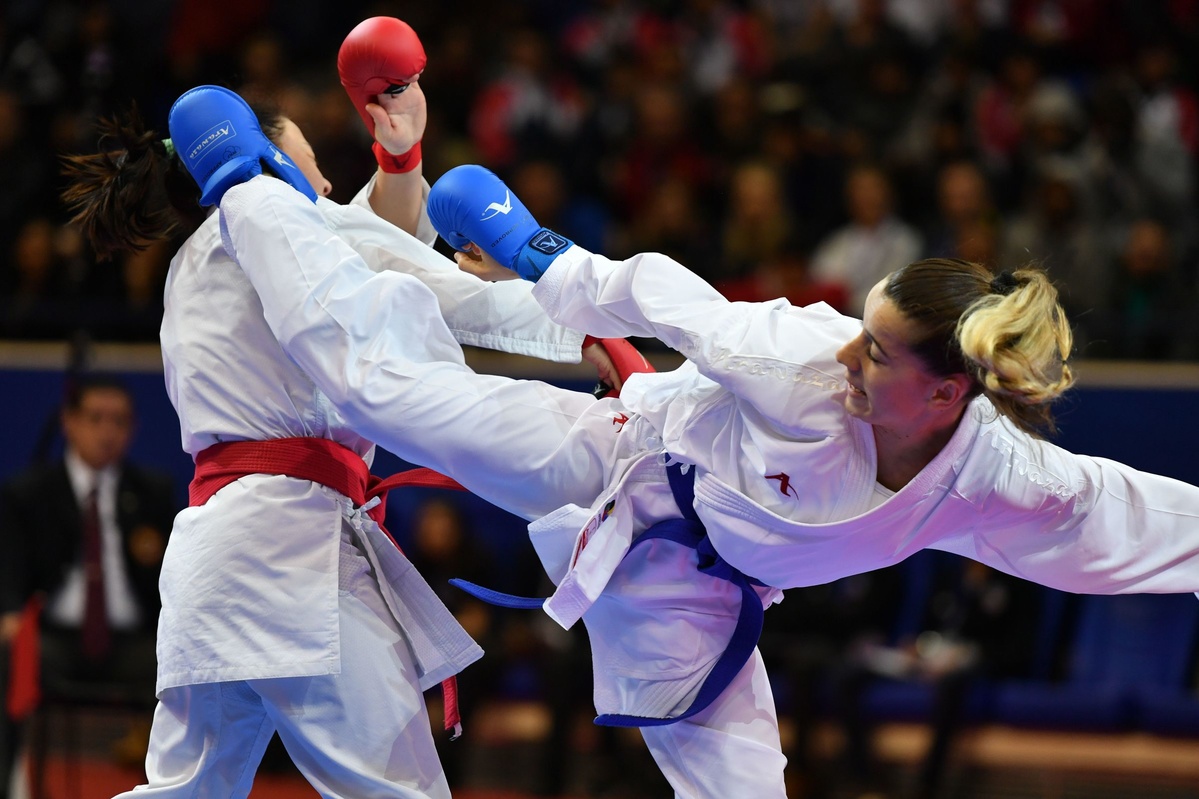 France's Steven Da Costa (-67 kg) and Gwendoline Philippe (-61 kg), as Turkey's Serap Ozcelik (-50 kg) won their 2nd Premier League of 2019 in Dubai (February 15-17) after the Paris one. In Kata, Sandra Sanchez Jaime beat once more (after the World's) Kiyou Shimizu. Terliuga (-55 kg) was beaten by Tzu-Yun Wen in the final. Aghayev (-75 kg) is still on the podium with his bronze medal. All the results and podiums.
By Ludovic Mauchien / Photo : K-photos
---
Female
-50 kg
Final : Ozcelik (Tur) b. Kryva (Ukr), 7-1
Bronze : Salama (Egy) b. Hubrich (Ger), 4-0
Bouderbane (Fra) b. Tsukii (Phi), 0-0
-55 kg
Final : Tzu-Yun Wen (Tai) b. Terliuga (Ukr), 4-3
Bronze : Kumizaki (Bra) b. Khaksar (Irn), 3-0
Chalaki (Irn) b. Elshafi (Egy), 1-0.
-61 kg
Final : Philippe (Fra) b. Lotfy (Egy), 0-0
Bronze : Alipourkeshka (Ira) b. Coban (Tur), 3-0
Jumaa (Can) b. Videla (Chi), 2-2
-68 kg
Final : Abdelaziz (Egy) b. Zaretska (Aze), 2-1
Bronze : Agier (Fra) b. Tang (Chn), 4-0
Rakovic (Mne) b. Buchinger (Aut), 2-0
+68 kg
Final : Florentin (Fra) b. Ferracuti (Ita) , 5-2
Bronze : Harvey (Eng) b. Aboulyazed (Egy), 4-3
Okila (Egy) b. Mohamed (Egy), 1-1
Kata
Final : Sanchez Jaime (Spa) b. K. Shimizu (Jap)
Bronze : Bottaro (Ita) b. N. Shimizu (Jap)
Iwamoto (Jap) b. Ono (Jap)
Male
-60 kg
Final : Assadilov (Kaz) b. Minami (Jap), 4-0
Bronze : Alpysbay (Kaz) b. Crescenzo (Ita), 6-0
Samdan (Tur) b. Hassanniaideilami (Irn), 1-1
-67 kg
Final : S. Da Costa (Fra) b. Amirali (Kaz), 3-3
Bronze : Mirzaei (Irn) b. Pokorny (Aut), 7-4
Derafshippour (Irn) b. Alkhathami (Ksa), 10-7
-75 kg
Final : Asgari (Irn) b. Busa (Ita), 2-0
Bronze : Scott (Usa) b. Asiabari (Irn), 9-3
Aghayev (Aze) b. L. Da Costa (Fra), 3-0
-84 kg
Final : Aktas (Tur) b. Fadakar (Ira), 2-1
Bronze : Abdesselem (Fra, Arles) b. Koike (Jap), 8-4
Poorshab (Ira) b. Hasanov (Aze), 1-0
+84 kg
Final : Kagawa (Jap) b. Filali (Fra), 5-2
Bronze : Ganjzadeh (Ira) b. Pshenitsyn (Rus), 6-1
Daikhi (Alg) b. Horne (All), 0-0
Kata
Final : Kiyuna (Jap) b. Quintero (Spa)
Bronze : Shimbaba (Jap) b. Yuhei (Jap)
Busato (Ita) b. Arata (Jap)
Tags