Madrid 2018 / Horne, Da Costa, Chatziliadou, Aghayev…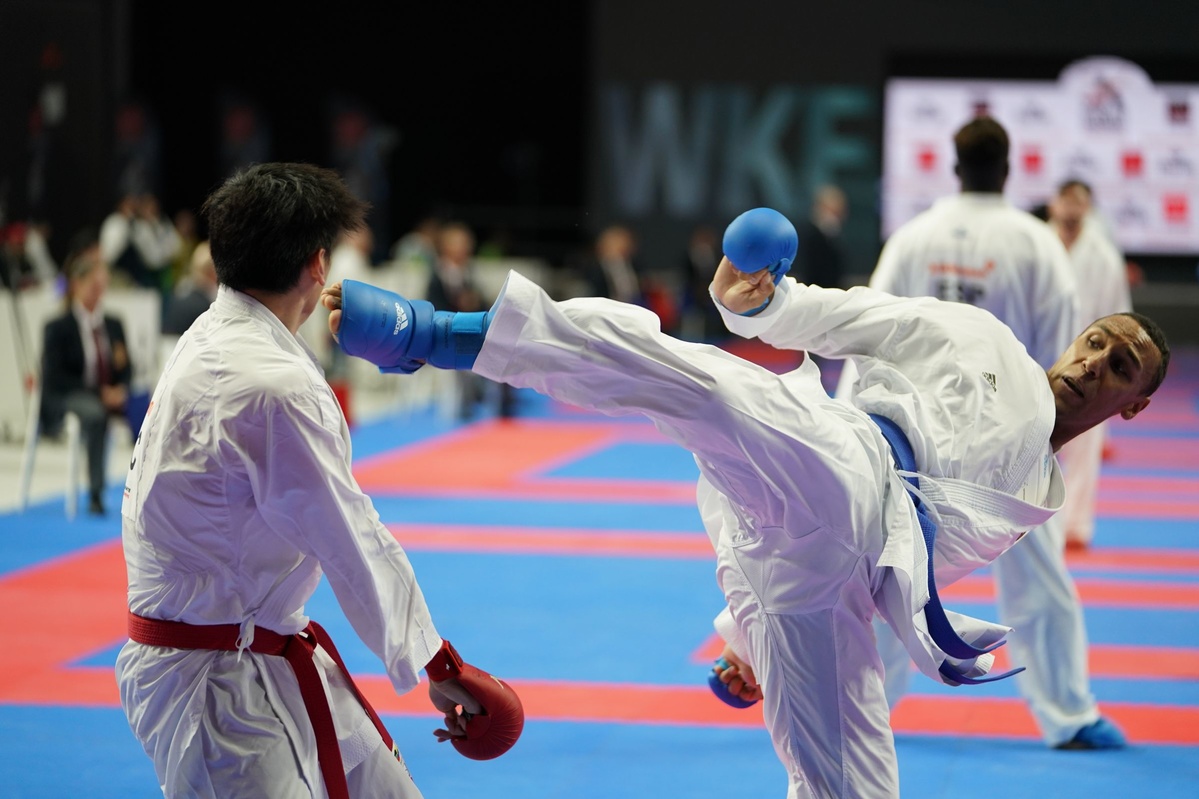 The World championships in Madrid have just ended. Some favorites are too. Many have missed. One of the consequences is that the nice stories have not failed. The fresh and sparkling gold medal Dorota Banaszczyk and Eleni Chatziliadou, the title and the superb finale of Steven Da Costa, the Ushiro Ura Mawashi of Horne for his first coronation, the bronze of the master, Rafael Aghayev, the excellence of Bunkaï Japanese and fighters of the French team, sacred world champions ... Woes and misfortunes, stats and anecdotes of the 1st World « Olympic » (November 6-11). To snack !
By Florian Fournier and Ludovic Mauchien / Photos : KPhotos
---
Our crush : Horne World champion !
By winning in Madrid, he made his childhood dream come true, he loaded off his mind and he will not end his career trapped in a broken dream. He has released and positioned himself in the most beautiful way for his new goal since 2016 : to win Olympic gold in Tokyo.
At 29, Germany's Jonathan Horne has (finally) become heavyweight World champion ! The champions of all nations came to congratulate him, seeing in this title a logic finally rewarded. Very appreciated by his peers, the five-time European champion had been waiting for it since 2008 and his bronze in Tokyo. In Madrid, nothing seemed to happen to him. In a 5-2 final win against Sajad Ganjzadeh, Iran's reigning World champion, Jonathan Horne scored a fabulous Ushiro Ura Mawashi Geri Jodan. The German team's captain is now more than ever a favorite for the Olympic gold.
The delight : Da Costa-Figueira's final
They had never been opposed. Steven Da Costa and Vinicius Figueira (-67 kg) will remember their first fight for a long time. Undoubtedly, the most beautiful final. Two great champions matched but only one coud be winner. Their fight was full of intensity and ingenuity, suspense and overthrow. It was very high level ! On the Brazilian side, Mawashi geri jodan for 3-0, Mawashi chudan for 5-3, on the French one, sweep for 3-3, Ura Mawashi geri jodan, his special, for 6-5. Steven Da Costa, 21, is World champion !
The technique : Horne's Ushiro Ura Mawashi geri
He dared it ! In the World championships' final against the defending champion, Iran's Sajad Ganjzadeh. He who had not brought back World medals since his bronze in 2008, each time caught up by his demons. Finally, in Madrid, Jonathan Horne is in the final. And what does he attempt ? An Ushiro Ura Mawashi Geri ! Ippon ! 5-2 ! World champion ! A shot in the dark ! Congratulations Jonathan Horne ! A great champion's attitude !
The best fighter : Steven Da Costa
Only 2 points conceded before the final, in round of 16 against Spain's Cuerva. A superb victory in the final that will remain in the annals. A performance, shared with Brazil's Vinicius Figueira, which has marked the history of Karate. A World champion title at only 21 years old. Frenchman Steven Da Costa has been elected best fighter of the competition by the fans. A totally deserved award. This world title is his 7th international gold medal, his 2nd one in Seniors after his European title in 2016.
In the quarterfinals, he dominated his compatriot William Rolle, engaged with Cameroon (1-0) and then defeated the Iran's Derafshipour in ½ final (2-0). Great job !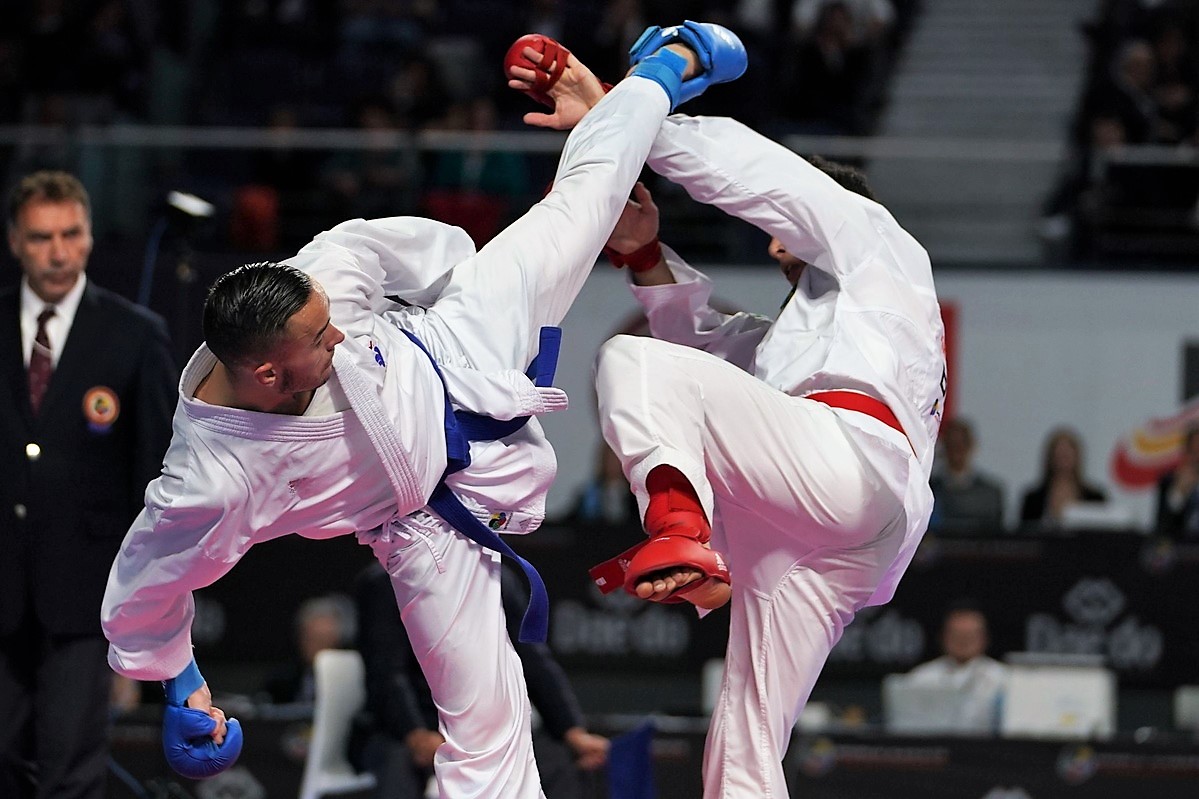 Steven Da Costa, -67 kg World champion in action.
The fantastic epic : Dorota Banaszczyk
She was 50th in the World ranking before the Madrid event. She's 21 years old. She became World champion ! Nobody saw her coming, she herself did not believe her eyes. For her first Seniors championships, Poland's Dorota Banaszczyk (-55 kg) has won all her fights as if nothing was happening. Fresh and bubbly, she simply dazzled the world with her fantastic epic. Until then, her only fact of glory was a 3rd place at the U21 European championships in 2017.
In Madrid, she beat Sara Cardin, the 2014 World champion, in the ¼ finals (1-0), then Japan's Yamada in the semi final (0-0) before dominating Germany's Jana Bitsch in the final (2 -0). Each time, against all odds. Well done Miss !
The inspiring story : Eleni Chatziliadou
Bad luck ! In her category, there is Ayumi Uekusa, 25 wins in 27 competitions before these Worlds. The untouchable superstar beat her two years ago in the Linz Worlds' final. But this time, the sympathetic and empathetic Greek, Eleni Chatziliadou, took her revenge. At the age of 25, she became World champion (+68 kg), dominating Ayumi Uekusa (3-0) without a blow. Congrats !
Rafael Aghayev : 1 bronze, 7 world medals
Of course he had come to Madrid for something else. Rafael Aghayev only swears by gold, only feeds himself with victories, goes forward only to be the best. So, obviously, a 3rd place can not satisfied him. Yet, he was less grumpy than usual in defeat. He did everything to win the title. It was then out of question that he misses the bronze, his 7th world medal with his 5 titles and his silver in 2012. Once more, it is Italy's Busa who deprived him of gold, this time in ½ final (2-1). But, for bronze, Otabolaev saw nothing, especially not the Kizamis of our friend (2-1). All in all, the goal is fulfilled for the Caucasian fighter. With his 5 Premier League podiums (3 wins), his European championships title and this 3rd place, Rafael Aghayev has concocted a comfortable mattress for the trip to Tokyo. He can let the storm come a bit to better set sail at the right time.
The perf' : 5th consecutive final for the French female kumite
The composition of the team can change, the result is always top level for the French Kumite Women team. Apart from Leila Heurtault, who was playing her 3rd World final, neither Lea Avazeri, nor Andrea Brito and Laura Sivert had yet participated to a World championship. So what ?... Led by an excellent Heurtault, the French women were masterful. The Swiss champions in the 1st round (2-0), the Egyptian 2014 World champions 2014 in the semi-final (2-1) and, to complete the masterpiece, the Japanese champions in the final (2-0), nobody resisted them. The average age of the team ? 21 years old !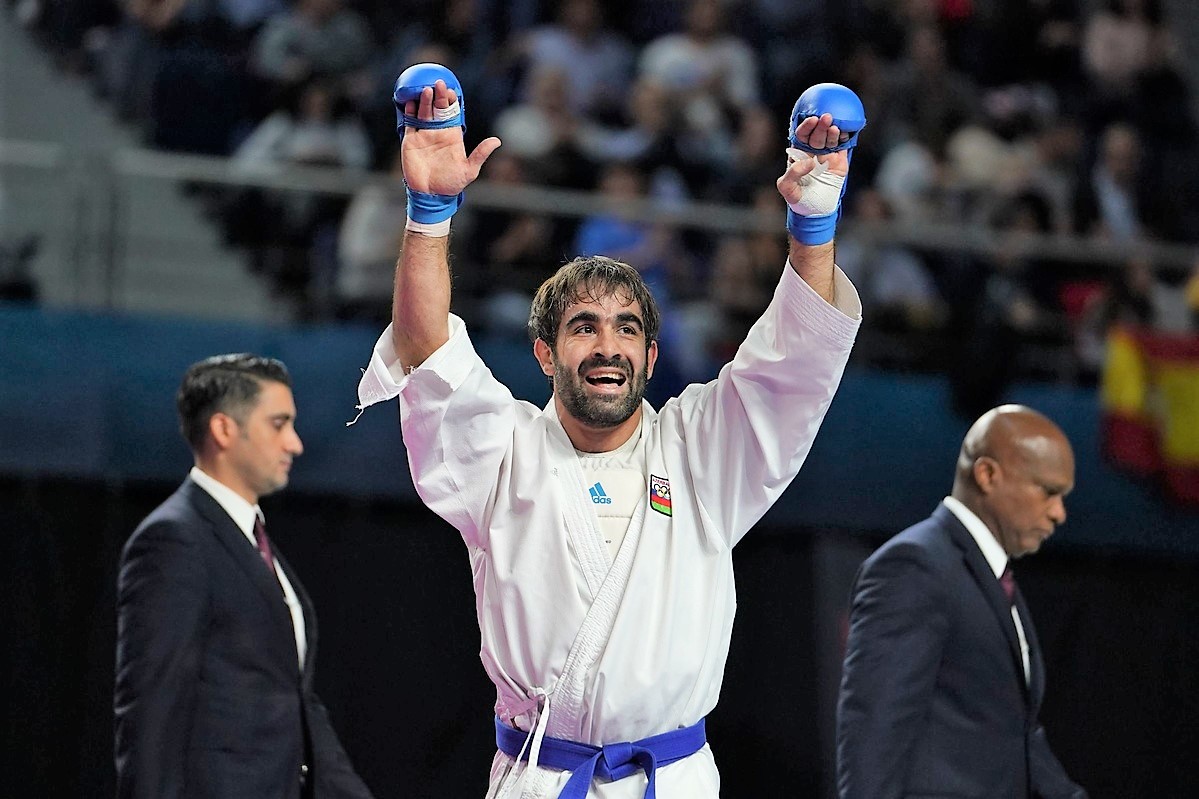 Rafael Aghayev won hte bronze medal, his 7th World one !
Martial grace : The Japanese Kata
They manage to mix modernity and martiality in all partiality. They bring the modern sports touch while maintaining the traditional technical edge. When they perform a Bunkai, one recognizes the Kata, its history and its evolution (which does not always happen).
First, there is King Ryu Kiyuna, titled for the 3rd time in a row. Simply untouchable, only touched by grace ! His female alter ego, Kiyou Shimizu, has lost her final against Spain's Sandra Sanchez Jaime, but she hasn't lost her grace.
The best is yet to come. Excellence has dazzled the audience with Japanese kata teams. The men (Arata, Kimura, Kiyuna) and the women (Ishibashi, Taira, Mugiyama) have logically won. It will be hard to dislodge them from their cloud.
1998-2018 : Antonio Diaz again in ½ final
He is 38, played his first World championship in 1998, has played against Mickael Milon and Luka Valdesi on numerous occasions, was Kata World champion in 2010 and 2012. Before Madrid, Venezuela's Antonio Diaz won 9 medals in 9 World championships in a row. In Madrid, he qualified again for the ½ finals (!). Defeated by Spain's Quintero (5-0), he lost again in the bronze medal match against Turkey's Sofuoglu (5-0). 20 years after Rio, Antonio Diaz did not say his last word.
The chef's surprise : William Rolle
Frenchman William Rolle, the 2014 World champion, has not played any international competition since his title, except for the adidas Open two weeks ago (win). In the wake of it, Cameroon contacted him. This is what we called a last-minute registration. In Madrid, he was for a long time the first to score, as in the good old days, Ura Mawashi geri in profusion (6-3, 4-0...). At 33, he did not lose his superb, just in front of the future winner, the... French Steven Da Costa (1-0). In the repechages, William Rolle reclines in a questionable way against the Spain's Cuerva (5-3). Without a coach, he did not have the help of the video replay. It might have changed the course of his story. A 4th world medal, after bronze in 2008 and 2012, and gold in 2014, would not have mismatched his coat of great champion.
The Japanese annoyance : Sandra Sanchez Jaime
This is her... 33rd medal in a row ! 33 K1 and championships podiums ! But there was one that she had not touched yet : the World gold medal. It's done. In front of her audience, Sandra Sanchez Jaime dominated Japan's Kiyou Shimizu in the Kata final (3-2). World N°1, K1 Grand Winner, 4-times European champion, she won the only title that she was missing. World Champion ! But, in two years, Shimizu will be at home...
The love story : Luigi Busa and his marriage proposal
We have seen him very few in recent months. This is certainly why he was one of the few favorites not to quickly disappear. On the contrary, Luigi Busa played his 4th World finals in Madrid (2nd in 2010 and 2016, 1st in 2012) ! But the Italian fighter had to bow to Iran's Asgari (1-0).
Luigi Busa also, and especially, distinguished himself by his romanticism. At the hotel, in front of the whole Italian team, he asked in marriage his sweetheart, Laura Pasqua (-61 kg). May happiness accompany them !
The failures, a surprise ?
They are plenty of them ! There are many favorites' failures. Is this the sign of change due to the Olympic era ? Financial means are flowing more and more, professionalisation is emerging... Example : Sergei Bubka finances up to 3 M€ the Ukraine's team until the Olympics. Or, is it the multiplication of competitions (almost one per month) which had not allowed a long and specific preparation ? Do strategies set up for the Olympic deadline meet their first limits ? For sure, many favorites from every country failed.
Statistics : Japan, Iran and France
 12 individual categories, 11 new World champions. Only Japan's Ryu Kiyuna in Kata managed to retain his title.
 They won 2 medals : Ryu Kiyuna (2 gold), Bahman Asgari (2 gold), Sajad Ganjzadeh (1 gold, 1 silver), Zabiollah Poorshab (1 gold, 1 bronze), Ayumi Uekusa (2 silver), Ken Nishimura, Yamanoglu and Ugur Aktas (1 silver, 1 bronze), Giana Lotfy and Abouel Yazed (2 bronze).
 6th consecutive title for the Japanese women's Kata (new team), undefeated since 2008.
 3rd title in a row for Japan's Ryu Kiyuna, Iran in Kumite (Asgari and Ganjzadeh each time, Poorshab in 2016 and 2018).
 2nd consecutive title for the Japanese men's Kata (same team : Arata, Uemura, Kiyuna), the French female kumite team (only Heurtault was there in 2016).
 5th final in a row for the French women's kumite team. Of the 4 girls, only Leila Heurtault had already participated in the Worlds.
 3rd final in a row for France's Leila Heurtault, Japan's Ryu Kiyuna and Iran's kumite team. 2nd in a row for Miyahara (2nd in 2016, 1st in 2018), Chatziliadou (2nd in 2016, 1st in 2018), Uekusa (1st in 2016, 2nd in 2018), Quintero (2nd in 2016 and 2018), Ganjzadeh (1st in 2016, 2nd in 2018), Spanish male Kata team (2nd in 2016 and 2018).
 1st World title for Sanchez Jaime (Kata), Miyahara (-50 kg), Banaszczyk (-55 kg), Prekovic (-61 kg), Zaretska (-68 kg), Chatziliadou (+68 kg), Crescenzo (-60 kg), S. Da Costa (-67 kg), Asgari (-75 kg), Kvesic (-84 kg), Horne (+84 kg).
Countries : Is Japan so good ?
There are two ways to analyze a ranking : from the quality standards or from the quantity's point of view. It all depends on the way we look at high level ?... What is high performance ? To win ! What makes the nations' ranking in the Olympics ? Gold medals. In high level sport, the important thing is to win, to focus on quality over quantity. Look at Turkey : 6 medals, but 1 gold only, means a very unusual 12th place for them.
What is the very high performance ? To not give the choice to interpretation, cumulate quantity and quality. Only Japan (10 medals including 4 gold) and Iran (7 medals including 2 gold) did it. In the quality game, France has itself been very successful. 2 medals, 2 golds and a 3rd place in the ranking, behind Japan and Iran, ahead of Spain (6 medals, 1 gold), Italy (7 medals, 1 gold) and Germany (2 medals, 1 gold, 1 silver).
If we remove the team events and keep only the individual categories, ie athletes potentially concerned by the Olympics, Iran takes the lead with 5 medals (1 gold). Japan, with 4 medals cut (3 gold, 1 silver), demotes to the 2nd place. Germany, which keeps its 2 medals, takes the 3rd place ahead of Italy, losing 3 bronze (4 medals, 1 gold). Then come many countries with 1 gold medal.
If we remove Kata and only keep Kumite (8 categories over 10 at the Games), Iran wins 5 medals (1 gold), Japan only 4: Miyahara's gold, Naoto Sago and Ayumi Uekusa's silver, and Ken Nishimura's bronze. Far from the ambitions of the armada on its way to « its » home Games.
All the 2018 podiums : http://www.karate-k.com/en/sport/news/319-madrid-2018-japan-and-iran-ahead.html
Poland's Dorota Banaszcyk, -61 kg World champion.
Tags