The Machida, the Karatekas of Parà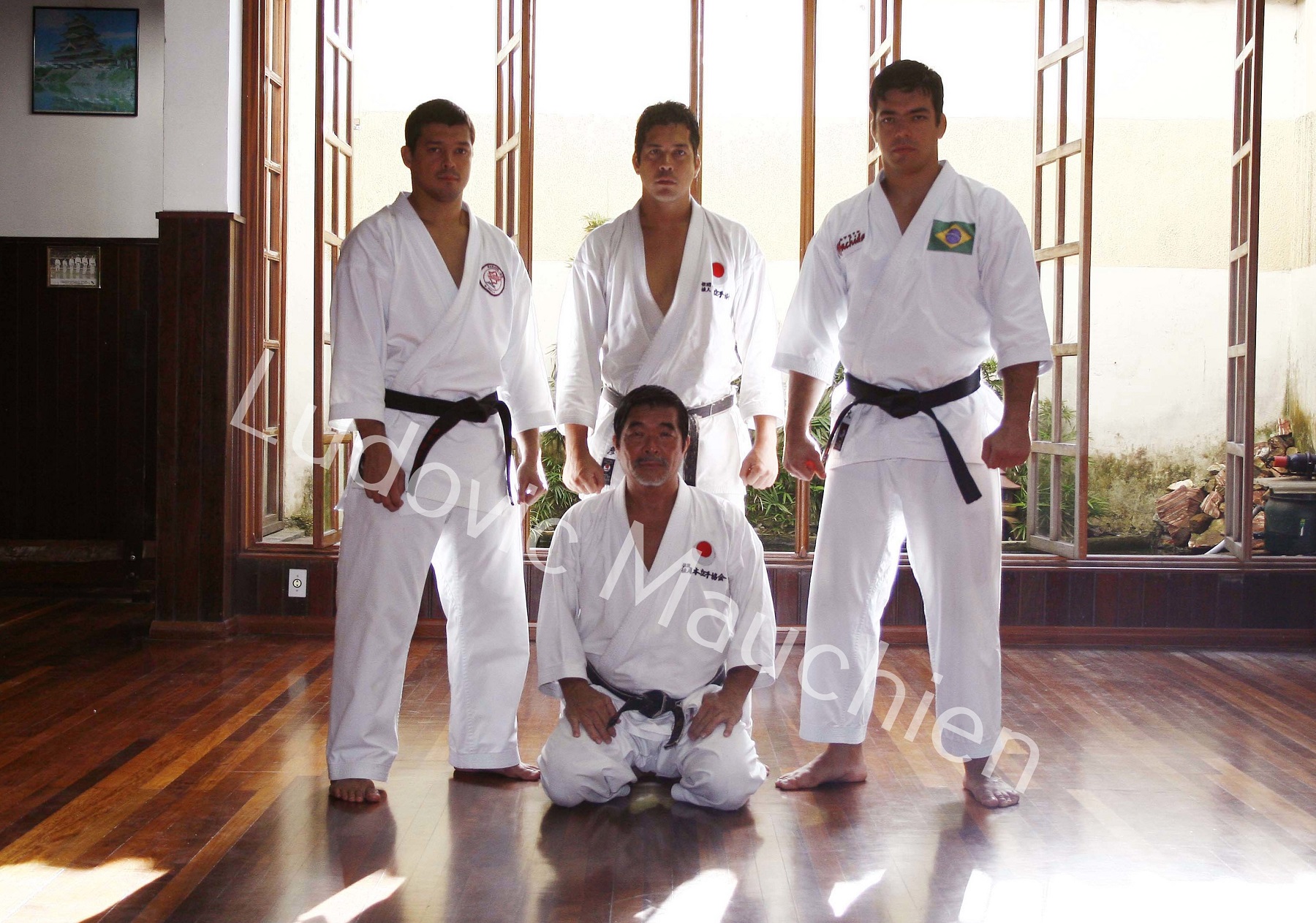 We all know Lyoto Machida, the UFC 94 kg belt holder, the international MMA star in Karate mode, unbeaten in 16 fights. But, in Belém, at the gates of the Amazon, he is the son of. In this case, Yoshizo, 7th dan, trained by the founders of JKA, arrived in Brazil at 22. He trained his 4 sons in Karate. We spent three days with the Machida family. Lyoto was preparing for his 2nd match against Shogun at the UFC 113...
Par Ludovic Mauchien / Photos : LM
---
[The idea: to offer a moment of escape, of dream, of travel in these times of lockdown. During my years as editor in chief at Karate Bushido, I had the chance to meet quite extraordinary people from all over the world, in India, in China, in Vietnam, in Japan, in Indonesia, in Brazil… I wished to share these meetings again. I do it on my personal FB but as this 4th one concerns Karate, I also publish it here. Episode 4: Brazil 2010.]

In Belém, life goes on peacefully in the shade of giant mango trees. A colonial city built in the 17th century, a city of 1.5 million people built at the mouth of the Pará river, it is the gateway to the Amazon rainforest. Some cobbled streets lead to the edge of the jungle.
Belém (pronounced Béléééém), in Northern Brazil, is also one of the gateways for Japanese immigration to Brazil. This is the city where Maeda landed at the dawn of the 20th century. It was in this city that the master of Judo taught his art to Helio Gracie, who then developed Brazilian Jiu Jitsu.
Absolutely ! This Portuguese fortress erected against pirates is the bastion of the Gracie dynasty. But today, it is mainly that of the Machida family. The father, Yoshizo, founded the APAM, the "Association Paraeis Artes Marciales", when he arrived in 1980. His 3rd son, Lyoto, was then 3 months old. Today, his Dojo has become an institution, his son an international star. In Belém, the champion is above all the symbol of success, the pride of the city.
We are diving in the bath as soon as the airport, with a young taxi driver. Just the name "Lyoto" as he is called here is enough to find the way. The first images of the city ? His victorious fight against Rashad Evans for the 94 kg belt in 2009, which the driver absolutely insists on putting in the DVD player (which replaces the car radio).
The APAM is located in one of the city's central arteries. Originally, it is a colonial house. Today, the building is brand new, restored from top to bottom thanks to the money earned by Lyoto.
« His life is punctuated by his pro fights at the UFC »
5 p.m., Lyoto Machida arrives in his brand new 4x4. With a large smile, he appears very friendly. "Tonight, I'm just going to do some physical ", he explains. "I have already trained this morning". 4 hours and a half. 3 hours of Karate with his father and younger brother Chinzo and 1:30 of Brazilian Jiu-Jitsu.
The atmosphere is quiet, cool. No pressure on the horizon. Only a bunch of kids train hard a few yards to look like their hero, without disturbing him. It's quiet, except for Lyoto, who chains the lifts at 160 kg, the jumps feet together and the supersonic strikes to the bag. In fact, the muscle scrub turns into a fairly extensive session of bodybuilding and cardio for 1:30 !
In this beginning of March, serious things have started for him. In two months, he will face Shogun again for the UFC 94 kg belt. "I totally focus on a fight 3 months before the date", he says. "But I keep it up all year long. I do not need to go on a severe diet because I monitor my weight. I never have more than 5 kg to lose. Three months before, the training intensifies and becomes more specific."
For the past few years, his life has been punctuated by his professional fights at the UFC. Now, he no longer gives lessons, unlike his father and his two brothers Hidetake and Chinzo (the 3rd is a journalist in Salvador). The latter focuses a lot on Lyoto's training. They are even inseparable. Chinzo is the warrior's coach, mentor, confidant and trusted man. Great technician, he was silver medalist at the JKA World championships in 2006 (Open category).
« My father keeps correcting my technique in Karate »
Yoshizo, the father, is absent for this weight training session. "He keeps correcting my technique but only in Karate. A few years ago, he refused to intervene because he did not want me to do MMA. But I still saw him looking out of the corner the way I worked", laughs Lyoto.
9:30 a.m. the next day. Today is sparring in Jiu-Jitsu and MMA. The sweat will be poured out on the 2nd floor. The ground floor is occupied by a small weight room and the superb Dojo with brilliantly weathered parquet. The 1st floor hosts a "high tech" weight room. The top floor is a covered terrace, in open air. This is the Jiu Jitsu hall.
Lyoto Machida will spare for 1h30, sometimes in a relaxed manner, sometimes more virile with three Brazilian sparrings. He doesn't say anything, he doesn't balk at anything. He listens. He performs. He works. In serenity, in tranquility. This is what his personality transpires, what his fights breathe. "It's important to realize that you leave a message during a fight. This message is expressed not only in words but also in attitude. It's the education of my father. A Samurai is ruthless in battle and remains courteous and polite".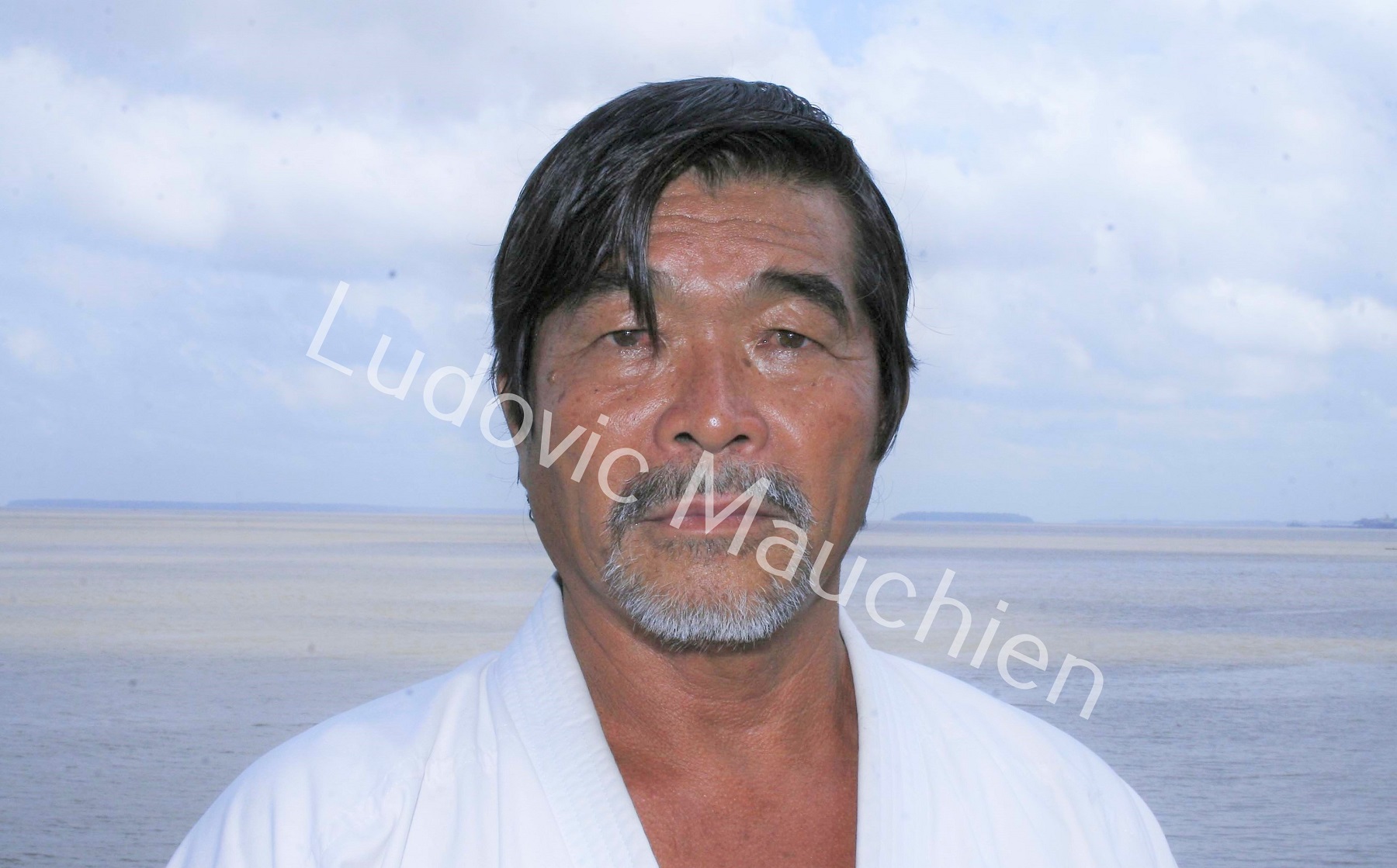 « In 1968, like in Karate, I had nothing in my hands », laughs Yoshizo
4 PM. Machida father is there. The man has an imposing personality. Trained by the legendary Kanazawa, Nishiyama and Sugihara, Yoshizo was Japanese champion in Kata and 3rd in combat in 1967. He was then 2nd Dan in Aikido and 3rd Dan in Karate. In 1968, at 22, penniless in his pocket, he decided to leave his native Japan for Brazil. Civil engineer, he worked in the heart of the Amazon rainforest before migrating to Sao Paulo, Salvador then Belém in 1980. 42 years after his departure, he is a laid-back man, full of humor, who always gave his first lesson in day at 6 AM and who is now 7th dan (JKA).
"My philosophy ? Trying everything !", smiles Yoshizo Machida, seated in the paved courtyard of the club, under the shade of a giant mango tree. "Look at the Academy. It's 30 years old. When I arrived in Brazil in 1968, I had $100 in my pocket. Like in Karate, I had nothing in my hands (he laughs). I started slowly. Buddies loaned me money. For ten years, I only worked, no Saturday, no Sunday, no vacation. In Bahia, before coming to Belém in 1980, I had 26 academies. The main one had 1,200 students. I started over when I got here. Today there are 600 students".
5 PM. The prodigal son arrives. A neighbor, an elder, comes to greet him and launches in a French tinged with Brazilian: "You'll see, Lyoto is a big child !". He is right. In stealthy moments, Lyoto Machida brings out a huge potential for humor. "Did it go well with my father ?", he asks, a bit curious. The answer is yes. A key has just turned. A door opened.
« There are 3 ways to approach Karate. I prefer Go No Sen »
Black belt at 13, Lyoto discovered UFC on TV as a teenager. It's the trigger. "I always wanted to be a champion. When I saw the UFC, I immediately thought it was for me." Already a Sumo amateur champion, which he has practiced for several years, Lyoto starts then Jiu Jitsu. He played his first professional cage fight in 2003. NJPW, Jungle Fight, K-1 Hero's… He had 8 wins in 8 fights when he got his chance at the UFC in February 2007. Since then, he has been unbeaten in 16 fights and won the -94 kg belt which he puts back into play in two months. For today, it's time for bodybuilding. The session is identical to that of the previous day, although a little lighter because, the next day, there is Karate at 6 AM.
"Our Karate has its origins in the Martial Arts, not in sport," he says. "It has old techniques that modern practice has forgotten : elbows, knees, take-downs... The approach, the philosophy is different from sports karate. But it's not Okinawa Karate either. It is the Karate that my father taught us, in the tradition, while having a hint of modernity, by adapting techniques to MMA, for example. But it's Karate above all, the Machida Karate. Then there are three ways to approach Karate : Go No Sen (counter-attack), Sen No Sen (anticipation), Yu No Sen (attack). My father and brother are quite offensive. I prefer Go No Sen."
« I drink a glass of urine. For us, it is a natural medicine »
6 AM on Friday. When he comes to the Dojo, Lyoto Machida has already devoted himself to two family traditions : 15 minutes of meditation "to improve my mastery of nervousness and anxiety" and a glass of his own... urine ! Myth or reality ? "Yes, yes, it's true," he replied bluntly. "My grandfather used to do it. My father does. It's a millennial practice. For us, it is a natural medicine. There is a lot of controversy about urinotherapy. Many studies have been done on the subject but have not been released to the general public. Big laboratories have no interest in it. I really believe in it. They are polyvitamins. I don't feel anything special except that my body is feeling better".
Yoshizo Machida leads the training. There are Lyoto, Chinzo and a few students, including a Frenchman who lives in Manaus and who regularly travels (2 hours by plane) to come train at the Machida Academia. "Yoshizo Senseï is a great teacher," says Marcel Arbona-Oliver. "He is sharp in fight and Karate analysis. We must not forget that he made Lyoto a regional Kata champion before he specifically turned to fight. Lyoto is doing us a big favor : he's one of the least hit UFC guys. The other fighters, it's a bit the one who will take the most and hold out the longest. The way he enters the cage, the way he fights, calmly and serenely... This is an example for all of us ! "
The fight, « a moment that belongs only to me »
An example of humility and discretion, who prefers shade to light. In the little free time he gives himself, he loves to enjoy his family, his 1,5 year daughter. Its own time ? "When I read. I always have a book with me even if, in preparation, I have much less time. I like champions' biographies. I'm still learning something. I realize that the path to success is always the same : you have to work and suffer a lot. I also read "The Art of War" by Lao Tseu and "The Treaty of Five Wheels (Gorin no sho)" by Samurai Miyamoto Musashi. What did I understand in Musashi ? The strength of mind, the desire to win. He did not win duels only with his talent.
He knew he had weaknesses but he managed to outdo himself thanks to his mental strength." Even in his spare time, he does not waste his time... As long as he is professional, all his thoughts will be oriented towards a single goal : the fight, "a moment that belongs only to me". One moment that he makes often unique.
« My training »
Monday and Wednesday
« I get up at 5 am. I train in Karate from 6 a.m. to 8 a.m. I finish the session in the bag. Then, with my brother Chinzo and sometimes my father, we watch combat videos. From 10:30 a.m. to 12:30 p.m., I train in Jiu Jitsu. I go home, take a nap, and come back around 6:00 p.m. for a 1.5-hour strength training session ».
Tuesday and Thursday
« I arrive at the club around 9:30 am I do sparring in BJJ and MMA from 10 am to noon. Lunch, nap and I come back around 5:00 pm either for a bodybuilding session or for a technical training in Karate of 1:30 ».
Friday
« I often train in Karate with my father at 6 a.m. I do 1:30 to 2 hours of sparring, quite relaxed. I stop at noon. At the end of the afternoon, I end the day with 40-45 minutes of combat-specific physical preparation. It's a dynamic and very intense session ».
Saturday
« This is the day for jogging and muscle stretching. I run 1 hour and work on my flexibility to optimize my reaction capacity ».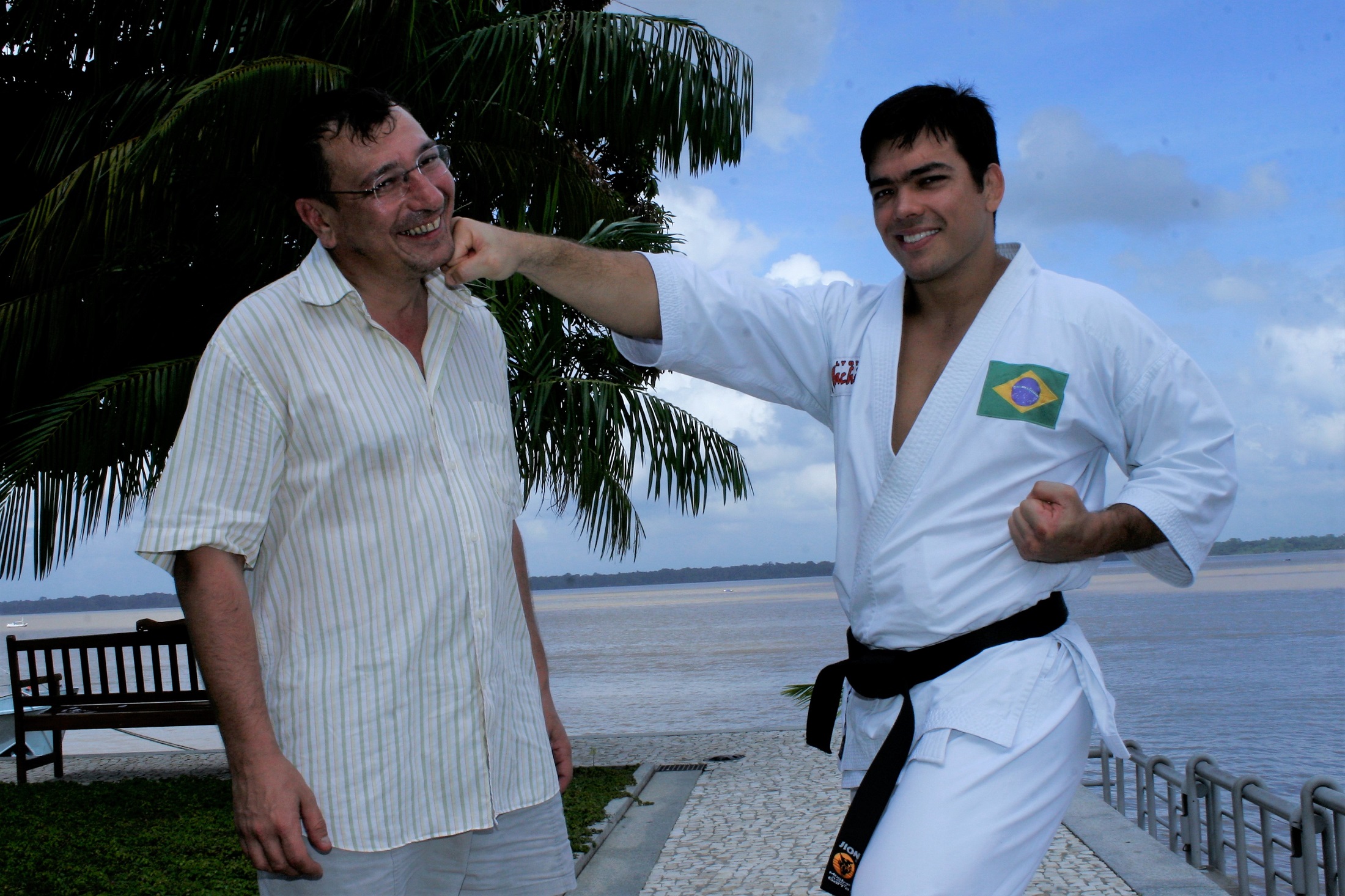 Extract from the article published in Karate Bushido n°384 (May 2010)
Tags