The Thomas family / « Hey, dad ! Today, I am not Willy's son. You are Jordan's father »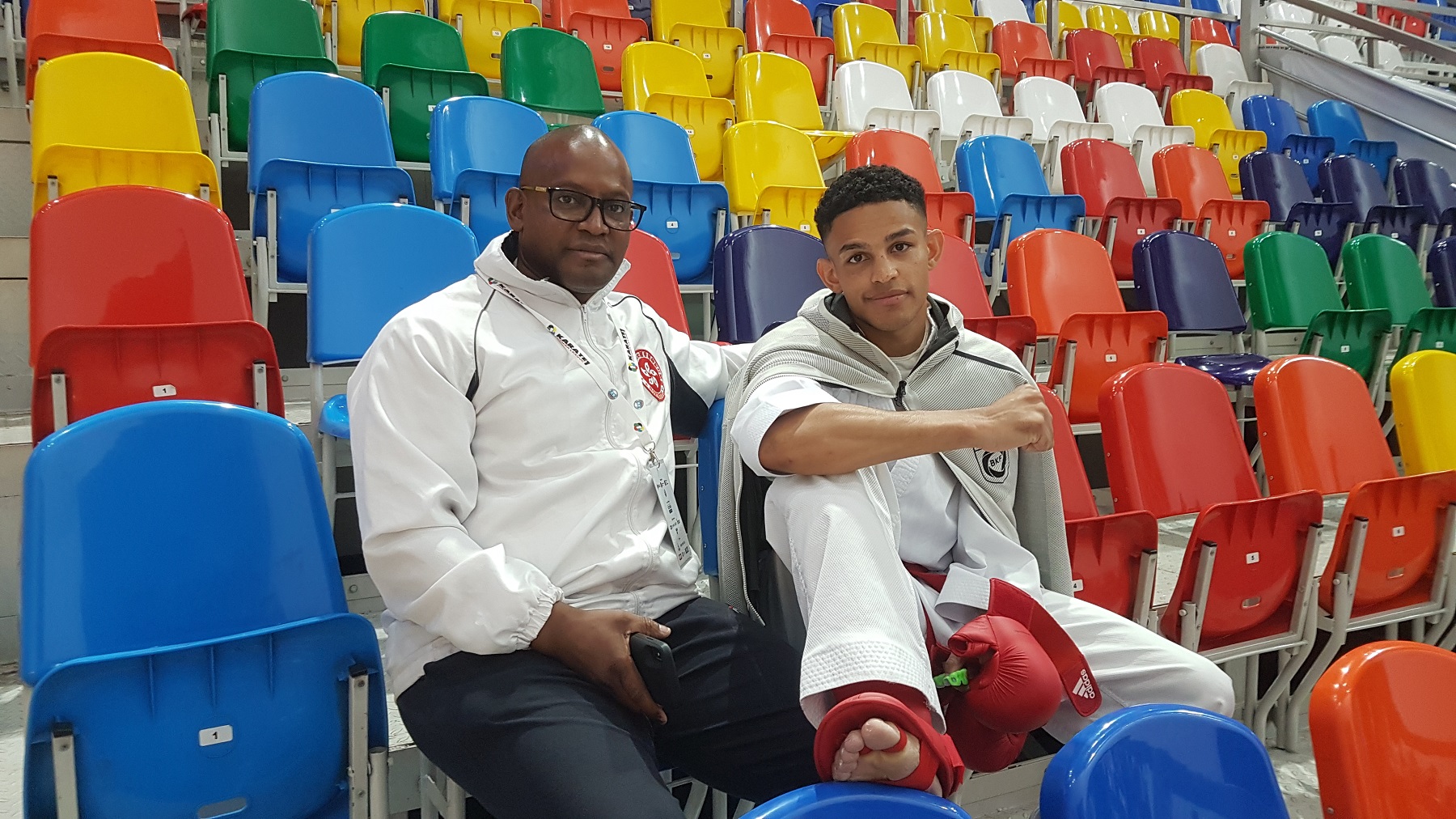 They are unique ! Never a father and a son both become World champions. William, in 1992, and Jordan, in 2014, did it ! And together, please ! Willy Thomas, scarer of the 80's and 90's, forged and then coached his son. This was not the goal, however, and before making him a champion, the father wanted his son to be a responsible man. if that was a champion's trade secret ?
By Ludovic Mauchien / Photos : LM / DR
---
He was only a few months old when his father became World champion in 1992 in Granada. At 5, he cried to accompany him to Karate lessons where he met his « uncles », Vic Charles, Wayne Otto, Ian Cole… Scarers of the 80's and 90's, multiple World champions in individual and team.
Jordan Thomas did not kill the father by imitating him. He magnified him. Like « Willy » has done with him for years. By becoming World champion in 2014, 22 years after his father, Jordan Thomas simply enhanced the work and education of his father. A bond guided by absolute mutual trust. William wanted his son above all to become a respectable and well-educated man. Jordan exceeded his father's expectations by sticking to the family motto : « if somebody tells you that you can't, that means I must »...
TO BE A WORLD CHAMPION'S SON
Jordan : « Wayne Otto, Vic Charles, Ian Cole… my uncles »
« As an athlete, before my World title, it was a lot of pressure. There were always eyes on me, like « this is Thomas's son. Let's see how he is good »…
As a son, as he was the man of the house, I looked up to him so much. And people that he brought around were my role models, Wayne Otto, Vic Charles, Ian Cole and so on, so forth. They are like my « uncles ». That's why I wanted to go so much to his Karate classes. I can't remember a time that I didn't want to do Karate. I just wanted to be involved. I was very passionate from an early age. For me, it was just a normal thing to do.
I grew up watching his videos. I used to beg him to get his videos and I took them to watch the « oldies ». I call them like that (he laughs). All these guys made the way. It's my history. They are my role models. So I used to watch in bed England vs France and I know the history behind that. For me, that was a massive motivation and this is why I probably still here today. Every single day, I used to watch a video he made when he won the World championships with highway to hell from ACDC. I remember me thinking : « I want to be on the stage ». I always wanted to be like him. Then, I crossed over to be a man. He taught a boy how to catch a fish, he fed him for life ».
TO BE A WORLD CHAMPION'S DAD
William : « His education was the key thing, to bring him up »
« We had a joke : before he made his titles, he was the son of Willy Thomas. Then, when he won the World title and we were walking to the anti-doping, he told me : « today, you are Jordan Thomas' dad » (he laughs). I said : « I am proud to be ! ».
But I never pushed him to be a champion. He has more than goals, he has interest. Karate happens to be his interest. We always encourage that. He always knew me as a World champion since he was born the year I won. So he grew up in the environment.
At home, we talked about normal family things but, with Jordan, Karate was a lot of the talking. Even as young, he was very enthusiastic. I used to coach every night of the week and he would insist to come every time. I was saying : « please, stay home, play video games or something ! ». He would cry to the point I would say : « Okayyy, you are coming ». So we spoke about Karate a lot. Besides, we talked about normal things.
His education was the key thing. We focused on his development through the stages, on bringing him up, making sure that he closes up to be a good man. When he got 16, he went to an athletic sporting academy where he could study and train. From there, he went to a basketball academy, where he continued his studies while training as well. This rounded him as an individual and sport gave him good discipline for training, getting his body in good condition. So, he was almost training full time from the age of 16 ».
TO BE THE SON OF YOUR COACH
Jordan : « It was a good team work »
« As a student, I looked at him as a coach. He always allowed us to be individual. Every single one of his fighter is different. We all have individual aspect to our game, different ways. He has to coach every single one of us as an individual person. What we both want is actually being my own person. And it was a good team work. He kind of guided me to be my own person and to fight the way I needed to fight to make it. Today, he is the Hong Kong head coach. I would be stupid if I didn't listen to him ».
TO BE THE COACH OF YOUR SON
William : « If somebody tells you that you can't, that means I must »
« I always emphasize discipline, in all areas, to be able to stand alone with self belief. It doesn't matter if nobody around you believes that you can do it, that you can achieve this goal, as long as you believe, as long as you prepare, being strong in your mind, you could achieve this. I think that's the one thing that I catch up from my father. There is a signification that I say to my son that's my father told me : « if somebody tells you that you can't, that means I must ».
Jordan didn't compete for England until he was 19, because the focus was on development, on strategy, developing him technically, making sure his body was in a strong functional position. From that moment, for over one year, he didn't score one single point. When he came to 21 years, all of the strategy went from no points to scoring maximum points regularly. This was the start of when I knew that he could be someone special in the sport.
In Karate, I was known for the movement, the zigzag and the break. This is something that I did affectively and, maybe in my teaching this comes out, because I emphasize this. Not just Jordan but my fight tends to be able to break the line and have this particular skill in the movement. There is a couple of traits that come from me ».
WHEN YOUR SON BECOMES WORLD CHAMPION
William : « More memorable than myself winning »
« It's a unique moment, you know… ! I was coach so I had to be professional, just be conscious of how I am, my body language… It's difficult to be a parent and a coach, because, obviously, your hands are getting sweaty ! I can't show my nose as a parent.
At that time, nobody would have expected him to win both the European and World titles. And I think his performance in that World championship was probably was one of the best of all time, because he scored something like 37 points, and this against top world athletes. As a father, I was unbelievably proud.
There was a moment, before the final bell, I knew that he won it. Maybe during 2'45, I am focused, I am constructive, I speak when I need to speak, but I don't really have to say much because he knows what he is doing. 15 seconds on, I realized he was going to be World champion (he won 8-0 with 20 sec to go). That's when I started to get a little bit emotional. I lost focus, I took my glasses off. At that stage, I became a parent, when the realization of HIS dreams coming true, not mine. I always had the view : « I have got my titles so I am happy, either way. You need to get yours. This is your dream, this is your legacy now and enjoy it ».
In Karate, that has to be my proudest moment, probably more memorable than myself winning. I don't really care to remember my own competition days at this time.
I think it's more than dream and reality. For England, this was the 1st World champion for 12 years. To realize what he did on that day for England, it was just an amazing achievement. I am proud of that ».
WORLD CHAMPION WITH YOUR FATHER
Jordan : « I wouldn't have done any of this without him »
« (He laughs) We have been working for so long. I did karate since very young. A dream comes true for both of us. We worked so hard and it was nice to get something back. Everything I have done is he has investing himself.
I have to take on his knowledge. I have to believe in his way of coaching. He has got the knowledge and has got the magic to get me there. That's what made me successful because I listened and I believed in what I was doing, what he was teaching me what I needed to do. I wouldn't have done any of this without him. For me, the job is not done. I am still going forward. My dreams are still alive. Its name : the Olympic dream ».
THE FAMILY SECRET ?
William : « The journey we have is unique »
« I think the journey we have is unique. It's not a coaching model that can be repeated because the bound between us is very strong, the trust between us is very strong and the unique manner of how we achieved what we achieved is difficult to applicate.
When I left in 1997 to coach Hong Kong, there was a change in his results performances. This was obvious because you are taking away the strongest coach-athlete relationship that you can have. When you take away that key ingredient for an athlete at that level, that's the result.
As a coach, I had to go for my own dreams, my own ambitions. This is another lesson that I show him now, not as a coach but as a father, that you can be in your 50's and still have ambitions, still have dreams, still want to better yourself as an individual and professionally.
My hope is that he sees this and this is the message : « You don't shut off, you keep going, you just remodel yourself ». It's another page of our journey, another for him and for me ».
Jordan Thomas
Born in Luton in 1992
-67 kg
European champion in 2014 (3rd in 2016)
World Champion in 2016
His 2016 World final vs Tadissi (Hun)
https://www.youtube.com/watch?v=24WCAJhrztA
William Thomas
Born in 1965 in St-Albans (Eng)
-70 kg
European champion in 1986 (2nd in 1989)
World Champion in 1992 (2nd in 1990)
« Willy » in action vs Wayne Otto
https://www.facebook.com/1500641493596488/videos/1701818090145493/?v=1701818090145493
Tags