Karate Combat / Davy Dona : « It's a new challenge. I cannot wait… »
At 21 years old, in 2003, he was European Champion in -60 kg. At 32 years old, in 2014, he won the bronze medal in -75 kg, after having experienced three world campaigns (2006, 2012, 2014). At 36, in 2018, Davy Dona sets himself a new challenge : to shine in Karate full contact, he who was so often disqualified for... contact. This is for Thursday, July 28th in Athens, in the « Olympus » Karate Combat fightnight against England's Jerome Brown, in 3 rounds of 3. An approach totally different from what he has known so far. But he has prepared himself accordingly...
By Ludovic Mauchien / Photos : Denis Sekretev / Karate combat
---
Davy Dona is a colorful man, with a strong character and a tough Karate. European Champion in -60 kg in 2003 (WKF), 3rd of -75 kg in... 2014, his duels with Rafael Aghayev are in everyone's memory. The last one, at the 2017 Paris Open, was his last international appearance, punctuated by a disqualification for… contact. A symbol of his career as he has known so many of them.
Logically, inevitably, when Karate Combat appeared, Davy Dona could only be in. At 36, the French fighter will play his first game on Saturday, July 28th in Athens, during the third night of Karate Combat, called « Olympus », which will be broadcast on the UFC Fight Night pass).
Davy Dona will face Jerome Brown, his 13 years cadet, a southpaw 4 inches taller than him (6.2 ft for 5.8 ft). The Englishman, the 2011 Cadet European championships runner-up (-70 kg, WKF), already won by KO in Karate Combat. But Davy Dona is a warrior...
Karate Combat is a concept made for you, isn't it ?
(He laughs) Yeah, I think it's made for me ! In the past, we could see that I was rather a hitter (he laughs again). But we will have the answer on the 28th. In any case, with all the KOs that I could put in my career, all the contacts and disqualifications I had, the concept seems not bad.
You must look forward to fight ? Your excitement must rise...
Oh yeah ! I cannot wait. I look forward to be there. I got really well prepared. Since time, it is clear that I am excited to see what Karate full contact will be. It's a new experience, a new challenge. I am 36 years old, I finished all that concerns sports Karate. Even the Olympics did not really motivate me. It may be more for Lolita (his wife, 3 times WKF World champion) who will try to come back but I, as I was happy for the future generation, as it did not motivate me to go train, sweat and, ultimately, have no money.
« I WENT TO SAVATE/BOXE FRANCAISE, KICK-BOXING, ANS THAI BOXING CLUBS »
Do you feel the same sensations, the same pressure as for your previous competitions ?
It's totally different. When you practice Karate in the French national team, you go through selections, which are super stressful. After, as the tournament approaches, you do not know who you will fight because there is the draw. In Karate Combat, you know your opponent. You have one to beat and it's him. You are focused only on one person. You learn about his profile. You do not have to adapt to 5 or 6 types of Karatekas. It is different.
How did you manage your preparation ?
From the moment I signed my contract in October 2017, I got closer to champions of different full contact disciplines and I took two coaches who supervise my preparation, known in JJB and MMA. I started my preparation in the wake because I was scheduled to fight in Budapest, last February, but I injured my knee. Well, it's for this week...
I knew I was going to fight two months in advance. So you have enough time to make a good preparation. From the moment I got the date, we passed the 10th speed.
The preparation is necessarily very different than what you have known until now...
It has nothing to do ! It is an exhausting one. It's really difficult. I have to hit hard and not controlled my punches or kicks. I never got ready like that ! I train twice a day, 6 to 7 days a week, according to the training schedule set by my coaches. Except for a week when I did 3 trainings a day, it represents 4 hours a day. I can do 5 full days, then 1 or 2 days when I'm only going to run.
I have three separate trainings : a physical training class, a lesson with Pao and bear paw, and a sparring lesson. The last one can range from 10 sparring-partners where we turn coool to a sparring where we seek a KO.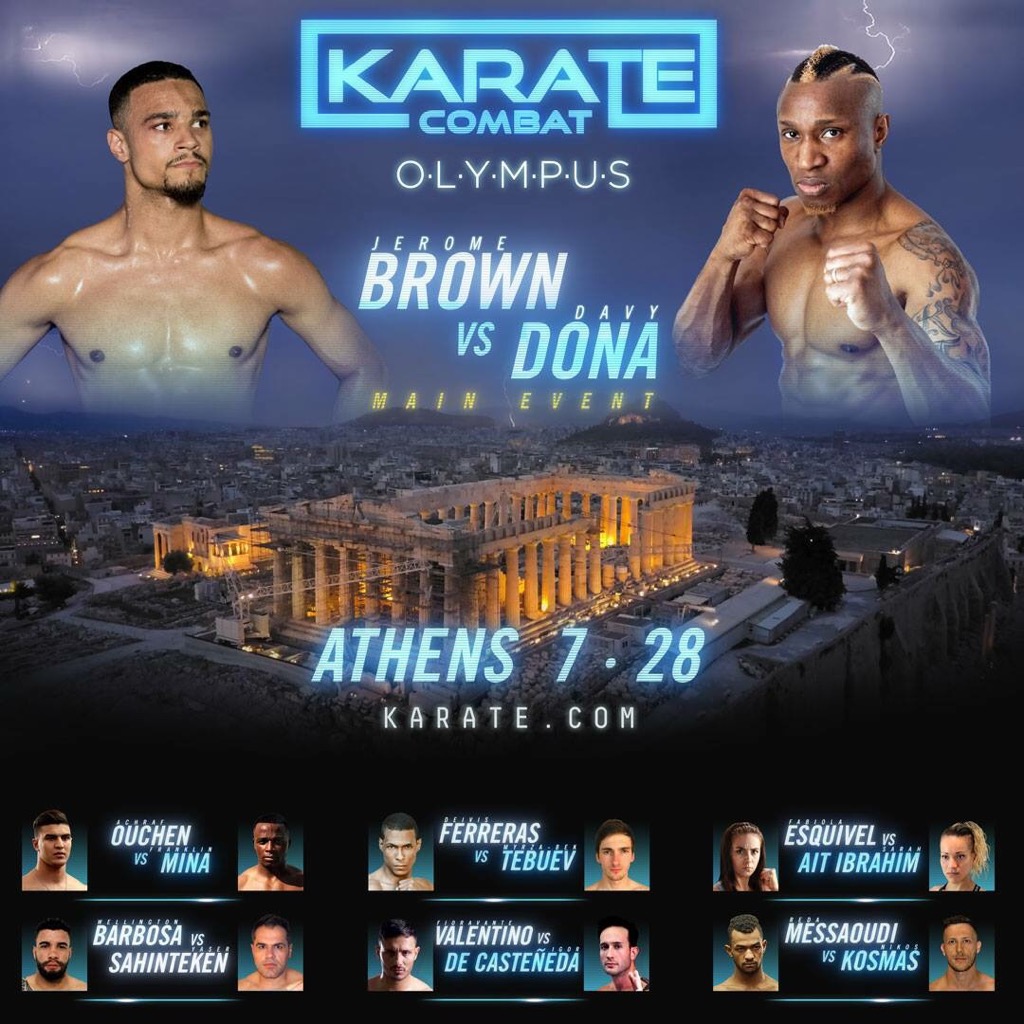 « OF COURSE, I KEEP TEACHING ! I GIVE CLASSES ALMOST EVERYDAY »
What was your sparrings' profiles ?
Some are relatively well known in the the French MMA community. David Bear, who made the UFC Contenders, Youcef Boumoula, Papou, Reda Oudgou... Then, I train in different places, in my club first, the Budokan Thiais with my students but I also went to some Savate/Boxe française, Kick-boxing and Thai Boxing clubs.
Have you worked specifically on your physical condition ?
Ah yes ! It has nothing to see. Sports Karate is split with many stops. The referee stops each time to award the points. While in Karate Combat, it's 3 rounds of 3 minutes, with 1 minute break between them. It is not at all the same physical condition. We hit full power ! It's not a controlled Karate but a KO one.
Considering the profile of your opponent, who is younger and taller, have you prepared someting specific ?
Yes of course. I had to adapt a lot ! He is 6.2 ft and I am 5.8 ft. Moreover, he's a southpaw. This guy has everything to piss me off (he laughs). Even though I am ambidextrous and use both legs in the same way, working on a left-handed person is something quite special.
I have just discovered him. I cannot remember him from traditional Karate. But he won his first fight by KO. So... It's good, it's good ! (he's laughing).
Do you still teach ?
Of course I do ! You must know that we are one of the best clubs in France, out of 4964. We have 450 students at the Budokan Thiais and 100 at King Karate in Villeneuve-le-Roi (near Paris). So, of course I keep teaching ! And I give classes almost every day.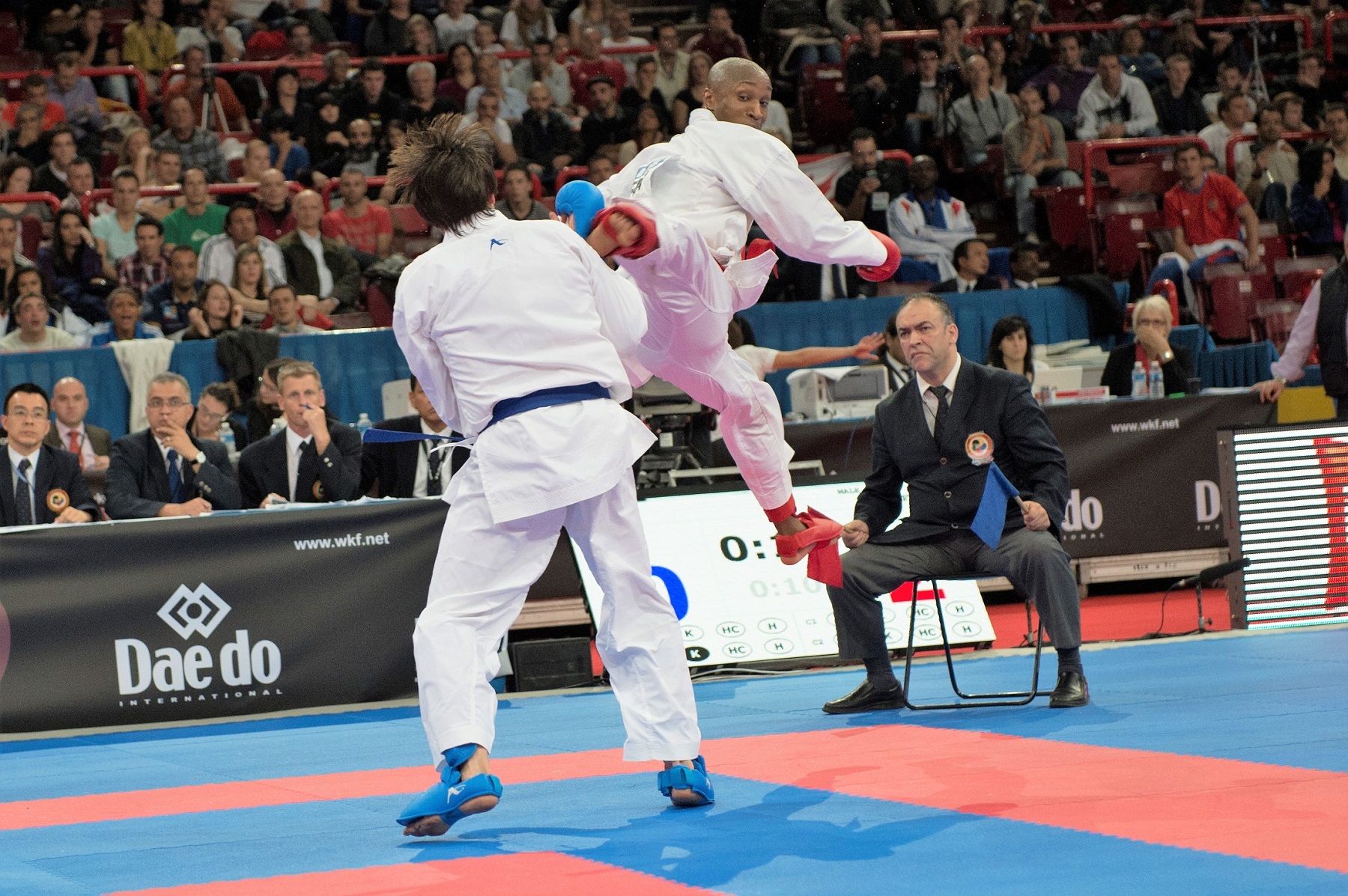 Davy Dona is spectacular and unpredictable.
Tags