Adam Kovacs : « We only want Karate guys »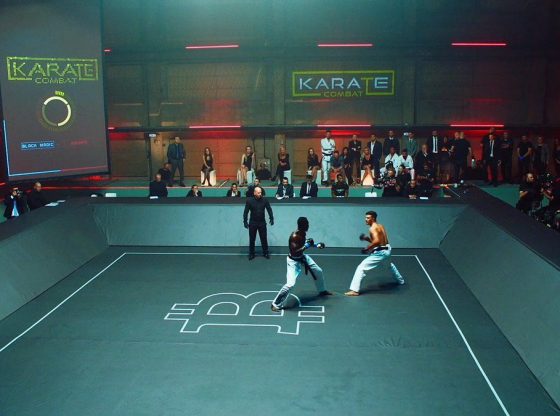 He is the technical director of the brand new professional Full Contact Karate League, « Karate Combat ». Hungary's Adam Kovacs, 37, three-times WKF world medallist, is one of the ambassadors of the US company, with Chuck Liddell and Bas Rutten. Upstream of the « Inception » event, scheduled in Miami on April 26th, he enlightens us on this projet that may revolutionize Karate worldwide : genesis, concept, bonuses, ambitions, champions, WKF… Hajime !
By Ludovic Mauchien / Photos : DR
Karate is on its way ! In 2016, the « Do » of Olympism emerged and the three shots will be given in Tokyo in 2020. In 2018, the path of professionalism, so many times attempted, as many times failed, sees a new attempt. Its name ? Karate Combat, the « First Professional Karate Full Contact League ». Its origin ? Made in USA. Its ambition ? « Elevating and promoting the sport of Karate Worldwide ». And if, this time, this League was the right one at the right time ?
The launch campaign in early April was masterful, as Americans are the only one to master, generating a great buzz. The concept ? An « old-fashioned » Karate designed for the 3rd millenium : fights in a pit, shirtless, with KOs. The rules ? (Re)-authorized traditional techniques : Kagi or Mawashi Tsuki (hook), Uraken Uchi (backfist), Ushiro Uraken (spinning backfist), Ashi Baraï (sweep), Tettsui Uchi (hammer punch), Takedowns…
Its inspiration ? Clearly the UFC. The bonuses ? In thousands of dollars. Its champions ? Many WKF top fighters running for the Olympics (!). Azerbaijan's Rafael Aghayev, five-time World champion (-75 kg) and Aykhan Mamayev, World n°1 (-84 kg), Iran's Zabihollah Poorshab, 3rd of the 2016 Worlds (-84 kg), Greece's Georgios Tzanos, a former European champion (-84 kg), Chili's Rodrigo Rojas, the 2016 Panamerican champion (+84 kg), Morocco's Achraf Ouchen, the 2015 U21 World champion (+84 kg)…
Adam Kovacs is the technical director of Karate Combat. Two times WKF World runner-up in 2004 and 2008 (3rd in 2010), winner of the 2009 World Games, the Hungarian Karateka introduces the Professional League.
What is the genesis of Karate Combat ?
It comes from the USA. The founders of the company which is behind the League thought the timing was really good to launch something in combat sports. In 2016, Karate became an Olympic sport and, the other thing is that the UFC had became really mainstream and was sold for 4 billions $. A Full Contact Karate League is something which is not present on the combat sports market. Karate doesn't have a major League like you have in MMA, in Boxing, in tennis… although the WKF (World Karate Federation) is trying with its Premier League. But the WKF is more on the amateur sport side. Our company have a different mindset on how to promote top athletes.
« FROM THE BUSINESS WORLD, WITH A SERIOUS BACKGROUNG »
What is the overall budget of Karate Combat ?
This is something I cannot talk about because, of course, this is a business secret. As you can see when you go to Karate.com, the founders of this League are not coming from Karate, but from the business world and with a serious background in Wall Street or in big companies. We are really stable and there are investors who are really interested in the company as well.
On the website, 16 companies are highlighted (BitCoin, Facebook, YouTube…). Are they all sponsors ?
Some of them are sponsors, some are partners. For example, we have different deals with the distribution channels like Facebook or YouTube. This is not only traditional sponsorship like they give money.
You know, the company didn't start when videos were released in early April. The guys started to work more than a year ago. All these deals and distribution channels were negociated earlier. As you can see on the website, we have Kim Hurwitz as chief marketing officer. She used to be marketing director for DirectTV, which is one of the biggest pay-per-view company for the US.
The next events are scheduled in Miami (April 26th) and Dubai (next June). If some people want to go there to watch the tournament, will it be possible ?
Miami and Dubai are invitational events only. You cannot just show up and try to get in. But you can watch it on live at karate.com, or on the distribution channels. At this point, a lot of things are under development.
In the future, there will some events for a bigger audience, even stadium events. But the League has to develop first. Now, we have the promotional licenses in the USA and we will have events in different parts of the world.
« RAFAEL (AGHAYEV) FOUGHT IN BUDAPEST AND, AFTER, HE WON DUBAI »
100 fighters from 30 countries up with Karate Combat. How did you choose them ?
There is a technical team within the company, who are experts, including myself as I was an athlete. But I don't want to mention their names at this point because they have other professional works and they are not willing to. But, trust me on this one, everybody is on the top of his game. We have top level coaches, top level referees, MMA experts as well. Everybody is very high leveled. We really try to find the best people available.
Putting all together the athletes names and also looking at rankings on Internet allowed us to see the top WKF athletes, the top Shotokan athletes and we still have had a lot of prospects who are not out there.
Many WKF champions running for Tokyo 2020 signed up. Do you think they can do both as the fight preparation is different ?
In the long term, of course, we don't know because this is new. But, what we see now is, for example, Rafael (Aghayev) fought in Budapest last February and, right after, he won the Dubai Premier League. To be a member of Karate Combat doesn't mean that you must only train this. People can have fights two or three times a year in Karate Combat and, of course, we will respect the WKF calendar and we won't mix the same dates.
For us, athletes are really, really important. If one is concentrating on a Premier League, a World or European championships, we will put him on a card at a date that may allow him to train two or three months and to focus more on the full contact aspect of the sport.
We really encourage all WKF athletes -we don't only have WKF guys- to go to the Premier Leagues, the Worlds and the Olympic qualifications because, for us, this is as important as for them. If this is good for them, this is good for everybody.
« OUR LEAGUE IS NOT AGAINST WKF. IT IS SOMETHING ELSE »
How do you think that the WKF sees Karate Combat ?
Well, I am not WKF so I don't know how they see it. They haven't come out publicly. One thing for sure, we met the WKF in its headquarters in Madrid last year, so this was not a secret for them. We are working towards a cooperation with them. But Karate Combat doesn't concern only WKF. This is a new sport and, of course, there are athletes who are superstars in WKF, but not yet superstars in the world of sports. This is what it is.
Myself, I was a WKF fighter. I have a lot of respect for WKF. Our League is not against WKF. It is something else, as you have in Boxing, you have amateur sports which go to the Olympics and you have professional sport which is on the entertainement side and business side as well. There is no competition between WKF and this new League from our side.
We are trying to put a product together which is not only good for people who are doing Karate but also for everybody else, really good to show on TV, on social media… I think this is also a good promotion for WKF because we can promote its best athletes not only in Karate but worldwide.
Tell us more about the rules. How last a fight ? What are the weight divisions ?...
A fight is 3 rounds of 3 minutes with 1 minute break between. In full contact, it's very difficult to make an open category. In the early days of the UFC, they did it but we are not willing to because we don't want to risk the health of the athletes. So, we have, at the moment, five male categories (-67 kg, -75 kg, -84 kg, -93 kg, +93 kg) and two female ones.
In the UFC early days, martial schools were opposed to each other. Does Karate Combat aim to confront karate schools and even some other full contact sports (ITF Taekwondo, Sanda…) ?
At this point, this is not the main thing for us. Mostly, what we are looking for is to have the toughest Karate guys in the world. We don't want to make comparisons between schools. We just want to have really good Karate fights and we look at Karate as one. So, first of all, we only want Karate guys.
It is a criteria for us that people should have Karate background, Shotokan, WKF, Kyokushin... We are looking for producing fights which don't look MMA, Kick-boxing or Muay thaï. So we want to keep long techniques, longer stance and we don't want close range fights. That's why we don't have knees, elbows or uppercuts. We want to keep it more in a traditional way, as you see Lyoto Machida or even Connor McGregor at the UFC, because the way he fights and he moves is very much like Karate style.
We want to keep it as close as Karate as possible so we only want Karate guys at first. At this point, we are not open to someone who is only coming from a MMA or a kick-boxing background.
« WE DON'T WANT CLOSE RANGE FIGHTS. WE DON'T HAVE KNEES, ELBOWS OR UPPERCUTS »
I have been told that the bonuses awarded are 5000 $ per fight and 17 000 $ for a KO. Can you confirm me those informations ?
This is not a precise information. Different guys have different contracts. There is no basic fare. It differs for athletes but everybody is looked after very well. They get paid very well. I am not saying the range you said is completely different but some people get less and some get more.
And, what we concentrate more is the fight of the night bonuses, so not that much on the KO although they could have bonuses for that as well. We first want excellent fights. If they end up in a KO, that's OK because this is a full contact sport, but these guys get paid even for showing up. It doesn't matter if they win or lose.
There are four Karate Combat Dojos around the world. What is their purpose ?
This is kind of a new sport. People want to start training for it. Now, it's a very limited number of Dojos but we are, everyday and every week, partnering up with existing and new Dojos, which can promote themselves as Karate Combat Dojos. What we are willing to do is to have, in every country, an option for people that want to train this aspect of Karate.
You are 37. What about fighting in Karate Combat ?
Look. I finished my career in 2013, in Budapest, when I got 3rd at the European championships. I am practising BJJ since 2011. I trained two to three times a week but I am not willing to fight for Karate Combat because I have businesses. And I am happy to do this and I feel OK on the other side now. If I can be part of something really great and if this is really helpful, not only for promotion and for business, something very good for athletes as I was myself a few years ago, then this would be very good for all.
Tags