Madrid 2018 / Rafael Aghayev, if he was stronger than ever ?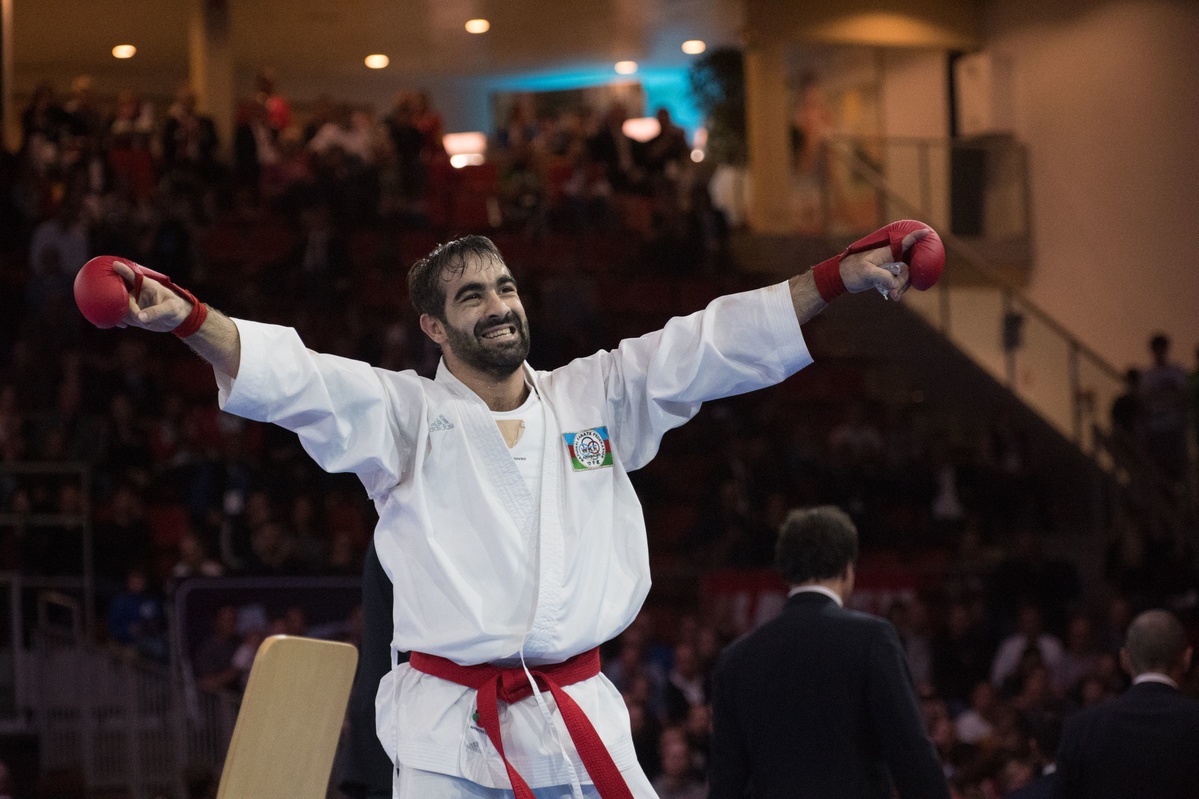 Will he be World champion for the 6th time ? Will he write history again ? The same question has been asked every two years for a decade. Rafael Aghayev, the man of all records with his 5 World champion titles and his 11 European ones, is he still as strong as he was ? Several times announced on the downhill slope, his answer has always been sharp.
These « gossips » exasperated him… He answers in the most beautiful way : 6 podiums over 7 in 2018 ! Flashback on a fabulous career and foreseen with Rafael Aghayev before the Madrid's Worlds (November 6-11).
By Ludovic Mauchien / Photos : Kphotos
---
He has not been very happy for a while. Some things are even starting to annoy him seriously, especially for the last two years, since Karate has become Olympics. He calls it « gossips », those who tirelessly repeat that he is (too) old, that it will be (too) hard for him to win in Tokyo, that, considering his age, it is mission impossible. « Yes, I am getting a little tired of all that gossip. At 33 years old, we are a little old for the high level sport. But it's up to the athlete to do everything to be ready ».
This is the only time he has talked about it. It was in September, during the Baku Open. His words, he always preferred to give them on mats. And for a old guy, rusty, worn out by 15 years of toil all over the world, he answered in the best way. He just went through the best year of his career !
In 2018, even before the World championships in Madrid (November 6-11), Rafael Aghayev has already won 6 medals, including 3 golds. In addition to his 11th (!)European champion title, he won the Dubai and Rabat K1, was finalist in Paris and Berlin and ranked 3rd in Rotterdam. Incidentally, he crushes the K1 circuit and was given the award of « Grand Winner ».
The « Panther » (his nickname and favorite animal) always bounces once more. It is not the first time he is announced in decline. Since his first European title in 2004 (-65 kg), for his first participation at only 19, when he deprives Frenchman Alex Biamonti of a 10th crown (3-0 in the final), he has lived several periods, which also correspond to different Karate. But there has always been a constancy : excellence.
HE LOVES TO PROVOKE, TO MAKE HIS OPPONENT DOUBT
He remained undefeated for four years, from 2004 to 2008, until an European final against Spain's Martin Vasquez in -70 kg, but he wins in the Open category, which he loved despite his 5 ft 5. But it is precisely from its possible weaknesses that his strenght comes. Fast move and change of axis, mastered technique, he uses his assets to their maximum. He is smaller ! So what ? He is faster and stronger. He also likes to provoke, to do hoaks, to make his opponent doubt. They fall into the trap. This is their problem.
7 times European champion in a row, from 2004 to 2010, he became the co-recordman of World championship titles' holders in Belgrade at the end of 2010. After 2006 (-70 kg) and 2008 (-70 kg, Open), Rafael Aghayev joins Netherlands' Van Mourik in history by winning his 4th World individual Gold medal, while leading his national team to the final.
We had collected his first words on October 30, 2010 in the wake of his title : « I am the happiest man on earth. But this is not my last victory. As soon as I get back to Azerbaijan, I go back to Dojo to train again and again ».
HE WINS HIS 5TH TITLE 4 YEARS AFTER HIS FINAL LOST
Then comes 2011 and 2012. He ranks « only » 3rd at the European championships. It' said again, that means the beginning of the end... And the big question of the moment is : will he win his 5th world champion title in Bercy, which would be unique in history ? His eternal opponent, Italy's Busa, will deprive him of the « Big 5 » by dominating him in the final.
Rafael Aghayev is affected. In 2013, he will win the European championships but he does not shine as usual. Then he will hurt his knee. He goes through the year 2014 as a ghost, absent at the European and World championships. He is then 29 years old. Will he recover ?
He takes his trouble patiently. This 5th title of World champion, he wants it ! His rehabilitation and his preparation are scientifically thought, as usual. He never neglects anything. He comes back in 2015... European champion, winner of the European Games ! Bis repetita in 2016 when he wins his 10th continental title (unique in history) before coming to Linz.
He is in good shape. He goes to the final, 4 years after his loss to Busa. Opposite, Egypt's Abdel Rahman. 10 years after his first title, 6 years after the last one, Azerbaijan masterly beats the Egyptian (4-1) and becomes World champion for the 5th time, the eye closed like a warrior of the times old. He is alone in the World ! He is unique. His achievement is a fabulous feat of self-denial, courage, patience, will, and the strength to break the headwinds of previous years.
In Linz, between tears and laughs, he told us a few minutes after his title : « I am like a little child. It's like in my dream. I worked 4 years for this moment. I am too happy ! Nobody did it before me ! I do not have words to describe how I feel. I want to thank all the people who helped and supported me ».
SITUATIONAL INTELLIGENCE AND TECHNICAL PRECISION
In 2016, he is 31 years old, he has won everything, he has broken all the records possible and unthinkable. What could still motivate Rafael Aghayev ? The only trophy he did not win… The Olympic Gold medal.
2020 is far away... He will be 35 years old. His body begins to show signs of fatigue. He has to manage it ! In 2017, he is very discreet, participating to only two tournaments for... two medals (1st in Rabat, 3rd Istanbul). The « gossips » come again. This is the point where it really started to bother him.
From January 2018, he is in the starts ! Since ? 6 podiums in 7 tournaments. « Victories strengthen my mind », smiles the best karateka of all time.
It is not so common to have the opportunity to write history. Rafael Aghayev has the opportunity to re-write each of his outputs. This will still be the case in Madrid, for his 6th World championships since 2006 (his federation was suspended in 2004, he was injured in 2014). This is his only goal of 2018, the one for which all the rest was just preparation.
Will he succeed in his incredible challenge ? His last two outings have been variously analyzed. In Berlin, he dominated Japan's Nishimura for the first time in four matches (2-0 in the final) and then lost in the final against a young Japanese, Sakiyama (defeat 6-3). He will even hurt his back on a sweep, which will handicap his preparation for a few days. But that does not stop him from lining up in Tokyo mid-October. He is not 100%. He loses in ¼ against... Nishimura (1-0). But the big thing is to be ready on the D-day. And that, Rafael Aghayev knows how to do !
At 33, his speed of execution may have been a bit lowered (it remains to be demonstrated), but his situational intelligence, his technical precision, his strategic finesse are still wonderful. And he has all the experience to play with it. And if he was stronger than ever ?
RAFAEL AGHAYEV
Born March 5, 1985 in Sumgayit (Azerbaijan)
Height : 5'5''
Categories : -65 kg, -70, kg, Open, -75 kg
Records.
World championships. 1st in 2006 (-70 kg), 2008 (-70 kg, Open), 2010 and 2016 (-75 kg). 2nd in 2012 (-75 kg).
European championships. 1st in 2004, 2005, 2007 (-70 kg + Open), 2008, 2009, 2010, 2013, 2015, 2016, 2018. 2nd in 2008 (-70 kg). 3rd in 2011, 2012.
Winner of the 2013 World Games
Winner of the 2015 European Games
Winner of 2013 Combat Games
Karate 1 : 12 podiums including 6 successes (3 in 2018)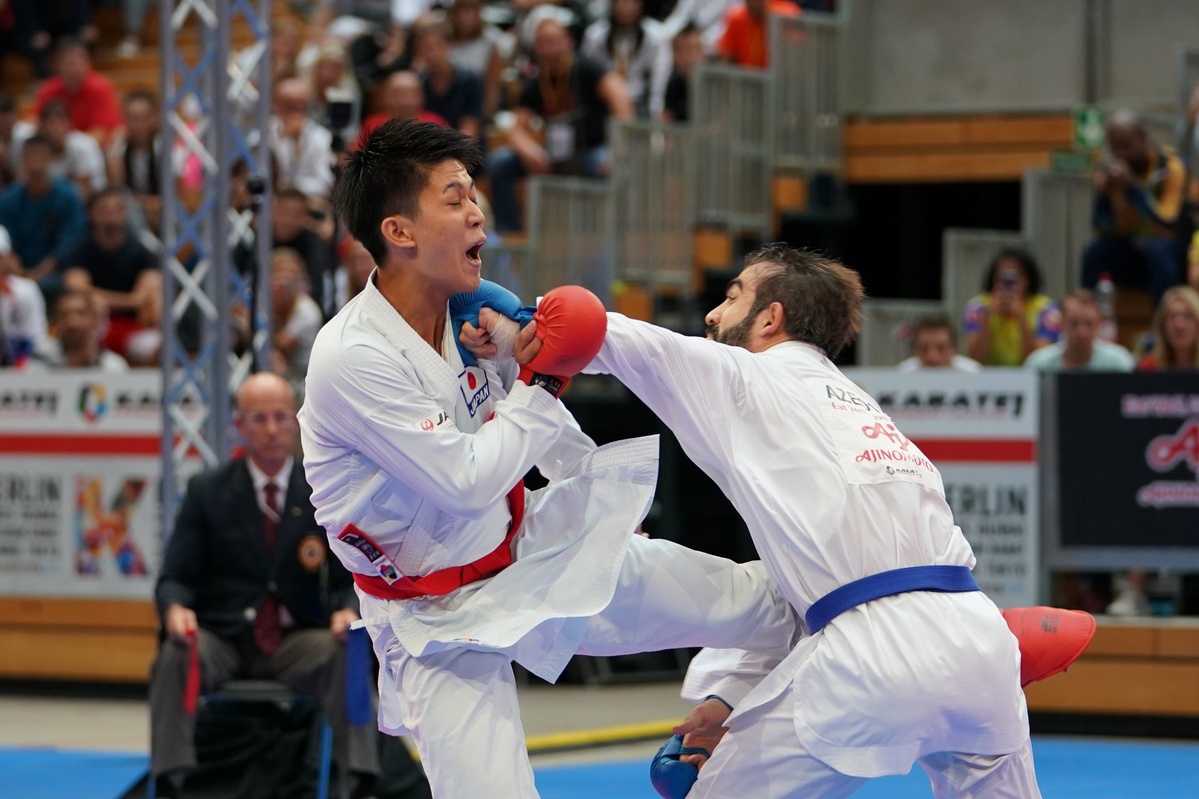 Tags