K1 Moscow / Chernysheva in gold, Arkania and Semeraro too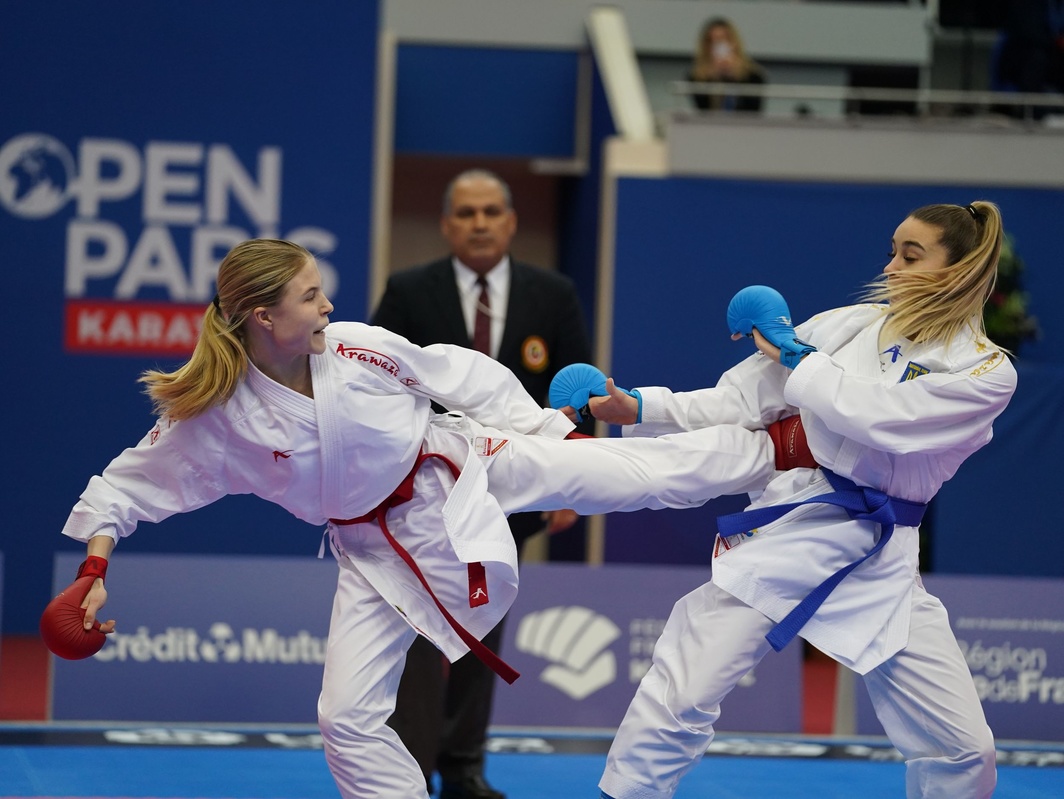 Tested positive for the Covid just before her departure for Tokyo, Ana Chernysheva had missed the Olympics. The young Russian wins again at the Karate1 Moscow which ended this afternoon.
The world tour veteran Arkania from Georgia continues his good streak of the year and wins a new K1, like Sanchez Jaime. Italian Semeraro beats Zaretska and then Olympic champion Abdelaziz to win her 1st K1. A competition in which many people were missing. All the results.
By Ludovic Mauchien
---
-60kg
1. Alpysbay (Kaz)
2. Plakhutin (Rus)
3. Ogannisian (Rus) / Crescenzo (Ita)
Finale : Alpysbay (Kaz) b. Plakhutin (Rus), 5-0
Bronze : Ogannisian (Rus) b. Jina (Mor), 2-0 / Crescenzo b. Kiss (Hun), 3-0
-67kg
1. Elsawy (Egy)
2. Tadissi (Hun)
3. Pokorny (Aut) / Mikhailichenko (Rus)
Finale : Elsawy (Egy) b. Tadissi (Hun), 2-1
Bronze : Pokorny (Aut) b. Aghalarzade, 4-3 / Mikhailichenko (Rus) b. Oulad Hadj Amar (Bel), 5-1
-75 kg
1. De Vivo (Ita)
2. Abdelaziz (Egy)
3. Mamedov (Rus) / Harspataki (Hun)
Finale : De Vivo (Ita) b. Abdelaziz (Egy), 3-1
Bronze : Mamedov (Rus) b. Podsklan (Svk), 4-1 / Harspataki (Hun) b. Mahauden (Bel), 8-4
-84kg
1. Badawy (Egy)
2. Ech - Chaabi (Mar)
3. Isakau (Blr) / R. Timmermans (Ned)
Final : Badawy (Egy) b. Ech - Chaabi (Mar), 5-0
Bronze : Isakau (Blr) b. Poorshab (Ira), 4-2 / B. Timmermans (Ned) b. Abdullayev (Aze), 0-0
+84kg
1. Arkania (Geo)
2. Vodchyts (Blr)
3. R. Timmermans (Cur) / Gurbanli (Aze)
Final : Arkania (Geo) b. Vodchyts (Blr), 2-1
Bronze : Gurbanli (Aze) b. El Bahry (Mor), 2-2 / R. Timmermans (Cur) b. Mohamed Azem (Egy), 1-1
Male Kata
1. Nishiyama (Jap)
2. Abe (Jap)
3. Quintero (Spa) / Ikeda (Jap)
Final : Nishiyama (Jap) b. Abe (Jap)
Bronze : Quintero (Spa) b. Torres Gut,ierrez (Usa) / Ikeda (Jap) b. Ayato (Jap)
Male team Kata
1. Italia
2. Spain
3. Russia / Koweit
-50kg
1. Zhangbyrbay (Kaz)
2. Plank (Aut)
3. Grigoreva (Rus) / Pehar (Cro)
Finale : Zhangbyrbay (Kaz) b. Plank (Aut), 5-5
Bronze : Grigoreva (Rus) b. Salazar, 9-3 / Pehar b. Klement (Hun), 2-0
-55kg
1. Chernysheva (Rus)
2. Zakharova (Kaz)
3. Fernandez Osorio (Spa) / Warling (Lux)
Finale : Chernysheva (Rus) b. Zakharova (Kaz), 5-0
Bronze : Fernandez Osorio (Spa) b. Belousova, 2-1 / Warling b. Kumizaki (Bra), 7-2
-61kg
1. Chupina (Rus)
2. Ristic (Slo)
3. Suchankova (Svk) / Jumaa (Can)
Final : Chupina (Rus) b. Ristic (Slo), 4-4
Bronze : Suchankova (Svk) b. Kanay (Kaz), 4-3 / Jumaa (Can) b. Azarav (Blr), 0-0
-68kg
1. Semeraro (Ita)
2. Abdelaziz (Egy)
3. Isaeva (Rus) / Zaretska (Aze)
Final : Semeraro (Ita) b. Abdelaziz (Egy), 2-1
Bronze : Zaretska (Aze) b. Gil Alvarez (Spa), 3-2 / Isaeva (Rus) b. Aliakseyeva (Blr), 7-2
+68kg
1. Berultseva (Kaz)
2. Kovaleva (Rus)
3. Abouismail (Egy) / Okila (Egy)
Final : Berultseva (Kaz) b. Kovaleva (Rus), 9-5
Bronze : Abouismail (Egy) b. Saito (Jap), 3-0 / Okila (Egy) b. Padilha Pereira (Bra), 4-0
Female kata
1. Sanchez (Spa)
2. Kokumaï (Usa)
3. H. Ono (Jap) / M. Ono (Jap)
Finale : Sanchez (Spa) b. Kokumaï (Usa)
Bronze : H. Ono (Jap) b. D'Onofrio (Ita) / M. Ono (Jap) b. Shimizu (Jap)
Female team kata
1. Italia
2. Spain
3. Russia / Slovakia
Tags