Tokyo 2020 / Assadilov and Aktas smell Tokyo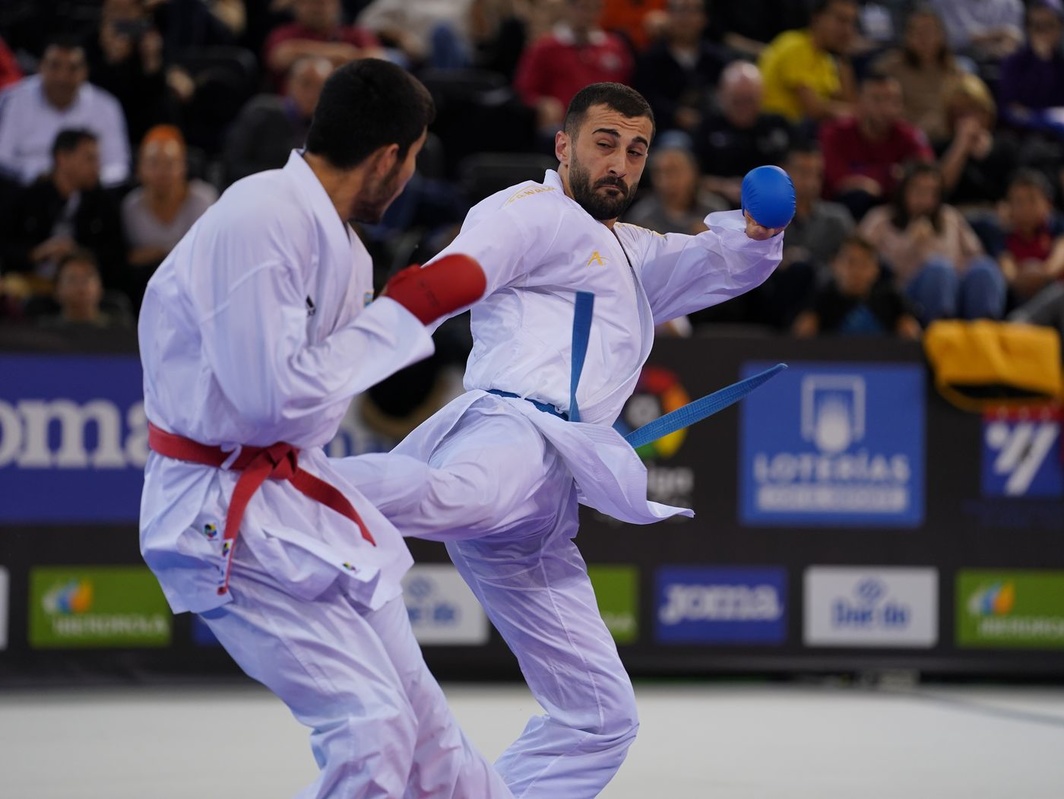 The Madrid Karate 1 of last weekend (29 Nov-1 Dec) has given rise to many surprises but it has not fundamentally changed the Olympic standing. Assadilov, 7th win of the year, and Zaretska, 3rd success in a row, get very close to the qualification.
In Kata, Sanchez Jaime and Quintero are now qualified for the Olympics. In -75 kg, Busa, ½ finalist, takes the 2nd place of the standing.
In -67 kg, Steven Da Costa, 3rd, consolidates his position of leader... The ranking and the analysis category by category.
By Ludovic Mauchien / Photo : Kphotos
---
GOOD TO KNOW
Ÿ 10 athletes per category are qualified at the Olympics : 4 via the standing (names highlighted in red), 3 via the Olympic Qualification Tournament (May 8-10 in Paris), 1 Japanese (hosting country), 2 IOC wild cards.
Ÿ A win in a Premier League or a continental championship (coefficient 6) yields 990 points, a 2nd place 690, a 3rd place 570… Until April 6, 2019, the points were reduced by 50%.
Ÿ When categories are grouped (-67 kg, +75 kg, -55 kg, +61 kg), it is the first two of each non-Olympic category that are qualified (eg the first two -60 kg and the two first -67 kg).
Ÿ Each country may qualify a maximum of one athlete per category.
Ÿ The standing stops on April 6, 2020. 5 competitions remain : Series A Santiago, Premier League in Paris, Dubai, Salzburg, Rabat. More 2 continental championships (Africa and Europe). The points awarded at the 2019 edition of these championships have been recorded but will be replaced by those of the 2020 edition.
THE STANDING
(December 4, 2019)
-67 kg
Assadilov is really extraordinary. The Kazakh champion pocketed his 7th win of the year in Karate 1, his 5th one in the Premier League. In Madrid, he confirmed his 1st place with 990 points gleaned. It is Italy's Crescenzo, beaten in the 2nd round and then in repechages, who performs the wrong operation. Still qualified, he saw his lead melt on Samdan of Turkey, 3rd in Madrid (570 points scored, 400 retook). Only 500 points separate them now !
In -67 kg, it is the status quo. World champion Steven Da Costa ranked 3rd in Madrid and consolidate his leadership. In the standing, he gets ahead of Crescenzo and ranks 2nd, even if that does not change the story basically since one is in -67 kg and the 2nd in -60 kg.
Brazil's Figueira, also 3rd, performs the good operation by coming back 300 small behind Egypt's Elsawy, defeated in ¼ and then beaten for bronze by... Figueira. The winner of the day, Iran's Mehdizadeh, who comes from the -60 kg, appears in 39th place with 1650 points.
Another highlight that concerns the Japanese team. Shinohara, 5th in Madrid, gets ahead of Sago (no point scored) and becomes the Japanese leader therefore, potentially, the Japanese representative at the Tokyo Olympics.
Assadilov (Kaz), 8032,5 pts
S. Da Costa (Fra), 6960
Crescenzo (Ita), 6855
Samdan (Tur), 6307,5
Elsawy (Egy), 5647,5
Figueira (Bra), 5347,5
Shinohara (Jap), 4095
Sago (Jap), 3847,5
Uygur (Tur), 3592,5
Brose (Bra), 3300
-75 kg
The two surprise finalists of Madrid obviously realize a beautiful operation. Ainazarov enters the top 10, Logan Da Costa passes from the 25th to the 18th place.
But it is especially Luigi Busa, ½ finalist and bronze medalist, who leaves Spain with a smile on his face. 4th in the standing before Madrid, he now ranks 2nd, ahead of Nishimura and Aghayev. The n°1, Iran's Asgari, lost in the 1st round and sees Busa melt on him (60 points of difference).
In the fight for the last qualifying place, US Thomas Scott, ¼ finalist, took the lead over Ukraine's Horuna, beaten in the 2nd round. He is now ahead of... 210 points.
Asgari (Irn), 6217,5
Busa (Ita), 5955
Nishimura (Jap), 5872,5
Aghayev (Aze), 5595
Scott (USA), 4732,5
Horuna (Ukr), 4522,5
Ainazarov (Kaz), 3412,5
Otaboloaev (Uzb), 3060
Eltemur (Tur), 2797,5
Harspatacki (Hun), 2782,5
+75 kg
In -84 kg, Turkey's Aktas consolidated his 1st place with this new win, especially towards his (far) direct competitor, Croatia's World champion Ivan Kvesic, beaten in the 3rd round. Poorshab, 2nd of the -84 kg but 3rd of the standing behind Ganjzadeh (+84 kg), did not take advantage of this Madrid stage to catch up with his compatriot, on the contrary. While Ganjzadeh won (990 points), he lost in ¼ and then for the bronze (450 points gleaned).
In +84 kg, this is the total status quo. The leader, Ganjzadeh, has increased his lead, the 2nd, Germany's Horne, absent because of his 2 months suspension following his fight at the Moscow K1, remains qualified far ahead of Georgia's Arkania, beaten in the ¼ finals in Madrid (6127.5 against 4515 points).
Aktas (Tur), 8407,5
Ganjzadeh (Irn), 7642,5
Poorshab (Irn), 7020
Horne (Ger), 6127,5
Kvesic (Cro), 5512,5
Araga (Jap), 4740
Arkania (Geo), 4515
Yamanoglu (Tur), 4087,5
Chobotar (Ukr), 3960
Abazari (Irn), 3847,5
Kata
Kiyuna absent, Spain's Quintero won ahead of Turkey's Sofuoglu. In short, the order is unchanged and almost immutable. With this success, the Spanish ensures his qualification to the Games. Thanks to his final, the Turk has increased his comfortable lead over Venezuela's Diaz.
Kiyuna (Jap), 8250 pts
Quintero (Spa), 8047,5
Sofuoglo (Tur), 5257,5
K. Moto (Jap), 4777,5
Shimbaba (Jap), 4567,5
Diaz (Ven), 3720
Busato (Ita), 3495
Nishiyama (Jap), 2752,5
Kinjo (Jap), 2812,5
Torres Gutierrez (USA), 2302,5
-55 kg
In -50 kg as in -55 kg, the Madrilenian stage does not change anything in the standing. The n°1, Turkey's Ozcelik, even strengthened her leadership with her final. For the 2nd qualifying place in -50 kg, Iran's Bahmanyar took 120 points to Austria's Plank. They are now separated by... 390 points.
In -55 kg, the queen was certainly beaten in the 3rd round but her lead is such that the ½ final and 3rd place of her direct competitor, Taiwan's Wen, do not worry Terliuga. Wen is doing a good job by taking the lead from Iran's Khaksar but sees Turkey's Yakan, finalist in Madrid, coming back in the course. They are both tied just 390 points behind her.
Ozcelik (Tur), 8407,5
Terliuga (Ukr), 7237,5
Wen (Tpe), 5490
Miyahara (Jap), 4575
Bahmanyar (Irn), 4402,5
Plank (Ost), 4012,5
Khaksar (Irn), 4012,5
Yakan (Tur), 4012,5
Bitsch (Ger), 3472,5
Hrubrich (Ger), 3622,5
-61 kg
China's Yin, thanks to her 5th win in 2019, almost assured her qualification for Tokyo. Egypt's Lotfy, although beaten in the 1st round in Madrid, remains 2nd with a comfortable lead over Serbia's Prekovic and Turkey's Coban. The ranking therefore has unchanged following this K1.
It is actually France's Gwendoline Philippe who realizes the best operation of the weekend. Not only does she beat her direct competitor at the French level (Leila Heurtault) but she wins a bronze medal. With 570 points scored, she ranks up 6th in the standing, takes 360 points to Coban, 540 to Alipourkeshka and 120 to Leila Heurtault. The latter, with her 5th place in Madrid, appears in 8th position.
Yin (Chn), 7950 pts
Lotfy (Egy), 6345
Prekovic (Ser), 4717,5
Coban (Tur), 4552,5
Alipourkeshka (Irn), 3802,5
Philippe (Fra), 4170
Jumaa (Can), 4012,5
Heurtault (Fra), 3420
Grande (Per), 3330
Someya (Jap), 2857,5
+61 kg
In -68 kg, World champion Irina Zaretska, winner of her 3rd Karate 1 in a row, is becoming more and more Olympic. 3rd in Madrid, Switzerland's Quirici climbed to the 2nd place in the standing but lost points on her direct competitor, Italy's Semeraro, finalist in Spain. The big loser of the day is France's Alizee Agier, 5th, who ranks down from 4th to 6th in the standing and loses points on all her opponents.
In +68 kg, the tight duel continues. Before Madrid, World champion Chatziliadou had a 300-point advantage over Iran's Abbasali, 500 over Italy's Ferracutti and 800 over Turkey's Hocaoglu. Finalist, she has therefore accentuated her short lead on these. The Iranian, 3rd in Spain, too, except on Kazakhsrtan's Berultseva who, thanks to her win, integrates the Top 10 and is only 180 points behind her. That's a comeback !
Zaretska (Aze), 6772,5 pts
Quirici (Swi), 5595
Uekusa (Jap), 5250
Chatziliadou (Gre), 4905
Semeraro (Ita), 4815
Agier (Fra), 4740
Abbasali (Irn), 4402,5
Berultseva (Kaz), 4282,5
Ferracutti (Ita), 4072,5
Someya (Jap), 3892,5
Kata
Sandra Sanchez Jaime, winner ahead of Shimizu, is qualified for Tokyo. One can almost say it also true for Italy's Bottaro and Hongkong's Lau, 5th in Madrid. Kokumai of the US and Eltemur of Turkey, 7th, lose some points. The last qualifying place should be played between them.
Sanchez Jaime (Spa), 9712,5
Shimizu (Jap), 8572,5
Bottaro (Ita), 6150
Lau (HK), 4890
Ono (Jap), 4597,5
Kokumai (USA), 3862,5
Iwamoto (Jap), 3562,5
Eltemur (Tur), 3052,5
Dimitrova (Dom), 2325
Feracci (Fra), 2152,5
Tags