Olympic standing / It's OK for Ozcelik and Asgari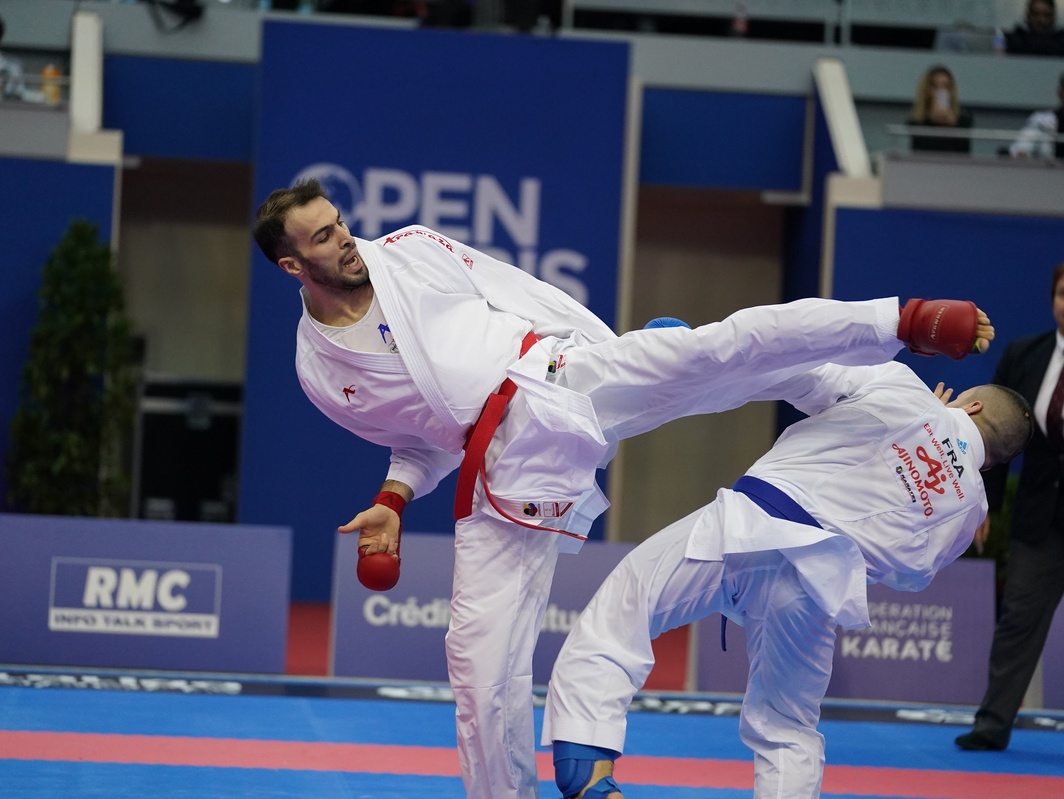 Time is running short. Every fight is important. The results of the ParisOpenKarate (January 24-26) have thus clarified or confused the Olympic standing. Thanks to their success, Serap Ozcelik and Bahman Asgari won their ticket to Tokyo, as did Ugur Aktas and Anzhelica Terliuga. Steven Da Costa increased his lead. Gogita Arkania continues his incredible comeback. Eray Samdan is now ahead of Angelo Crescenzo…. The updated Olympic ranking.
By Ludovic Mauchien / Photo : Kphotos
---
-67 kg
In -60 kg, where they are 3 to compete for the 2 tickets, there is a big winner and a big loser following this ParisOpenKarate. The big winner is the Turkish Samdan, winner of the 2020 edition. 4th in the standing before the tournament and unqualified, he overtakes Angelo Crescenzo and now points to the 3rd place synonymous of qualification. The 2 fighters are only separated by 200 points. The fight will be hot until the end. Assadilov, again finalist, consolidates his leadership.
In -67 kg, Steven Da Costa, winner for the 3rd time in a row, accentuates his lead in the standing. Behind him, the gap is closing between Elsawy, still 5th and qualified, and Figueira, 5th in Paris. For the Japanese, leadership changes. Sago goes from 9th to 7th place and thus doubles Shinohara. Uygur retrogrades from 8th to 10th place.
Assadilov (Kaz), 9067,5 pts
S. Da Costa (Fra), 7950
Samdan (Tur), 7312,5
Crescenzo (Ita), 7110
Elsawy (Egy), 6172,5
Figueira (Bra), 5872,5
Sago (Jap), 4297,5
Shinohara (Jap), 4245
Brose (Bra), 4125
Uygur (Tur), 4117,5
-75 kg
Already winner in Santiago, Bahman Asgari has had a 2nd success in a row and has increased his lead, so much so that it can be said the Iranian is already qualified for Tokyo.
Luigi Busa, 3rd in Paris, consolidates his 2nd place. Aghayev, ¼ finalist, takes 200 points to his pursuers and always keeps a comfortable lead (900 points) over them, although this is relative since the points of the 2019 Euro (where he is 2nd) will not be counted.
His pursuers ? Lost at their 1st fight. Thomas Scott remains 5th and last qualified, Stanislav Horuna 6th and 1st unqualified, 350 points behind. Eltemur doubles Otabolaev, absent, Harspataki leaves the Top 10.
The Frenchman Logan Da Costa, thanks to his second final in a row, climbed from 18th to 12th place in the standing.
Asgari (Irn), 7702,5
Busa (Ita), 6540
Nishimura (Jap), 5902,5
Aghayev (Aze), 5805
Scott (USA), 4987,5
Horuna (Ukr), 4627,5
Ainazarov (Kaz), 3667,5
Eltemur (Tur), 3142,5
Otaboloaev (Uzb), 3060
Sakiyama (Jap), 2887,5
…
L. Da Costa (Fra), 2700
+75 kg
In -84 kg, Ugur Aktas, 3rd, strengthens his 1st place. Except cataclysm, the Turk is qualified. Behind, Ivan Kvesic, 5th, takes up a few small points from Poorshab, 7th. The latter however took some from his compatriot Ganjzadeh, who lost in his 1st fight. 250 precisely. They are separated by only 350 points !
In +84 kg, in fact, the pursuers of Ganjzadeh took the opportunity to gain precious points. Horne, 3rd in Paris, remains 4th but, once again, it is Gogita Arkania who performs the good operation. Thanks to his success, the Georgian ranks 6th, certainly still far from Horne. But at this speed...
We can also ask the question for the French Dnylson Jacquet, finalist for the 2nd time in a row. This performance enabled him to gain 5 places and to rank 16th.
Aktas (Tur), 9352,5
Ganjzadeh (Irn), 8137,5
Poorshab (Irn), 7785
Horne (Ger), 7042,5
Kvesic (Cro), 6187,5
Arkania (Geo), 5760
Araga (Jap), 5490
Abazari (Irn), 4672,5
Yamanoglu (Tur), 4162,5
Chobotar (Ukr), 4065
Kata
Nothing changes at the top of the hierarchy. Kiyuna won, Quintero finished 2nd, Sofuoglu and Moto 3rd in Paris. Diaz, 5th, and Busato, 7th are still qualified.
Kiyuna (Jap), 9120 pts
Quintero (Spa), 8737,5
Sofuoglo (Tur), 6202,5
K. Moto (Jap), 5287,5
Shimbaba (Jap), 4567,5
Diaz (Ven), 4365
Busato (Ita), 3870
Kinjo (Jap), 2812,5
Nishiyama (Jap), 2752,5
Goktas (Tur), 2707,5
-55 kg
It's done for Serap Ozcelik, in gold again in Paris ! Behind her, for the -50 kg, it is the Iranian Bahmanyar, 5th, who performs the good operation by increasing her lead over her pursuers, even if she is doubled in the ranking by Miyahara.
In-55 kg, finalist Anzhelica Terliuga validated her trip to Tokyo. Taiwanese Wen, bronze medalist at the Open, consolidates her 3rd place synonymous of qualification. The good operation was achieved by Jana Bitsch-Messerschmidt, who went from 10th to 7th place.
Ozcelik (Tur), 9862,5
Terliuga (Ukr), 8452,5
Wen (Tpe), 6060
Miyahara (Jap), 5325
Bahmanyar (Irn), 5047,5
Yakan (Tur), 4417,5
Bitsch-Messerschmidt (Ger), 4387,5
Khaksar (Irn), 4297,5
Plank (Ost), 4177,5
Hrubrich (Ger), 4177,5
-61 kg
Thanks to her victory, the Turkish Coban achieved an excellent operation. 4th before Paris, she overtakes Prekovic and, above all, widens the gap with the 1st unqualified athlete (from 500 to 1000 points). Before the Open, it was Alipourkeshka but she is down to 7th place. The Frenchwoman Gwendoline Philippe now ranks 5th. 3rd in Paris, like Leila Heurtault, the two French women drew on this tournament. Heurtault is still 8th but regained 200 points on Prekovic, who lost in the 8th final, just like Lotfy. The Chinese finalist Yin then consolidates her 1st place.
Yin (Chn), 8985 pts
Lotfy (Egy), 6570
Coban (Tur), 5827,5
Prekovic (Ser), 5242,5
Philippe (Fra), 4740
Jumaa (Can), 4357,5
Alipourkeshka (Irn), 4327,5
Heurtault (Fra), 4215
Grande (Per), 3465
Someya (Jap), 2887,5
+61 kg
Again victorious, Irina Zaretska consolidates her 1st place, especially since Elena Quiciri lost in her 1st fight. However, she remains in the qualified position (-68 kg) because Silvia Semeraro could not repeat her performance of Santiago (1st). The Italian loses in the quarterfinal and this allows her to take 180 points from the Swiss, even if she loses 2 places (5th). Huge when you know that they are only separated by... 135 points. Alizée Agier, eliminated in her 1st fight, stagnated in 7th place.
The huge operation is the work of the Iranian Abbasali who, by her victory, climbed from 6th to 2nd place of the Olympic standing and took 1st qualifying place for the +68 kg to Elena Chatziliadou, eliminated in her 1st fight. Ayumi Uekusa, 5th, goes from 4th to 3rd place. Meltem Hocaoglu comes back to the Top 10 following her final.
Zaretska (Aze), 8107,5 pts
Abbasali (Irn), 5857,5
Uekusa (Jap), 5700
Quirici (Swi), 5625
Semeraro (Ita), 5490
Chatziliadou (Gre), 4935
Agier (Fra), 4770
Hocaoglu (Tur), 4537,5
Berultseva (Ukr), 4507,5
Gong (Chn), 4432,5
Kata
Even if Viviana Bottaro created the sensation by dominating Kiyou Shimizu in the ½ final, that does not fundamentally change the ranking. Sanchez Jaime and Bottaro are already qualified. Lau and Kokumai are not far away.
The Turkish Eltemur is now 7th while the French Alexandra Feracci gains a place (9th).
Sanchez Jaime (Spa), 10582,5
Shimizu (Jap), 9082,5
Bottaro (Ita), 7275
Lau (HK), 5280
Ono (Jap), 5107,5
Kokumai (USA), 4507,5
Eltemur (Tur), 3667,5
Iwamoto (Jap), 3562,5
Feracci (Fra), 2422,5
Dimitrova (Dom), 2325
GOOD TO KNOW
Ÿ 10 athletes per category are qualified for the Olympic Games : 4 via the standing (highlighted in red), 3 via the Olympic Qualification Tournament (May 8-10 in Paris), 1 Japanese (host country), 2 IOC wild cards.
Ÿ A victory in the Premier League or a continental championship (coefficient 6) earns 990 points, a 2nd place 750, a 3rd place 570. Until April 6, 2019, the points were reduced by 50%.
Ÿ When categories are grouped (-67 kg, +75 kg, -55 kg, +61 kg), it is the two 1st of each non-Olympic category who are qualified (ex: the two 1st -60 kg and the two 1st -67 kg).
Ÿ Each country can qualify a maximum of one athlete per category.
Ÿ Standing ends on April 6, 2020. The remaining competitions: Premier League Dubai, Salzburg and Rabat. Plus 2 continental championships (Africa and Europe). The points awarded in the 2019 edition of these championships have so far been counted but will be replaced by those in the 2020 edition.
Tags