Olympic standing / Big deal for Poorshab, Crescenzo, Figueira, Lotfy and Hocaoglu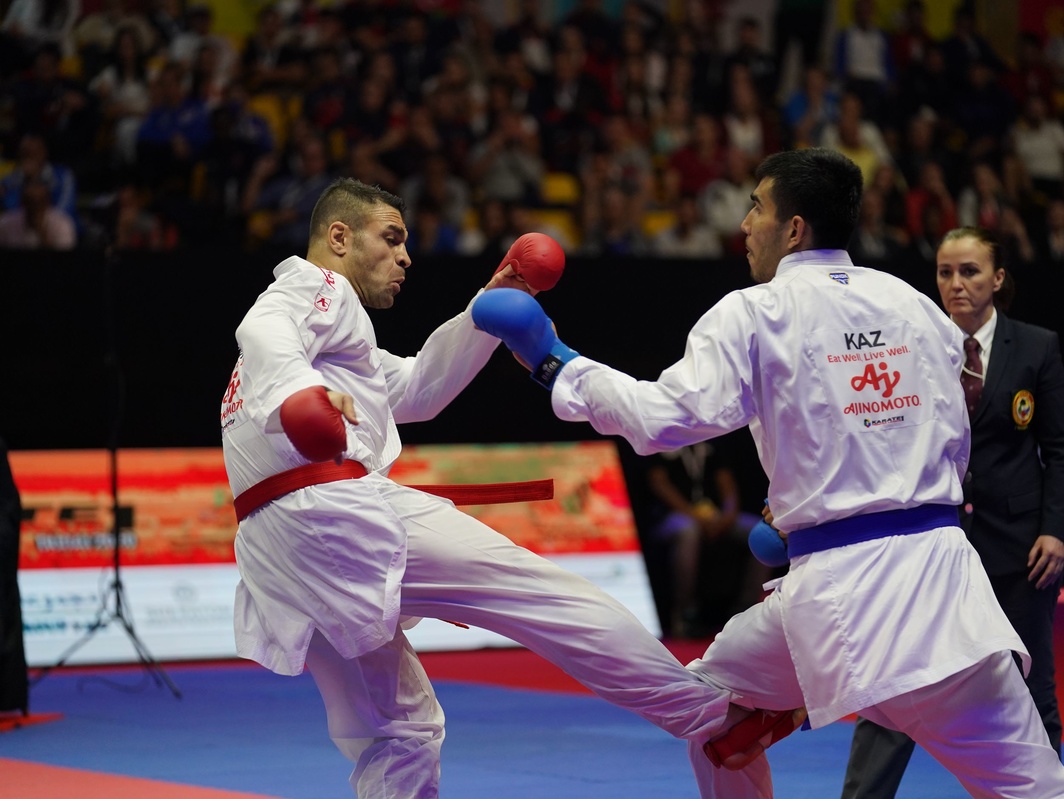 The suspense goes on... Following the African championships (February 7-9) and, above all, the Karate 1 Dubai (February 14-16), there are now only 2 qualifying Karate 1 remaining (Salzburg and Rabat) and, for the Europeans, the continental championship at the end of March (1). The qualification is done for some, it's still a total suspense for many. The Update of February 17.
By Florian Fournier / Photo: Kphotos
---
(1)For now, the points for the 2019 edition appear. But it is those distributed in Baku (March 25-29) that will count for the ranking.
-67 kg
In -60 kg, they are 3 athletes to compete for the 2 qualifying places. Following this Karate1 Dubai, there is a big winner and a big loser. The big winner is Italy's Angelo Crescenzo, winner of the 2020 edition. Now 3rd in the ranking, he overtakes Eray Samdan, who lost at the 1st round. He is now ranked 4th. Assadilov, again finalist, consolidates his leadership.
In -67 kg, Steven Da Costa, once more winner, accentuates his leadership in the standing. Behind him, Vinicius Figueira overtakes Elsawy who, with his African championships final, loses 300 points (he was the title holder). The Brazilian is now ranked 5th, synonym of qualification.
Assadilov (Kaz), 9817,5 pts
S. Da Costa (Fra), 8940
Crescenzo (Ita), 8100
Samdan (Tur), 7342,5
Figueira (Bra), 6622,5
Elsawy (Egy), 5902,5
Uygur (Tur), 4687,5
Sago (Jap), 4297,5
Shinohara (Jap), 4245
Brose (Bra), 4155
-75 kg
In bronze in Dubai, Bahman Asgari is stepping up his lead, so much so we can say he is now qualified for Tokyo. Luigi Busa, beaten in the final by Rafael Aghayev, sees his rival coming back. 495 points separate them. Except disaster, these two champions should see Tokyo. Behind, US Thomas Scott remains 5th and last qualified, Stanislav Horuna 6th and 1st unqualified. But the Ukrainian is now only 60 points behind the American.
Asgari (Irn), 8272,5
Busa (Ita), 7290
Aghayev (Aze), 6795
Nishimura (Jap), 5902,5
Scott (USA), 5017,5
Horuna (Ukr), 4957,5
Ainazarov (Kaz), 4117,5
Eltemur (Tur), 3542,5
Abdelaziz (Egy), 3322,5
Otaboloaev (Uzb), 3150
+75 kg
In -84 kg, Ugur Aktas, beaten in the 1st round remains the ranking leader. Behind, Zabiollah Poorshaab, with his wins, overtakes his fellowman Sajad Ganjzadeh and reaches the 2nd place. Now 1st Iranian in the standing, he is for the 1st ime in position to see Tokyo.
In +84 kg, Sajad Ganjzadeh, 3rd in Dubai, sees the qualifying place for Tokyo going to his friend Poorshab (only one qualified athlete per country). Jonathan Horne, winner, pushes back Gogita Arkania who, thanks to Poorshab, is now in the 2nd qualifying place of the + 84kg for Tokyo.
Aktas (Tur), 9382,5
Poorshab (Irn), 8775
Ganjzadeh (Irn), 8287,5
Horne (Ger), 8032,5
Arkania (Geo), 6510
6. I (Cro), 6337,5
Araga (Jap), 5490
Abazari (Irn), 4702,5
Yuldashev (Kaz), 4537,5
Yamanoglu (Tur), 4312,5
Kata
Ryo Kiyuna and Mattia Busato absent, Damian Quintero wins and takes the lead of the standing. Antonio Diaz, finalist, conforts his position. For the rest, nothing changes.
Quintero (Spa), 9607,5
Kiyuna (Jap), 9120 pts
Sofuoglo (Tur), 6202,5
K. Moto (Jap), 5287,5
Diaz (Ven), 5055
Shimbaba (Jap), 4567,5
Busato (Ita), 4380
Goktas (Tur), 3097,5
Kinjo (Jap), 2812,5
Nishiyama (Jap), 2752,5
-55 kg
Once again in gold, Serap Ozcelik remains the N°1 in the standing. Behind her, in -50 kg, Iran's Sara Bahmanyar, now 4th in the standing, won one place with the absence of Miyahara.
In -55 kg, Anzhelica Terliuga, once again winner, is already qualified for Tokyo. Taiwan's Wen Tzu-Yun remains 3rd, which means a direct qualification. The good operation is achieved by Bettina Plank, now 8th.
Ozcelik (Tur), 10852,5
Terliuga (Ukr), 9442,5
Wen (Tpe), 6510
Bahmanyar (Irn), 5497,5
Miyahara (Jap), 5325
Yakan (Tur), 4987,5
Bitsch-Messerschmidt (Ger), 4957,5
Plank (Ost), 4747,5
Hrubrich (Ger), 4507,5
Khaksar (Irn), 4447,5
-61 kg
African champion and 3rd in Dubai, Egypt's Giana Lotfy consolidates her 2nd place in the standing and is now qualified. Another good operation is for Iran's Rozita Alipourkeshka, bronze medalist, who climbs from the 7th to the 5th place and gets closer to Jovana Prekovic. With her injury, Gwendoline Philippe is the big looser of this competition. The Chinese winner, Yin Xiaoyang, then consolidates her 1st place.
Yin (Chn), 9975 pts
Lotfy (Egy), 7140
Coban (Tur), 6037,5
Prekovic (Ser), 5392,5
Alipourkeshka (Irn), 4897,5
Philippe (Fra), 4890
Jumaa (Can), 4387,5
Heurtault (Fra), 4365
Grande (Per), 3675
Someya (Jap), 2887,5
+61 kg
Bronze medalist in Dubai, Irina Zaretska is qualified for Tokyo. Also bronze medalist, Elena Quirici climbs from 4th to 2nd.
The huge operation is the work of Turkey's Hocaoglu who, thanks to her success, is now 6th in the Olympic standing and takes the 2nd qualifying place in the +68 kg from Elena Chatziliadou. The other huge operation is for the African champion and 2nd in Dubaï, Egypt's Abdelaziz, who reaches the 9th place. She still is 870 points behind Quirici. Just like Abdelaziz, Gong Li is back in the business with her success.
Zaretska (Aze), 8677,5 pts
Quirici (Swi), 6195
Abbasali (Irn), 6007,5
Uekusa (Jap), 5700
Semeraro (Ita), 5700
Hocaoglu (Tur), 5467,5
Gong (Chn), 5422,5
Chatziliadou (Gre), 5325
Abdelaziz (Egy), 5325
Agier (Fra), 5220
Kata
Without Shimizu and Bottaro, Sanchez Jaime, already qualified, won the K1 against Kokumai, who reaches the 5th place. Turkey's Eltemur remains 7th like France's Alexandra Feracci (9th).
Sanchez Jaime (Spa), 11452,5
Shimizu (Jap), 9082,5
Bottaro (Ita), 7275
Lau (HK), 5790
Kokumai (USA), 5197,5
Ono (Jap), 5107,5
Eltemur (Tur), 4177,5
Iwamoto (Jap), 3562,5
Feracci (Fra), 2422,5
Dimitrova (Dom), 2325
GOOD TO KNOW
Ÿ 10 athletes per category are qualified for the Olympic Games : 4 via the standing (highlighted in red), 3 via the Olympic Qualification Tournament (May 8-10 in Paris), 1 Japanese (host country), 2 IOC wild cards.
Ÿ A victory in the Premier League or a continental championship (coefficient 6) earns 990 points, a 2nd place 750, a 3rd place 570. Until April 6, 2019, the points were reduced by 50%.
Ÿ When categories are grouped (-67 kg, +75 kg, -55 kg, +61 kg), it is the two 1st of each non-Olympic category who are qualified (ex: the two 1st -60 kg and the two 1st -67 kg).
Ÿ Each country can qualify a maximum of one athlete per category.
Ÿ Standing ends on April 6, 2020. The remaining competitions: Premier League Salzburg and Rabat, plus the European championships for those concerned. The points awarded in the 2019 edition of these championships have so far been counted but will be replaced by those in the 2020 edition.
Tags