« Med' Games » / Turkey first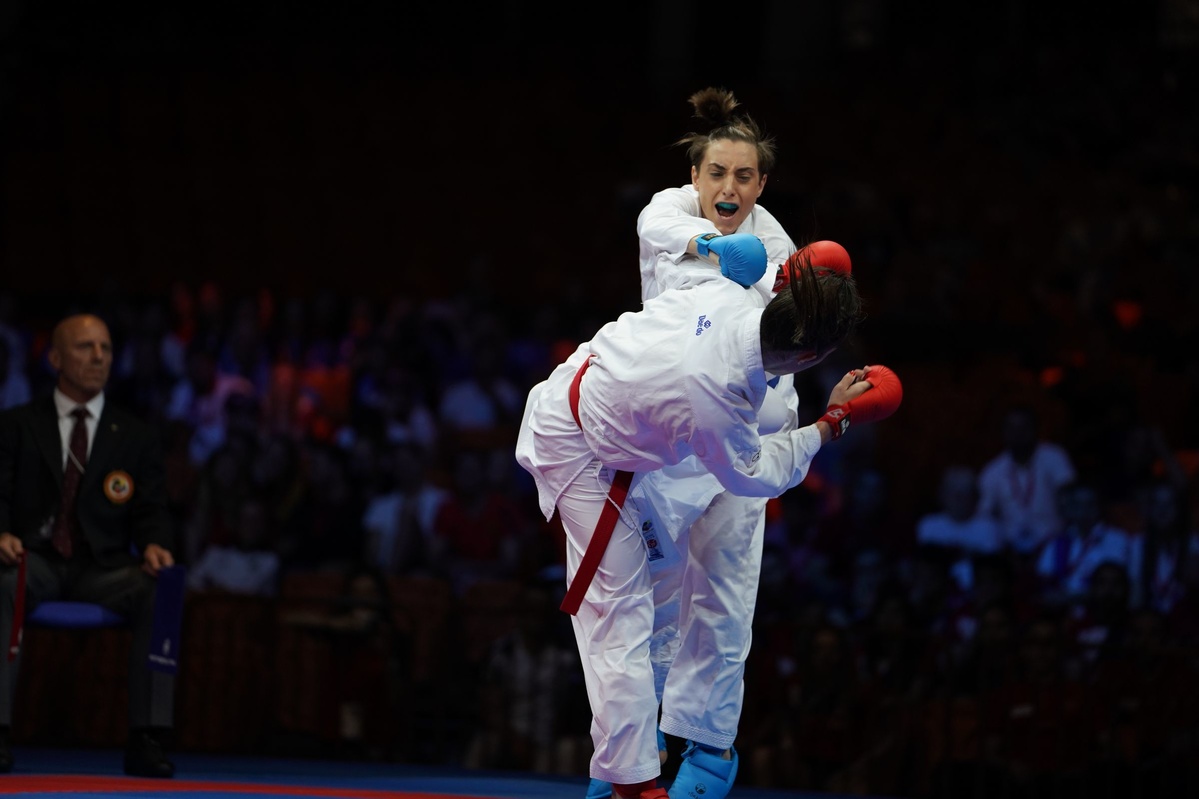 With seven medals including two golds, Yakan Tuba (-55 kg) and Eltemur (-75 kg), Turkey is ahead of France and its four medals including two golds (Garcia in +68 kg and Garin in -67 kg) and Morocco (2 medals) at the 28th Mediterranean Games held on June 23th-24th in Tarragona (Spain). All the results.
By Ludovic Mauchien / Photos : K-photos
---
2nd nation at the European Championships last May behind Spain, Turkey was one of the five nations, along with Egypt, France, Italy and Spain, to present a full team at the Mediterranean Games whose Karate events were held last weekend (June 23th-24th). But it was the only one to line up an almost main team.
Logically, it dominated these Med 'Games with 7 medals won out of 10 possible. Yakan Tuba (-55 kg), beat Italy's Sara Cardin in the second round (1-0) and then Spain's Fernandez Osorio (2-0), before defeating Macedonia's Draskovic in the final (2-0). On his side, Eltemur (-75 kg) was hardly opposed, if not in the final against Croatia's Garibovic (0-0, decision). The (bad) surprises came from the two-times European champion Burak Uygur (-67 kg) who lost in the final against France's Marvin Garin (5-0) and Serap Ozcelik (-50 kg).
Only France was closed to Turkey by winning 4 medals including 2 golds. Marvin Garin who, in addition to Uygur, beat Italy's Maresca in the semi-finals (2-1), and Nancy Garcia (+68 kg) who dominated Spain's Palacio Gonzalez in the semi-finals (3-1) and then Greece's Chatziliadou in the final (4-3).
Morocco, thanks to the victory of Ameknassi in -60 kg (who, among others, beat Turkey's Samdan) and the silver medal of Sayah in -50 kg (winner of Turkey's Ozcelik in ¼ finals), completes the podium's nations.
Spain is at the forefront of disappointments. At home, with a very solid team, the Spanish fighters have not managed to reach a single final and must be content with 3 bronze medals and a 14th place in the ranking.
But Egypt is chasing it. Led by the double World champion Lofty (-61 kg), it failed to win a single title and finally ranked 9th despite 5 medals (2 silver, 3 bronze).
All the podiums
-50 kg
1 MILIVOJCEVIC (Ser)
2 SAYAH (Mor)
3 RASHED (Egy) and OZCELIK (Tur)
-55 kg
1 YAKAN TUBA (Tur)
2 DRASKOVIC (Mon)
3 CARDIN (Ita) and OUIHADDADENE (Fra)
-61 kg
1 RISTIC (Slv)
2 LOTFY (Egy)
3 FERRER GARCIA (Spa) and LALLO VIOLA (Ita)
-68 kg
1 SEMERARO (Ita)
2 ELTEMUR (Tur)
3 RAKOVIC (Mne) and PUSNIK (Slv)
+68 kg
1 GARCIA (Fra)
2 CHATZILIADOU (Gre)
3 HOCAOGLU (Tur) and PALACIO GONZALEZ (Spa)
-60 kg
1 AMEKNASSI (Mor)
2 AZZOAUZI (Tun)
3 SAMDAN (Tur) and SALAMA (Egy)
-67 kg
1 GARIN (Fra)
2 UYGUR (Tur)
3 ENNKHAILI (Spa) and KELEBIKJ (Mac)
-75 kg
1 ELTEMUR (Tur)
2 GARIBOVIC (Cro)
3 BOUABAOUB (Alg) and JENDOUBI (Ita)
-84 kg
1 JAKUPI (Mac)
2 J. DA COSTA (Fra)
3 ELMASRY (Egy) and MARTINA (Ita)
+84 kg
1 DAIKHI (Alg)
2 ELASFAR (Egy)
3 BITEVIC (Ser) and ARSOVSKI (Mac)
Countries
1.Turkey (2 gold, 2 silver, 3 bronze)
2.France (2, 1, 1)
3.Morocco (1, 1, 0)
4.Italy (1, 0, 4)
5.Macedonia (1, 0, 2)
6.Slovenia, Serbia, Algeria (1, 0, 1)
9.Egypt (0, 2, 3)
10.Montenegro (0, 1, 1)
Tags