The 15th Asian Championships' practical guide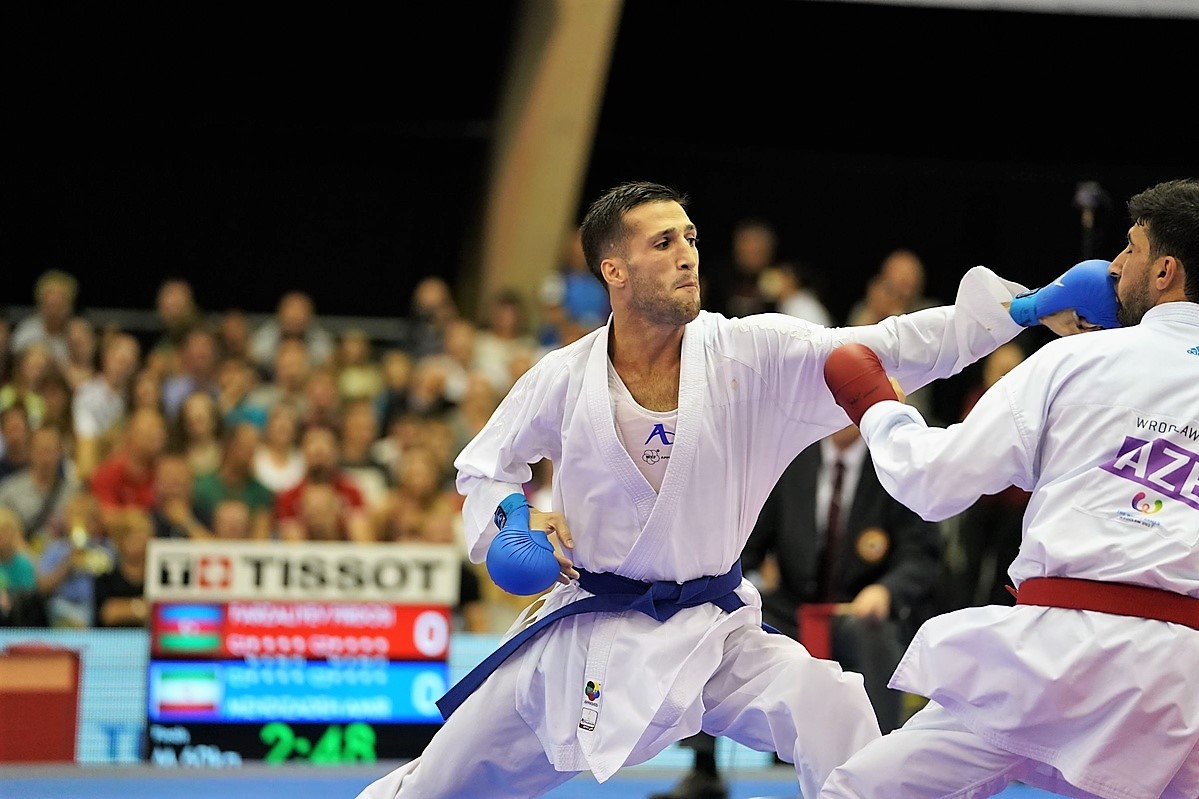 The 15th Asian championships start tomorrow on July 13th in Aman, Jordan. Until Sunday, 300 Karatekas from 29 countries will compete. Japan and Iran should play a tough duel as in the last three editions. China, Kazakhstan and Taipei are outsiders. Program, the 2017 winners, the 2018favorites ... A short practical guide to well follow the competition.
By Ludovic Mauchien
Photos : K-Photos
---
THE COMPETITION'S PROGRAM
Friday July 13th
Preliminary rounds
Female : -50 kg, -55 kg, -61 kg, -68 Kg, +68 kg, Kata, Team Kata.
Male : -55 kg, -60 kg, -67 kg, -75 kg, -84 kg, +84 kg, Kata, Team Kata.
Saturday July 14th
Finals and matches for bronze
SundayJuly 15th juillet
Preliminary rounds and finals : Team Kumite, male and female
THE 2017PODIUMS
HOMMES
-55 Kg
1 Aktauov Andrey (Kaz)
2 Hassanniaideilami Majid (Ira)
3 Sirait Iwan (Indo)
3 Alharbi Abdullah (KSA)
-60 Kg
1 Mehdizadeh Amir (Ira)
2 Saymatov Sadriddin (Uzb)
3 Assadilov Darkhan (Kaz)
3 Albasher (KSA)
-67 Kg
1 Alkhathami Fahad (KSA)
2 Sagandykov Rinat (Kaz)
3 Abdukarimov Sanjar (Uzb)
3 Pan Po-Shen (Tai)
-75 Kg
1 Asgari Ghoncheh Bahman (Ira)
2 Hsu Wei-Chun (Tai)
3 Yesmakhanbet Ruslan (Kaz)
3 Raghonathan Sharmendran (Mas)
-84 Kg
1 Ishizuka Masaya (Jap)
2 Yuldashev Daniyar (Kaz)
3 Khodabakhshi Mahdi (Ira)
3 Abasov Gianzhali (Kyr)
+84 Kg
1 Hamedi Tareg (KSA)
2 Ganjzadeh Sajad (Ira)
3 Lou Wai-Kit (Mco)
3 Gong Xuanwei (Chi)
Team Kumite
1 Iran (Asgari, Asiabari, Ganjzadeh, Hassanbeigi, Heydari, Khodabakhshi, Poorshab)
2 Saoudi Arabia 1 (Alzahrani, Almalki, Alkhalifah, Alturkistani, Albasher, Alharbi, Alkhathami)
3 Kazakhstan (Yuldashev, Sagandykov, Repin, Muratov, Chikhmarev, Amirali, Ainazarov)
3 Japan (Funahashi, Honda, Ishizuka, Koike, Mori, Nishimura, Watanabe)
Kata
1 Ryo Kiyuna (Jap)
2 Zaresta-Yuda Zigi (Indo)
3 Lim Chee-Wei (Mls)
3 Wang Yi-Ta (Tai)
Team Kata
1 Japan (Kinjo, Kiyuna, Uemura)
2 Iran (Delikhoun, Shahrjerdi, Zand)
3 Malaysia (Hoe, Leong, Lim)
3 Indonesia (Andi_Dasril, Andi_Tomy_Aditya, Aspar)
FEMALE
-50 Kg
1 Tadano (Jap)
2 Srunita (Indo)
3 Khupovets (Kaz)
3 Babaeva (Ubz)
-55 Kg
1 Wen (Tai)
2 Ishiai (Jap)
3 Jefry_Krishnan (Mas)
3 Cok_Istri (Indo)
-61 Kg
1 Yin Xiaoyan (Chi)
2 Choi Wan_Yu (HK)
3 Utelbayeva (Kaz)
3 Moriguchi (Jap)
-68 Kg
1 Someya (Jap)
2 Tang Lingling (Chi)
3 Thi_Thu_Hien (VN)
3 Kaviani_Cherati (Ira)
+68 Kg
1 Uekusa (Jap)
2 Thi_Hong_Anh (VN)
3 Gao (Chi)
3 Dessynta (Indo)
Kumite équipe
1 Iran (Chalaki, Dousti, Abbasli, Alipourkeshka)
2 Taipei (Chao, Gu, Ku, Wen)
3 Kazakhstan (Khupovets, Serikova, Utelbayeva, Zakharova)
3 Japan (Kawamura, Saito, Someya, Uekusa)
Kata
1 Iwamoto (Jap)
2 Afustiani (Indo)
3 Tararattanakul (Tha)
3 Lee (Mas)
Team Kata
1 Japan (Mugiyama, Okamoto, Taira)
2 Iran (Nasiripay, Rahmani, Yazdani)
3 Indonesia (Ayu, Eva_Fitria, Siti)
3 Malaysia (Ariana_Lim, Cherlene_Cheung, Lee)
NATIONS RANKINGS
The 2017 Ranking
July 15th-17th in Astana (Kazakhstan)
1 Japan (8 gold, 1 silver, 3 bronze)
2 Iran (4, 4, 2)
3 Saudi Arabia (2, 1, 2)
4 Kazakhstan (1, 2, 6)
5 Taipei (1, 2, 2)
6 China (1, 1, 2)
7 Indonesia (0, 3, 5)
8 Uzbekistan (0, 1, 2)
9 Vietnam (0, 1, 1)
10 Hong-Kong (0, 1, 0)
11 Malaysia (0, 0, 6)
12 Thailand, Kyrghyzistan, Macao (0, 0, 1)
Le classement 2015
September 4th-6th in Yokohama (Japan)
1 Japan (9 gold, 1 silver, 6 bronze)
2 Kazakhstan (3, 2, 1)
3 Iran (2, 4, 5)
4 Taipei (1, 2, 1)
5 China (1, 1, 1)
6 Vietnam (1, 0, 1)
7 Koweit (0, 3, 3)
8 Hong-Kong (0, 2, 3)
9 Malaysia (0, 1, 5)
10 UAE (0, 1, 0)
11 Thailand (0, 0, 3)
12 Saudi Arabia (0, 0, 2)
13 Jordan, Sri Lanka, Uzbekistan (0, 0, 1)
The 2013 ranking
December 2nd-8th in Dubaï (UAE)
1 Iran (7, 3, 5)
2 Japan (5, 3, 2)
3 China (2, 1, 3)
4 Kazakhstan (1, 2, 2)
5 UAE (1, 0, 2)
6 Uzbekistan (1, 0, 0)
7 Taipei (0, 3, 4)
8 Saudi Arabia (0, 2, 0)
9 Koweit (0, 1, 2)
10 Vietnam (0, 1, 1)
11 Hong-Kong (0, 0, 4)
12 Malaysia (0, 0, 2)
13 Macao, India, Jordan, Pakistan (0, 0, 1)
THE FAVORITES FOR GOLD
-55kg
Key facts : Kazakhstan's Andrey Aktauov, the two-time running champion, is not engaged. Iran's Hassanniaideilami is the runner-up champion.
Favorites : Majid Hassanniaideilami (Ira), Cheung Kwan-Lok (HK)
-60kg
Key facts : Iran's Amir Mehdizadeh is the double-title holder. He beat Saymatov in the final last year.
Favorites : Mehdizadeh (Ira), Saymatov (Uzb)
-67 kg
Key facts : Kazakhstan's Sagandykov, winner in 2013 and 2015, 2nd in 2017, is absent. KSA's Fahad Alkhathami is the main favorite to succeed to himself.
Favorite : Fahad Alkhathami (KSA)
-75kg
Key facts : The Iranian title holder, Asgari, is not present. Hsu Wei-Chun, silver medalist in 2017, stands out. Japan's Ken Nishimura, who twice beat Aghayev this year, is to be watched.
Favorites : Ken Nishimura (Jap), Hsu Wei-Chun (Tai), Asiabari Ali-Ashgar (Ira), Yesmakhanbet (Kaz), Raghonathan (Mas)
-84 kg
Key facts : Winner in 2013 and 2015, absent in 2017, Japan's Ryutaro Araga is the huge favorite of this category. Khodabakhshi finished 3rd in 2017.
Favorites : Ryutaro Araga (Jap), Khodabakhshi (Ira)
+84 kg
Key facts : Iran's Ganjzadeh, 2nd in 2015 and 2017, is absent. KSA's Hamadi is the main favorite to succeed to himself.
Favorites : Tareg Hamedi (KSA), Lou Wai Kit (Macao)
Team Kumite
Key facts : Iran won in 2013 and 2017, Japan in 2015. Kazakhstan was twice medalist in 2013 and 2017. Jordan, 3rd in 2015, evolves at home.
Favorites : Iran, Japan, Jordan, Kazakhstan, Saudi Arabia
Kata
Key facts : Ryo Kiyuna is the double-title holder, he was 3rd in 2013.
Favorite : Ryo Kiyuna (Jap)
Team Kata
Key facts : Japan holds the last 3 titles. Iran ranked 3 times on the podium (2nd in 2013 and 2017, 3rd in 2015), as did Malaysia (2nd in 2015, 3rd in 2013 and 2017)
Favorite : Japan
Female
-50 kg
Key facts : the double title holder, the Japanese Tadano, is not engaged.
Favorites: Miyahara (Jap), Sukadentel (Indo)
-55kg
Key facts : Wen Tzu-Yun is the double title holder.
Favorites : Wen Tzu-Yun (Tai), Jefry Krishnan (Mas)
-61 kg
Key facts : Yin Xiao Yan is the double title holder.
Favorites : Yin Xiao Yan (Chi), Choi Wan-Yu (HK)
-68 kg
Key facts : Japan's Kayo Someya is the double title holder. China's Tang Lingling won in 2013.
Favorites : Kayo Someya (Jap), Tang Lingling (Chi)
+68 kg
Key facts : Japan's Ayumi Uekusa is the defending champion (2nd in 2013). Thi Hong Han Nguyen was finalist last year. Gao Mengmeng has been medalist in the last 3 editions.
Favorites : Ayumi Uekusa (Jap), Han Nguyen Thi Hong (VN), Gao Mengmeng (Chi)
Team Kumite
Key facts : Iran won in 2013 and 2017, Japan in 2015. Taipei was finalist i2015 and 2017.
Favorites : Iran, Japan, Taipei
Kata
Key facts : The title holder, Japan's Iwamoto, is not engaged. In 2015, Shimizu defeated Grace Lau in the final. Xin-Yi Lee finished twice 3rd.
Favorites : Kiyou Shimizu (Jap), Mo Sheung Grace Lau (HK), Celine Xin-Yi Lee (Mas), Tararattanakul (Tha)
Team Kata
Key facts : Vietnam managed to break the Japanese hegemony in 2015. Iran finished 3 times on the podium in the last 3 editions (2nd in 2013 and 2017, 3rd in 2015).
Favorites : Japan, Iran, Vietnam
Tags