2nd European Games, instructions for use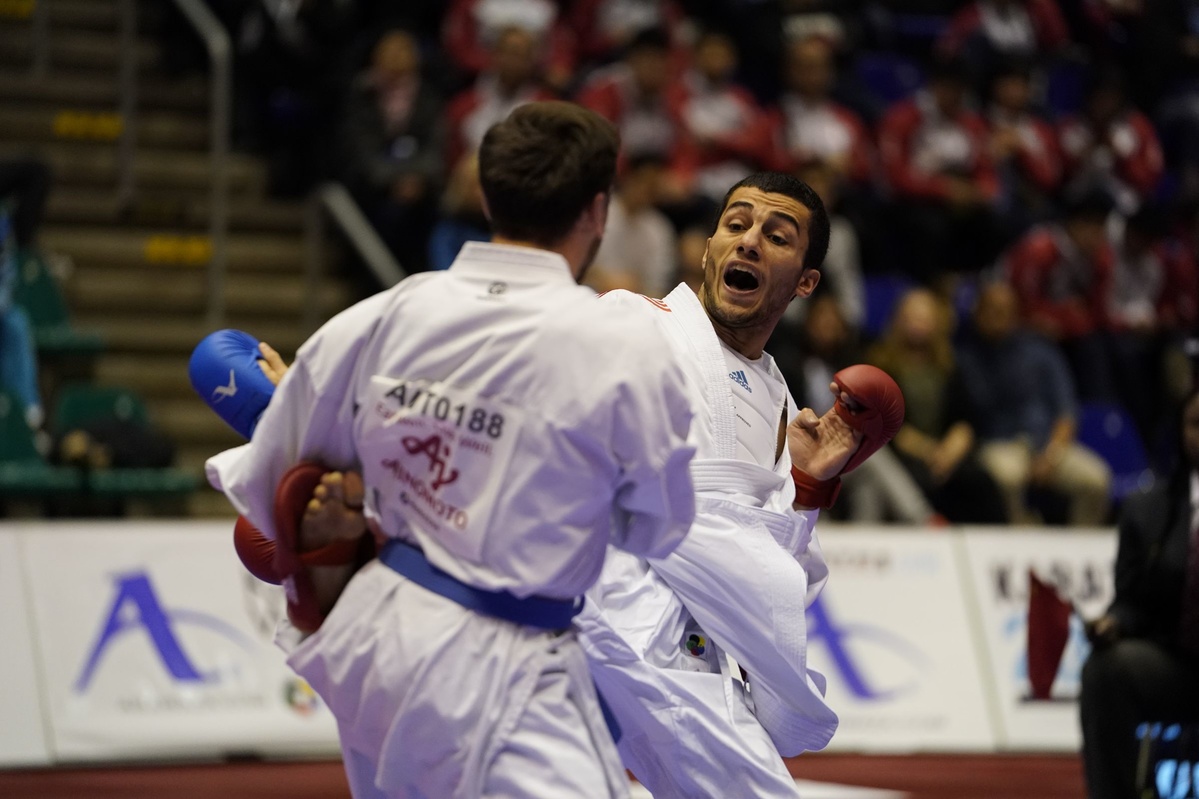 The European Games, it's for this weekend ! The 8 European World champions and 8 continental Gold medalists will be on stage for these mini Olympics. 8 competitors in 12 category. The entries, the duels, the program, where to watch the tournament ... All you need to know to follow the competition.
By Ludovic Mauchien / Photo: Kphotos
---
The European Games, what is it ?
In short, we could say that these are mini Olympics. Multisports competition (15), it is expected to host 4000 athletes from 50 nations from June 20 to 31 in Minsk (Belarus). This is only the 2nd edition after Baku 2015.
The competition
It must be a Top 8. It is a Top 6 because of the Olympic rules : the 6 best WKF World Ranking (1 May 2018 - 1 April 2019) + 1 athlete from the host country (Belarus) + 1 athlete nominated at name of universality. In all, 96 karatekas are registered in Minsk in the 12 WKF (so non-Olympic) categories on Saturday 29 and Sunday 30 June, with finals scheduled on the same day as the playoffs (yes !).
Saturday. Eliminations and finals : women's and men's kata, -68kg and + 68kg, -84kg and + 84kg.
Sunday. Eliminations and finals : -50kg, -55kg, -61kg, -60kg, -67kg, -75kg
8 world champions on stage
All European World champions, and 8 European ones, are ready to add a new line to their record, with the exception of France's Steven Da Costa (-67 kg), forfeit due to injury. Angelo Crescenzo (Italy, -60 kg), Ivan Kvesic (Croatia, -84 kg), Jonathan Horne (Germany, +84 kg), Sandra Sanchez (Spain, Kata), Dorota Banaszczyk (Poland, -55 kg), Jovana Prekovic (Serbia, -61 kg), Irina Zaretska (Azerbaijan, -68 kg) and Eleni Chatziliadou (Greece, +68 kg) are engaged in Minsk.
Where to follow the tournament
On Karate-K.com of course! 😊 But also on your TV, as the European Games are widely broadcasted. Karate will be on the air on Saturday and on Sunday from 11am to 7pm.
It promises to be epic ! In some categories, the duel would be spicy, which is logical considering that the Top 6 of each category are qualified. Aghayev-Busa-Horuna in -75 kg, Aktas-Chobotar-Isakau (home) in -84 kg, Plank-Ozcelik in -50 kg, Agier-Quirici en -68 kg… We cannot wait !
What is gold worth ?
The European Games are they really a mini Olympics ? This is the idea and ambition but, only created in 2015, the European version of the Continental Games still suffers from notoriety and consideration, unlike its Asian and Pan-American alter egos. Moreover, several Olympic sports are absent (taekwondo ...) as some others use this competition as an European championship (judo..).
The Olympic qualifications
No points are awarded individually. The finalists and the bronze medalist beaten by the winner however offer a quota to their country, if it has no qualified athlete for Tokyo. This will ensure it to have at least one representative in Tokyo.
The 2015 winners
In Baku four years ago, Azerbaijan finished 1st nation ahead of Turkey and France. Farzaliyev, Uygur, Aghayev, Quintero, Ozcelik, Zaretska and Sanchez Jaime will try to achieve the double 2015-2019.
-60kg
Farzaliyev (Aze). 2. Maresca (Ita). 3. Pavlov (Mkd)
-67kg
Uygur (Tur). 2. S. Da Costa (Fra). 3. Aliyev (Aze)
-75kg
Aghayev (Aze). 2. Busa (Ita). 3. Eltemur (Tur)
-84 kg
Mamayev (Aze). 2. Tzanos (Gre). 3. Aktas (Tur)
+84 kg
Erkan (Tur). 2. Horne (Ger). 3. Nestorovski (Mkd)
Kata
Quintero (Spa). 2. Busato (Ita). 3. Yakan (Tur)
-50 kg
Ozcelik (Tur). 2. Plank (Aut). 3. Recchia (Fra)
-55kg
Thouy (Fra). 2. Kovacevic (Cro). 3. Gasimova (Aze)
-61kg
Ignatius (Fra). 2. Coban (Tur). 3. Lenard (Cro)
-68kg
Zaretska (Aze). 2. Buchinger (Aut). 3. Rakovic (Mon)
+68 kg
Martinovic (Aze). 2. Hocaoglu (Tur). 3. Zaytseva (Rus)
Kata
Sanchez Jaime (Spa). 2. Scordo (Fra). 3. Bozan-Eltemur (Tur)
The Gold seekers
-60kg
1 Evgeny Plakhutin (RUS)
2 Angelo Crescenzo (ITA)
3 Emil Pavlov (MKD)
4 Eray Samdan (TUR)
5 Firdovsi Farzaliyev (AZE)
6 Kalvis Kalnins (LAT)
7 Ilya Bulatau (BLR)
8 Bogdan Gogolosi (ROU)
-67kg
1 Rafiz Hasanov (AZE)
2 Mario Hodzic (MNE)
3 Stefan Pokorny (AUT)
4 Luca Maresca (ITA)
Burak Uygur (TUR)
Yves Martial Tadissi (HUN)
7 Artsiom Krautsou (BLR)
8 Jess Rosiello (BEL)
-75kg
1 Luigi Busa (ITA)
2 Rafael Aghayev (AZE)
3 Joe Kellaway (ENG)
4 Stanislav Horuna (UKR)
5 Gabor Harspataki (HUN)
Erman Eltemur (TUR)
Ivan Korabau (BLR)
8 Pavel Artamonov (EST)
-84 kg
1 Ugur Aktas (TUR)
2 Anton Isakau (BLR)
3 Nikola Malovic (MNE)
4 Valerii Chobotar (UKR)
5 Farouk Abdesselem (FRA)
6 Michele Martina (ITA)
Ivan Kvesic (CRO)
8 Alvin Karaqi (RKS)
+84 kg
1 Jonathan Horne (GER)
2 Slobodan Bitevic (SRB)
3 Asiman Gurbanli (AZE)
4 Gogita Arkania (GEO)
5 Alparslan Yamanoglu (TUR)
6 Andjelo Kvesic (CRO)
7 Aliaksei Vodchyts (BLR)
Tyron-Darnell Lardy (NED)
Kata
1 Damian Quintero (ESP)
2 Ali Sofuoglu (TUR)
3 Mattia Busato (ITA)
4 Ilja Smorguner (GER)
5 Enzo Montarello (FRA)
6 Roman Heydarov (AZE)
7 Aliaksei Tarashkevich (BLR)
8 Silvio Moreira (AND)
WOMEN
-50 kg
1 Sophia Bouderbane (FRA)
2 Bettina Plank (AUT)
3 Serap Ozcelik Arapoglu (TUR)
4 Shara Hubrich (GER)
5 Kateryna Kryva (UKR)
6 Nurane Aliyeva (AZE)
Mariya Koulinkovitch (BLR)
8 Katarina Susac (BIH)
-55kg
1 Jenny Warling (LUX)
2 Yakan Tuba (TUR)
3 Amy Connell (SCO)
4 Anzhelika Terliuga (UKR)
5 Dorota Banaszczyk (POL)
6 Jana Bitsch (GER)
7 Irina Sharykhina (BLR)
8 Ivet Goranova (BUL)
-61kg
1 Merve Coban (TUR)
2 Tjasa Ristic (SLO)
3 Anita Serogina (UKR)
4 Gwendoline Philippe (FRA)
Jovana Prekovic (SRB)
6 Cristina Ferrer Garcia (SPA)
7 Anastasiya Dzyachkova (BLR)
8 Bettina Alstadsaether (NOR)
-68kg
1 Alizee Agier (FRA)
2 Elena Quirici (SWI)
Silvia Semeraro (ITA)
4 Irina Zaretska (AZE)
5 Halyna Melnyk (UKR)
6 Miroslava Kopunova (SVK)
Maryia Aliakseyeva (BLR)
8 Katrine Pedersen (DEN)
+68 kg
1 Laura Palacio Gonzalez (SPA)
2 Eleni Chatziliadou (GRE)
3 Titta Keinanen (FIN)
4 Clio Ferracuti (ITA)
5 Nancy Garcia (FRA)
6 Meltem Hocaoglu (TUR)
7 Katsiaryna Martynouskaya (BLR)
8 Hana Antunovic (SWE)
Kata
1 Sandra Sanchez Jaime (SPA)
2 Viviana Bottaro (ITA)
3 Dilara Eltemur (TUR)
4 Alexandra Feracci (FRA)
5 Jasmin Juettner (GER)
6 Veronika Miskova (CZE)
7 Maryia Fursava (BLR)
8 Patricia Esparteiro (POR)
Tags