My best fight / Junior Lefevre : "This wins freed me from a burden"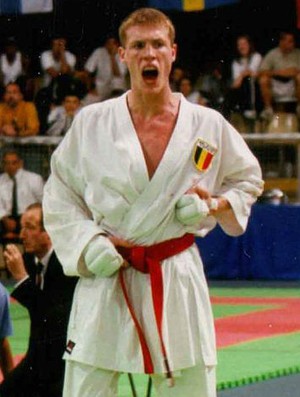 World champion in 2000 in Munich (-70 kg), multiple World and European medalist, Belgium's Junior Lefevre is an undisputed figure of worldwide Karate. Known for his technical and physical abilities, devoted to his martial art, he has coached several nations before coaching England today. He chose to tell us about his Munich semi-final against France Rida Bel Lahsen which remains his "best fight".
By Florian Fournier / Photos: D.R
---
In 2000, in Munich, under the Croatian banner, Junior Lefevre becomes World champion (-70 kg), although his final against Senegal's Fode Ndao remains a great memory of his career, he wanted to tell us about his semi-final against Rida Bel Lahsen.
"It's a memorable fight because of the competition and the quality of my opponent and the fight itself. Rida was a great champion. That year, he was European silver medalist and ended 3rd in these World championships.
This fight is all the more spectacular since the score and the scenario have delighted the public. I lead the score, Rida goes up, we are 5-5. I manage to score the last point that qualifies me for the final (at the time, the fights ended at 6 points).
In my opinion, the victory was played on the one who hesitated the least. To come back to 5-5, Rida countered me but I did not hesitate afetrwards to take the initiative while he hesitated a fraction of a second between attacking or countering. This is the moment that rocks the fight.
It's a World championship. So I have prepared very well this fight. I was training like hell (3-4 hours a day). Some weekends, I did two competitions in different places to fight everyone. It was therefore impossible for me to lose this semi-final and even these World championships.
But this semi-final is special. During major competitions, I often blocked at this level either by lack of experience, or by contact (disqualification). I had to succeed in overcoming this blockage. During the fight, I felt I was mentally gaining the upper hand.
I had good sensations and that allowed me to free myself. Whatever the score was, I remain calm and confident.
I experienced this victory as a liberation. It freed me from a weight. I experienced it as a final. Afterwards, I felt on the ground. Even my father who lived the fight near the tatami was like crazy. That's to say if this win is precious and unique. I think if Rida had beaten me it, would have been the end of the world for me.
I knew the strengths of Rida as he knew mine. However, specifically on this fight, I had an advantage over Rida : I understood his coach's instructions when he did not understand those of my coach. Then, I was very offensive and each time I tried a technique, I scored.
Today, I still use this fight when I coach. Now there is a lot of talk about tactics and strategy. But, by being too strategic, athletes become "harmless". Too many fights end at 0-0 or 1-0, and afterwards, they regret not having attacked enough or taking the initiative too late. My message is therefore clear and it is lied with my Munich semi-final : the more you try, the more you have a chance to score and therefore to win. If you try 20 times, you have 20 chances to score whereas if you try 1 time you have only 1 chance to score".
Watch the fight :
Tags