My best fight / Steven Da Costa : « This crossover in the World final is to be experienced »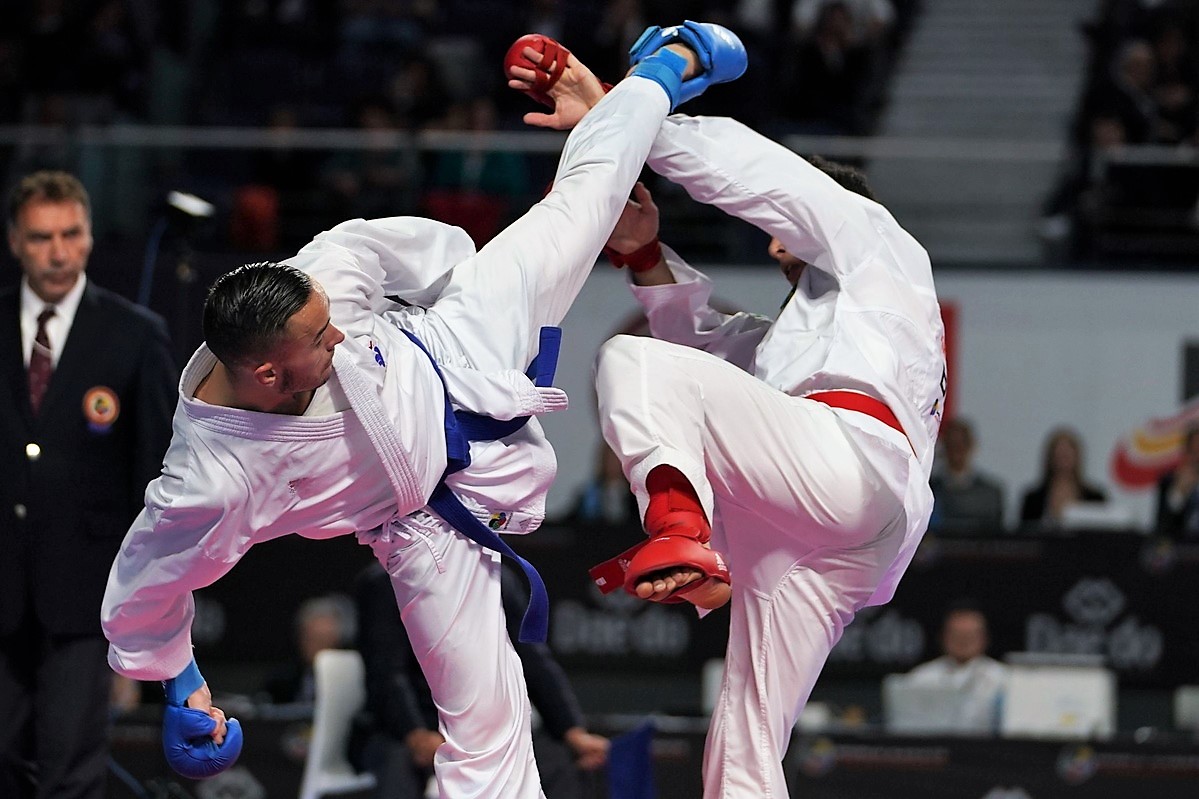 The only Frenchman qualified for the Tokyo Olympics for now, World champion Steven Da Costa is already one of the stars of the world circuit at only 23 years old. In this new episode of « my best fight », he looks back on his wins in the final of the 2018 World championships in Madrid after a twirling fight against Brazil's Vinicius Figueira...
By Florian Fournier / Photos : Kphotos
---
From a classic opposition in football, France vs Brazil also became in November 2018 a sumptuous poster of World Karate. This fight is the masterpiece of Steven Da Costa opposed to Vinicius Figueira (-67 kg). It allowed the Frenchman to be World champion and elected as the best fighter of the competition.
« My best fight ? I want to talk about my final of the Madrid's World championships in 2018. I am still young but, for now, it is this fight that matters most in my career. Strangely, it's a fight where I took a lot of points (he won 6-5) but the scenario, the feelings and the emotion felt that day put it at the top of my favorite fights.
Vinicius scores first. For him, it's the perfect start. Leading 3-0 in the World championship final is a huge advantage. However, I stayed focused. I was sure of my strength and my potential. I come back to 3-3 thanks to a sweep. The fight starts all over again. He again takes the advantage on score before I take the lead again. He won't come back. This crossover in a World final is something to experience. When you're an athlete, feeling all these emotions in such a short time is great, especially when you win.
In this fight, as usual, I never gave up. I came to Madrid only for victory. I had no stress. My preparation before the fight was as usual, like a normal fight. I was cool when I arrived at the stadium, I sat a little in the stands with my family and my relatives, then I left to warm up 10 minutes before the fight. Time was up ! I think Olivier Beaudry (his coach) was more under stress than me.
Vinicius is someone very offensive and who likes the matches where there is fight. I had no particular strategy or game plan against him. Everything was done by feeling. I only knew that he was going to give me the opportunity to score points and that it was up to me to seize them in order to win the title. I also had to stay focused in defense.
Unfortunately, it didn't start as expected with this 3-0 where I say to myself « Wow, it's going to be hard » but I did not doubt and I did a good fight. Mentally, it was an ordeal for both of us.
The turning point happened when I scored Ura mawashi geri jodan to get the score again. Once ahead, I locked the fight up to not give him any hope. Afterwards, I realized that I didn't counter-attack after some of his mistakes for the sole purpose of locking up the fight.
I don't think about that fight every day. For me, all fights and competitions are different. My shape of the day is never that of the next day. In this fight, my Karate was instinctive, I did what I knew to do best and it worked. If we did the same fight the next day or even 2 hours later, my techniques may not have worked. I'm proud of my performance but it's not my philosophy to work on it for the future.
On the other hand, I had imagined this situation the day before. In my subconscious, a leg saved me and allowed me to win the title. That's kind of what happened. Mental imagery may have worked this time. To dethrone this fight, I only see one solution : the gold medal at the Olympic Games ! ».
Tags