Shanghai 2019 - Day 1 / Assadilov, Terliuga, Asgari, Ozcelik in the final again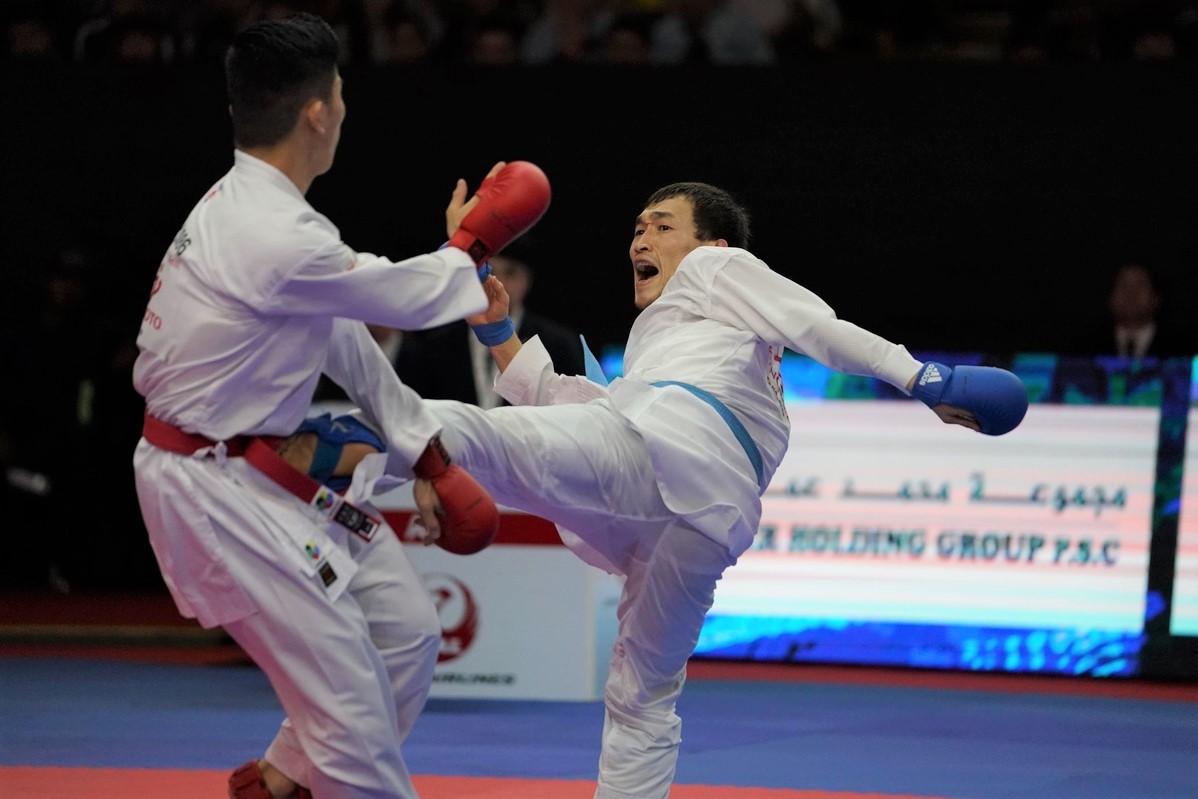 A 100% Kazakhstan final in -60 kg, unprecedented in -67 kg and -55 kg, opportunistic in -75 kg, historic in -50 kg and Kata. The first day of K1 Shanghai (7-9 June) delivered its verdict, with 2 finals for Iran (Karimi, Asgari) and, therefore, Kazakhstan (Alpysbair, Assadilov). French side Alexandra Recchia is in the final against Ozcelik (-50 kg), Steven Da Costa (-67 kg) and Sabrina Ouihaddadene (-55 kg) will fight Sunday for bronze. All the results of this 1st day.
By Ludovic Mauchien / Photo : K-photos
---
-60 kg : 100% Kazakstan !
Darkhan Assadilov is in great shape. 3rd at the Worlds, 3rd in Paris, winner in Dubai, Salzburg and Rabat, he will play his 4th fourth final in a row. Good for him because the competition is tough and, for him, it starts in his own country, with his young compatriot Kaisar Alpysbay, 3rd in Dubai and Salzburg, that he will fight in the final on Sunday.
Assadilov eliminated Plakhutin and Farzaliyev, Alpysbay dominated Kaya and Brazil's Brose in the ½ final (1-0).
Final : Alpysbair (Kaz) vs Assadilov (Kaz)
Bronze : Farzaliyev (Aze) vs Shaaban (Kuw) and Brose (Bra) vs Hassan (Irn)
-67 kg : Madera and Karimi… Surprise !
The 1st one is ranked 33rd in the world, Venezuela's Andres Madera, and the 2nd one, Iran's Seyedali Karimi, is World 63rd. Enough to understand that we will attend a never seen final on Sunday. Madera, the 2015 Panam champion, has not been on a podium since 2017. Karimi, the Iran N°4, was Junior Asian champion in 2017 and finalist in Istanbul 2018.
The two fighters did not steal their final: Karimi defeated Gutnik, Tadissi, Garin and Ngamphuengphit ; Madera dominated Derafshipour, Elsawy, Shinohara and Steven Da Costa in the semifinal (0-0). The French is eliminated without having taken a single point !
Final : Madera (Ven) vs Karimi (Irn)
Bronze : S. Da Costa (Fra) vs Elsawy (Egy) and Ngamphuengphit (Tha) vs Tadissi (Hun)
-75 kg : Asgari for the pass of three
What a category ! Even without Rafael Aghayev, this -75 kg weight division still offers superb duels. 2nd round : Busa beats Asiabari (4-3). Abdelaziz beats Horuna (8-0). ¼ finals : Scott beats Busa (5-1), Eltemur beats Bitsch (1-0), Asgari beats Nishimura (2-2), Otabolaev beats Abdelaziz (3-1). ½ final : Asgari beats Eltemur in ½ (3-1) and Otabolaev beats Scott (2-0). In th… final : the reigning World champion, winner in Dubai and Istanbul, will play his 3rd final of the year against Uzbekistan's Otabolaev, 2 finals on his meter (2017 and 2018).
Final : Otabolaev (Uzb) vs Asgari (Irn)
Bronze : Eltemur (Tur) vs Nishimura (Jpn) Scott (Usa) vs Sakiyama (Jpn)
Team Kata
Final : Hong-Kong vs Kuweit
Bronze : China 5 vs Malaysia and China 1 vs China 3
Female
-50 kg : Guess what… it will be Recchia vs Ozcelik !
We will never get tired of it ! It has been more than 15 years, since the cadets that Alexandra Recchia and Serap Ozcelik, very good friends, are fighting each other at the very highest level. They will again be opposed in the final on Sunday.
For her 3rd competition after her injury, the French reached her... 22nd international final in individual ! Serap Ozcelik is not bad either because it will be her... 29th! The Turkish champion remains on 6 podiums in a row in 2019, including 4 wins (Paris, Dubai, Rabat, Istanbul). The bets are open...
Final : Recchia (Fra) vs Ozcelik (Tur)
Bronze : Salama (Egy) vs Kryva (Ukr) and Ku (Tpe) vs Sayed (Egy)
-55 kg: 4th final for Terliuga in 2019
We cannot stop her anymore ! Ukraine's Anzhelica Terliuga has won 5 medals (including 3 golds) in her last 7 outings. On Sunday, in the final, she will be opposed to a novice at this stage, China's Ding, 3rd at the 2017 U21 World championships. The 2018 European champion beat France's Sabrina Ouihaddadene in ¼ (1-0) then Turkey's Yakan Tuba in ½ final.
Jiamei Ding, beat Khaksar in ¼ (2-1) and Lorena Busa in ½ (2-1), yet in good shape (winner of Poland's World champion, Dorota Banaszczyk, in ¼, 2-1).
Final : Terliuga (Ukr) vs Ding (Chn)
Bronze : L. Busa (Ita) vs Khaksar (Irn) and Yakan Tuba (Tur) vs Ouihaddadene (Fra)
Kata : as usual
What could be expected if not a new final between the Nadal and Federer's kata ? Sandra Sanchez Jaime will again face Kiyou Shimizu in the final. Both opponents stay on one win each. Another Shimizu could be medalist in the person of Natsuki, the little sister of whom you know.
Final : Sanchez Jaime (Esp) vs K. Shimizu (Jpn)
Bronze : N. Shimizu (Jap) vs Ono (Jap) and Kokumai (USA) vs Lau (HK)
Saturday's schedule
Male. -84 kg, +84 kg, kata
Female. -61 kg, -68 kg, +68 kg, team kata
Tags