SeriesA Santiago / Gomyo "is happy"(1), Horuna and Lotfy too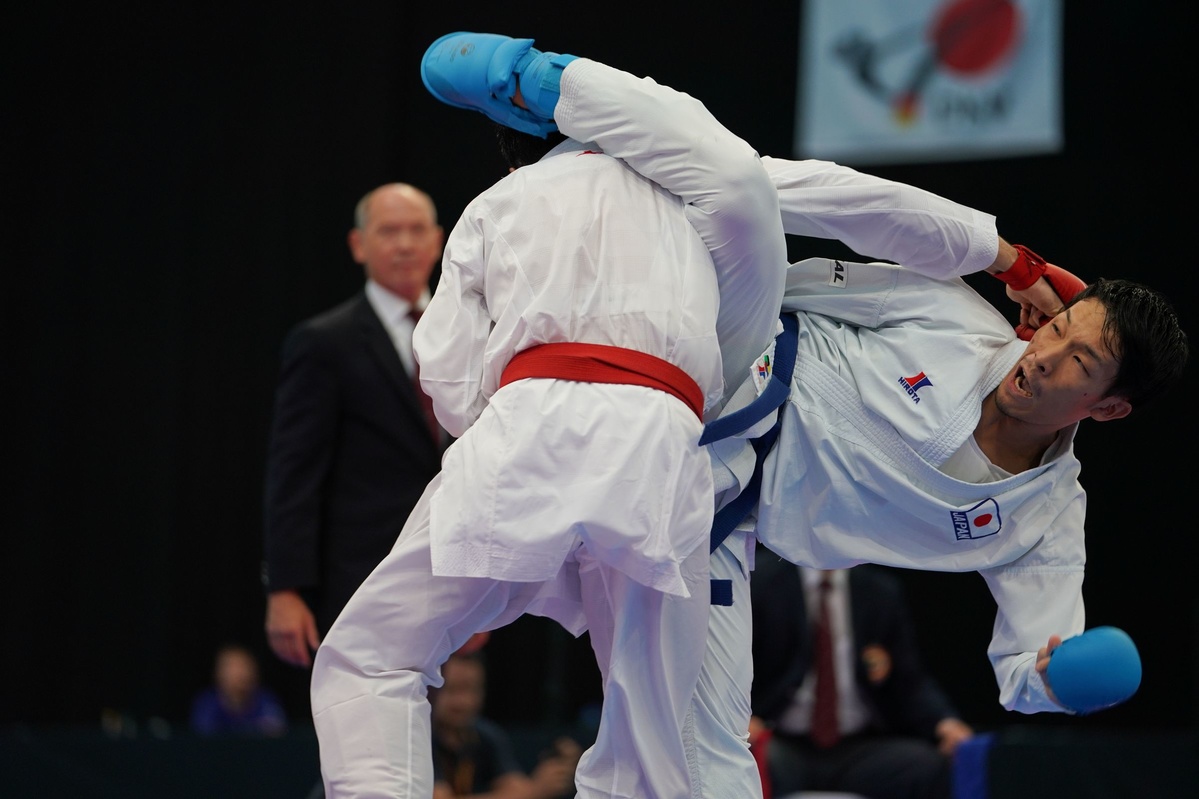 Already winner in Tokyo 2 weeks ago, Japan's Gomyo (-67 kg) did it again in Santiago (September 20-22). In -60 kg, Assadilov fell and did not achieve to win his 5 success in a row, nor Terliuga (-61 kg), who played her... 6th final in 2019. Horuna (-75 kg) wins his 2nd success of the year after having dominated Busa in the ¼ final. Lotfy (-61 kg), Samdan (-60 kg), Ozcelik (-50 kg) and Aktas (-84 kg) are again in gold. All the results...
By Ludovic Mauchien / Photo: Kphotos
---
-60 kg : The king fell, Samdan is crowned
Kazakhastan's Assadilov, 6 wins in 7 Karate 1 this year, fell in the quarter-finals to Japan's World runner-up Naoto Sago (1-0). But the latter could not fully exploit this performance, losing at the decision in the final against Turkey's Samdan. The latter, winner of World champion Crescenzo in the semi-finals (8-0), gets his 6th podium in 2019, his 2nd success after Istanbul last May. The Italian consoles himself with the bronze, as well as Assadilov, winner 6-0 of the Spaniard Ortiz.
Final : Samdan b. Sago, 0-0
Samdan (Tur)
Sago (Jap)
Assadilov (Kaz) / Crescenzo (Ita)
-67 kg : Gomyo , 2nd win in a row
We cannot stop him anymore ! In Tokyo, he declared that he had won because he was at home, in Japan. Hiroto Gomyo showed in Santiago that he could also win away from his homeland. The Japanese, registered with the Tekyo University, won his 4th Premier League (Halle 2017, Istanbul 2018, Tokyo 2019) by dominating the World silver medalist, Brazil's Vinicius Figueira, in a thrilling final (4-3). In the semi-final, he had got rid of Chile's Velozo (6-5) while Figueira had beaten Amirali (1-0).
Final : Gomyo b. Figueira, 4-3
Gomyo (Tekyo Univ., Jap)
Figueira (Bre)
Velozo (Chi) / Amirali (Kaz)
-75 kg : Horuna finally takes it
2nd win and 5th podium of the year for Ukraine's Stanislav Horuna. His final, he played it in ¼ finals against Italy's Busa, that he mastered 3-1. Unlike his semi-final against Aghayev in Tokyo, this time, the referee's eyes were in his favor in the final against Chile's Gonzalez, which he won at the decision (0-0). Luigi Busa and US Thomas Scott, the other 2 top seeds, end in bronze.
Final : Horuna b. Gonzalez, 0-0
Horuna (Ukr)
Gonzalez (Chi)
Busa (Ita) / Scott (USA)
-84 kg: And a 4th win for Aktas
4th success of the year in Karate 1 for the European champion of Turkey, Ugur Aktas. After beating France's Kenji Grillon in the semi-final (3-1), he beat Iran's Zabiollah Poorshab, who was already an unhappy finalist in Tokyo, in the final (1-1). Poorshab had previoulsy eliminated Yuldashev in the semi-final (7-6).
Final : Aktas b. Poorshab, 1-1
Aktas (Tur)
Poorshab (Irn)
Chikhmarev (Kaz) / Shimada (Jap)
+84 kg : Jacquet, premiere !
The 1st one is World n° 35, the 2nd one is World n°42. Both fought under the colors of their club, the Samurai 2000 of Le Mans and Sarcelles. France's Dnylson Jacquet and Salim Bendiab met in the final in Santiago ! The youngest and 1st named beat the last one (4-2) and wins his first title on the Senior circuit, his first win since his Junior European Champion in 2016. On his side, Bendiab beat Bitevic, Ouchen and Rojas.
Final : Jacquet b. Bendiab, 4-2
Jacquet (Fra, Le Mans)
Bendiab (Fra, Sarcelles)
Salfate (Chi) / Rojas (Chi)
Kata : This time, it's Kikuchi
In the absence of the two tenors, there was a blow to play. But neither Turkey's Sofuoglu (3rd), nor Japan's Moto (3rd) or Shimbaba (5th, lost against Moto for the bronze) did not take advantage of the situation. So Kikuchi and Nishiyama played their first international final. The first named opens his counter.
Final : Kikuchi (Jap) b. Nishiyama (Jap)
Kikuchi (Jap)
Nishiyama (Jap)
Sofuoglu (Tur) / Moto (Jap)
Kata team
Kokushinkan (Jap)
Rapid SKF (Ita)
Colombia / Spain
WOMEN
-50 kg : Ozcelik, of course !
She was not going to miss herself twice ! Serap Ozcelik means 7 podiums including 5 wins in 2019, and only one accident, in Tokyo two weeks ago. Mistake forgotten ! The current World silver medalist won her... 15th success in Karate 1.
Final : Ozcelik b. Salazar, 0-0
Ozcelik (Tur)
Salazar (Fri)
Tadano (Jap) / Tsukii (Phi)
-55 kg: Kumizaki dominates Terliuga on the wire
In a highly aesthetic final, neither Ukraine's Terliuga, nor Brazil's Kumizaki really got the better of the other but the South American finally won her 11th K1 (2-2). The Ukrainian continues to reap the good performances. In Santiago, Anzhelica Terliuga was playing her 6th K1 final in 2019, for 4 wins. In the semi-final, she dominated Germany's Bitsch (6-3), while Kumizaki beat Italy's Sara Cardin on the lead (3-3). For bronze, Warling dominated Cardin (2-1) and Toro, Bitsch (3-2).
Final : Kumizaki b. Terliuga, 2-2
Kumizaki (Bra)
Terliuga (Ukr)
Warling (Lux) / Toro (Chi)
-61 kg : Lotfy is really back !
The vacation is over. Egypt's Giana Lotfy, World champion in 2014 and 2016 before taking a break for her studies, has found back all her sensations. She had not won a Karate 1 since 2016. She has just won the last two, in Tokyo and, therefore, in Santiago. And without really forcing her talent. In the final, she easily defeated Russia's Rodina (5-0).
Final : Lotfy b. Rodina, 5-0
Lotfy (Egy)
Rodina (Rus)
Jumaa (Can) / Zhang (Chn)
-68 kg : Gong Li loves Santiago
Her 1st big success on the international circuit, the young Chinese won it in Santiago. It was last year. 3rd in Tokyo two weeks ago, Gong Li beat Japan's Kayo Someya in the semi-final (3-0) and then Elena Quirici of Switzerland in the final (5-3) to get her 3rd win of her career. In the ½ final, Quirici had dominated Italy's Semeraro (3-0). For bronze, Abdelaziz defeated Semeraro (1-0) and Melnyk defeated Someya (2-2).
Final : Gong Li b. Quirici, 5-3
Gong Li (Chn)
Quirici (Swi)
Abdelaziz (Egy) / Melnyk (Ukr)
+68 kg : Premiere for Saito
Ayumi Uekusa absent, the Japan n°2 (World n°8) did not pray to be noticed. Ayaka Saito got only scored in the semi-final against Brazil's Rodrigues (2-2) and wins her 1st Karate 1. The latter, finally 3rd, had previously dominated the World champion, Eleni Chatziliadou. For the 2nd bronze, Silva beat Turkey's Hocaoglu. The German Johanna Kneer hangs her 2nd silver medal in 2019.
Final : Saito b. Kneer, 1-0
Saito (Jap)
Kneer (All)
Rodrigues (Bre) / Silva (Bre)
Kata : The Ono, queens of Santiago
In Japan, it seems like karate is practiced in siblings... There are the Moto brothers, the Someya sisters, the Shimizu sisters ... There are also the Ono sisters, Hikaru and Maho. The 1st, registered with the Oita firemen's club, won her 3rd K1 (Paris 2017, Montreal 2019), and her ... 18th podium ! The 2nd one, with the University of Keio, wins the bronze, her 2nd international medal after the silver one in Montreal last June, by beating US Kokumai. Iwamoto, 3rd in Tokyo, wins another bronze medal at the expense of Turkey's Eltemur.
H. Ono (Jap)
Bottaro (Ita)
Iwamoto (Jap) / Mr. Ono (Jap)
Kata team : Peru at the rendez-vous
Peru 1
Peru 2
Spain / Brazil
(1)See the video on Facebook OR Insta : karatekofficiel
Tags