Karate1 Rabat / Terliuga wins again, the Egyptians on top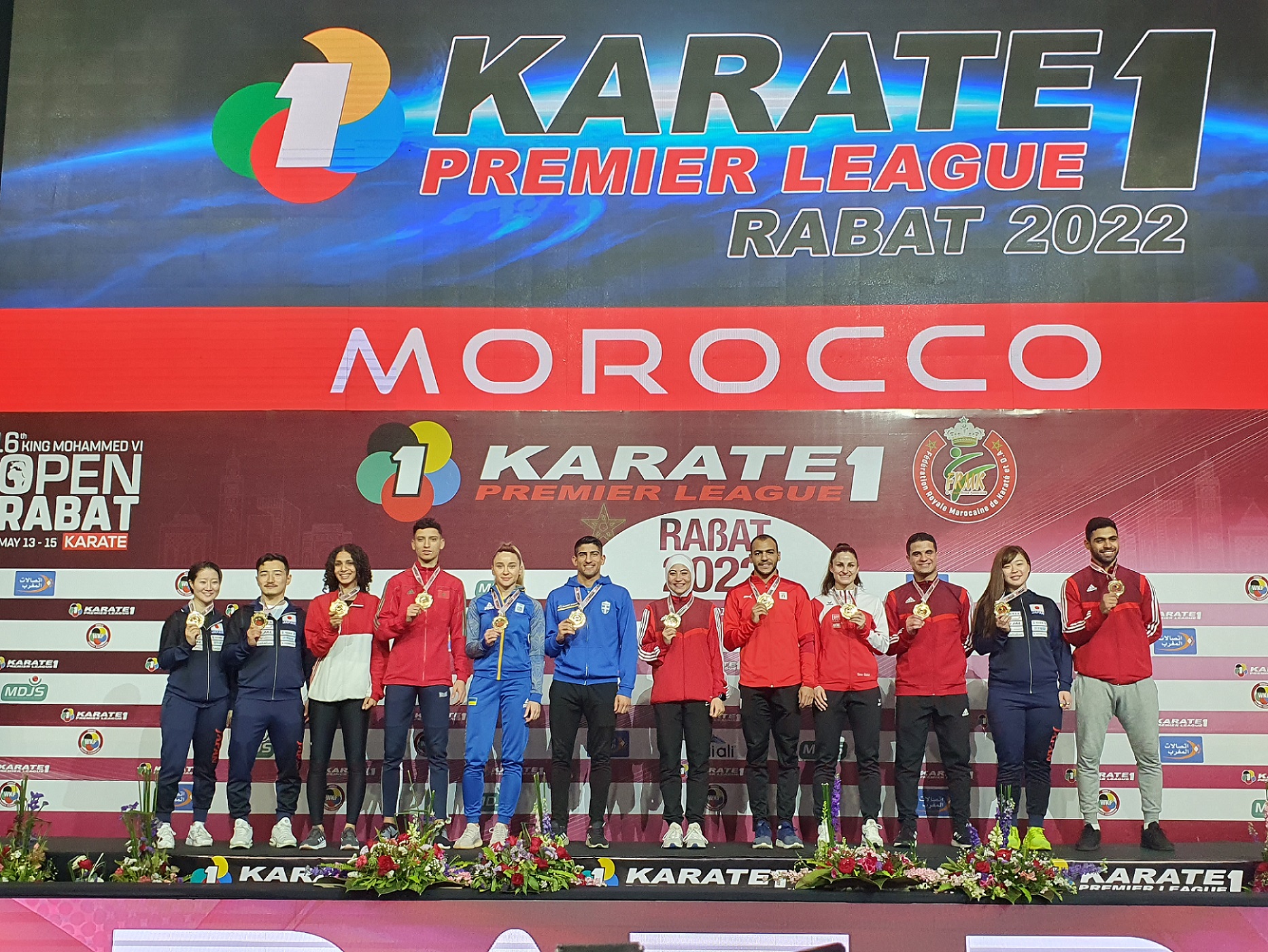 The Karate1 Rabat, even though some top athletes were missing, offered nice fights and allowed young champions to assert themselves, or even to win their 1st K1, as the Moroccan Jina (3rd of the worlds in Dubai in -60 kg), the Egyptian world champion Badawi (-84 kg) or his compatriot Salama (-50 kg). 1st win also for the Greek Xenos (-67 kg) and the Japanese Ono and Moto in Kata. Japan's Uekusa for her comeback, Switzerland's Quirici and Ukraine's Terliuga, who beat the world champion in the final, left their mark.
By Ludovic Mauchien in Rabat (Morocco)
Photo : LM
---
THE BESTS OF
In the -84 kg, the World champion Youssef Badawi was losing 4-1 against Aljafari (Jor). 1 Ura Mawashi later, he won 6-4.
We used to see for many years Gema Morales in the Kata Spanish national team. She now does Kumite quite successfully. Winner of the SeriesA in Pamplona last January, she was in the final in Rabat but couldn't do anything against the Young Egyptian Salama.
In -50 kg, the Young (22) Yorgelis Salazar, from Venezuela, was really impressive in her bronze medal match. It took her 59 seconds to beat Cyprus Kontou. 1 Ura + 1 Mawashi in 29 seconds and then, 2 punches. 8-0 !
In -67 kg, Tadissi (Hun) was lead 5-1 by Belgian Oualad Haj Amar. He finally won his bronze match 6-6 thanks to the referees' decision.
In -84 kg, Slimani (Tun) won 8-3 thanks to a Mawashi and a sweep against the 2018 World champion Kvesic (Cro) who comes back from a surgery.
ALL THE RESULTS
MALE
-60 kg
Final
Jina (Mor) b. Mohamed (Egy), 5-5 (Senshu)
Bronze
Shaaban (Kuw) b. De Falco (Ita), 6-3
Guliyev (Aze) b. Huseynov (Aze), 3-0
-67 kg
Final
Xenos (Gre) b. Lotfy (Egy), 1-1 (Senshu)
Bronze
G. De Vivo (Ita) b. Oubaya (Mar), 3-2
Tadissi (Hun) b. Oualad Haj Amar (Bel), 6-6 (decision)
-75 kg
Final
Abdelaziz (Egy) b. Elsawy (Egy), 3-2
Bronze
El Sharaby (Ita) b. Masarweh (Jor), disq
D. De Vivo (Ita) b. Mansour (Egy), 1-0
-84 kg
Final
Badawy (Egy) b. Aljafari (Jor), 6-4
Bronze
Slimani (Tun) b. Kvesic (Cro), 8-3
Ech-Chaabi (Mor) b. Ramadan (Egy), 5-0
+84 kg
Final
Mahmoud (Egy) b. Seck (Spa), 4-0
½ finals (=bronze)
Mahmoud (Egy) b. Mohamed (Egy), 2-2 (Senshu)
Seck (Spa) b. Costa (Bel), 2-2 (Senshu)
Kata
Final
K. Moto (Jpn) b. Tozaki (USA), 25,98 vs 25,54
Bronze
Abe (Jap) b. Torres Gutierrez (USA), 26,4 vs 26,12
Nishiyama (Jpn) b. Hayashida (Jpn), 26,46 vs 25,54
FEMALE
-50 kg
Final
Salama (Egy) b. Morales (Spa), 7-3
Bronze
Salazar (Ven) b. Kontou (Cyp), 8-0
Agus (Ita) b. Plank (Aut), 6-1
-55 kg
Final
Terliuga (Ukr) b. Youssef (Egy), 5-2
Bronze
Schaerer (Swi) b. Busa (Ita), 2-2 (Senshu)
Pereira Villalobos (Spa) b. Lirisman (Est), 1-0
-61 kg
Final
Ali (Egy) b. Graziosi (Ita), 2-0
Bronze
Chajai (Mor) b. Factos (Ecu), 1-0
Snel (NL) b. Angelucci (Ita), 4-2
-68 kg
Final
Quirici (Swi) b. Brouk (Mor), 5-0
Bronze
Kydonaki (Gre) b. Haag (Swe), 2-1
Abdelaziz (Egy) b. Zaretska (Aze), 0-0 (3-2 flags)
+68 kg
Final
Uekusa (Jpn) b. Okila (Egy), forfeit
Bronze
Sachova (Cze) b. Orana (Kos), 4-3
Helmy (Egy) b. Stamer (Ger), 1-0
Kata
Final
H. Ono (Jpn) b. Lau (HK), 26,6 vs 25,74
Bronze
Shimizu (Jpn) b. Roy Rubio (Spa), 25,74 vs 25,02
M. Ono (Jpn) b. Rodriguez Encabo (Spa), 26,14 vs 25,48
Tags