An international tournament, At last !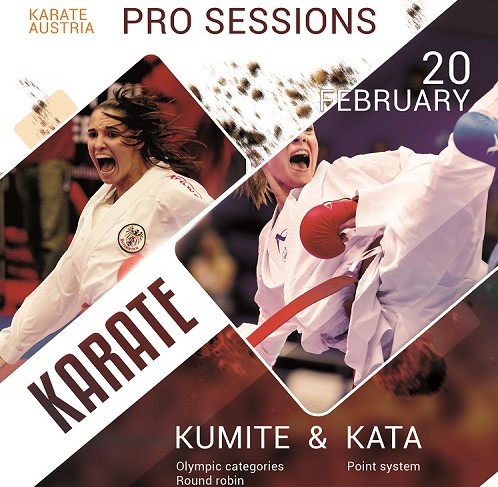 At last ! An international Karate tournament will take place in Europe for the first time in a year. On Saturday February 20, at the initiative of the Austrian federation, some 60 athletes (Kata and Kumite) from about 10 countries will meet at the Budokan in Wels. Horne, Bitsch, Horuna (?), Crescenzo, Tadissi, Cardin, Philippe, Plank, Pasqua, Buchinger… will be on action on livestream (1). Ewald Roth, one of the organizers, introduces us to the « Pro Sessions ».
By Ludovic Mauchien / Photos : DR
---
Why does the Austrian federation organize this tournament ?
We realize how important it is for our athletes to have international competitions. Since the K1 in Portugal was cancelled, we thought we have to do something. We also want to move forward and not be paralyzed by the pandemic. Moreover, we saw from other martial arts like Judo that they are doing competitions. It's important to show that we are also able of doing it.
But the main goal, the starting point for us, we wanted to provide for our athletes an opportunity to fight, especially in Olympic categories.
Two weeks ago, we started with a friendly tournament Austria against Germany. This was like a template for this bigger tournament where we will host around 10 countries.
This competition is called « pro sessions ». Why ?
In order to refer to the professionality of our athletes and of many federations that are pursuing the Olympic goal. We wanted to invite professional athletes. We wanted to be able to choose them. We are in contact with many countries. We more or less chose the top athletes from these countries, those who are really challengers also for our athletes. All the countries that are participating are in friendly contact with us. The selection was also based on the quality of the competitors.
« EVERYONE GETS TO FIGHT AGAINST EVERYONE »
What will be the format of the tournament ?
We will do round robin competition with the Olympic weight categories. This is very important because we want everyone to benefit from it and not to lose in the 1st round and go home. We want them to have a good practice and to have many fights. There will not be any ½ finals and final. Everyone gets to fight against everyone. Ties are allowed and give 1 point, a win gives 2 points and, to make it more attractive, a win with +4 points gives 3 points. The three first ranked athletes will get medals. Basically, our idea is to get as closed to the Olympic field as possible and to give the athletes a maximum number of fights.
What was the biggest problematic you have to deal with ?
Well, we have to fight on many battle fields. Of course, it's pretty demanding to do the Covid-19 protocol. On site, we will do daily tests. We have to make sure that everyone obeys our Covid-19 protocol. Also, we are not allowed to have spectators. It's a challenge to fulfill all the requirements but we delt with that 2 weeks ago in the competition with Germany. And we were successful. Nothing happened. It was all very safe.
But the biggest challenge is to deal with the situation in which we are now because many countries are afraid to travel or get false information like it's impossible to travel in Austria unless you stay in quarantine. This is wrong. Athletes from other countries are allowed to travel in Austria without going to quarantine.
Also, for people coming from other countries, who don't know well the Austrian legal framework, it requires a lot of support but we are happy to give that to them because they are all friends and we want to support each other.
All athletes registered will be there ?
Yes. Only Stanislav Horuna is still in question because he doesn't have a proper flight yet. But everyone else yes. All of them had confirmed already. We are very much looking for it because it would be a great competition. We will produce a livestream. And also, the Austrian TV will probably broadcast it in live. We would stream by e-mail, YouTube and Facebook.
(1)
The tournament would be broadcast on live. It can be watched on 2 links :
https://www.youtube.com/user/sportdatalive
Tags