Karate 1 Lisbon / Money-time for the Olympic qualifications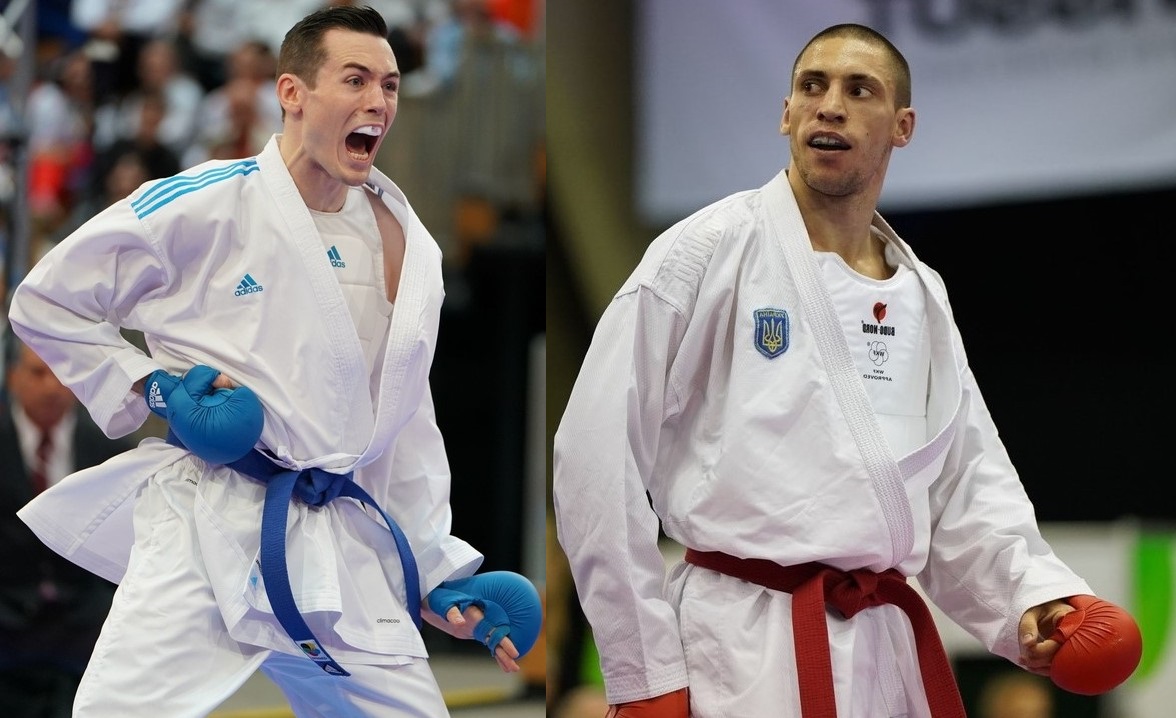 Figueira vs Elsawy, Horuna vs Scott, Arkania vs Horne and Ganjzadeh, Bahmanyar vs Plank, Prekovic vs Jumaa vs Alipourkeshka, Heurtault vs Philippe, Quirici vs Li, Hocaoglu vs Chatziliadou… What thrilling and exciting duels await us in Lisbon, for the last Olympic Karate 1 (April 30-May 2).
Even if the European championships (May19-23) should play a big role in the allocation of the last sesame for the Tokyo Olympics (5-7 August), this Karate 1 in Lisbon is decisive for many. Update on the issues, category by category.
By Ludovic Mauchien / Photo :
---
It's money-time ! It's quite simple, apart from Kata, no category delivered the Olympic verdict before this final Karate 1 Premier League in Lisbon (April 30-May 2). And, despite almost 3 years of Olympic qualification, since the K1 Berlin in 2018. The differences remain minimal between many athletes for the Tokyo Olympics (August 5-7).
Of course, the holding of the European Championships in May (19-23 in Croatia) which, by definition, concern only Europeans, requires some calculations to be made. But the Altice Arena Sport Hall in Lisbon should experience some moments of strong emotions.
In Lisbon as in Porec, a win will worth 990 points, a 2nd place 750, a 3rd 570, a 5th 450… The stakes.
-67 kg : Figueria – Elsawy : Hot, hot, hot !
The battle rages between 4 contenders for the last 2 Olympic tickets. Before the K1 Lisbon, Angelo Crescenzo and Brazil's Vinicius Figueira hold the rope. In -60 kg, the Italian World champion is 3rd with 8850 points but Turkey's Eray Samdan (4th with 7912.5 pts) can still mathematically get ahead of him, even if the mission promises to be difficult. Samdan has the Karate 1 in Lisbon and the European championships in May to erase a 937.5 pts deficit. Neither of them had performed at the 2019 Euro. They can only win points in Croatia.
On the other hand, it is the moment of truth for Vinicius Figueira, 5th in the ranking but 2nd in -67 kg and Egypt's Ali Elsawy, who is just behind him. Only 360 points separate the 2 champions (6832.5 against 6472.5) before this final competition. Clearly, If Elsawy wins and Figueira finishes 3rd, the Egyptian takes the lead. Hot, hot, hot !
Already qualified : Darkhan Assadilov (Kaz, -60 kg), Steven Da Costa (Fra, -67 kg)
-75 kg : Horuna ahead of Scott but…
Their crossover has been going on for some Karate 1. At the last one, in Salzburg, in February 2020, Stanislav Horuna got ahead of Thomas Scott in the ranking thanks to his 3rd place, the American not having scored any points. Thus, the Ukrainian is 660 points ahead of Scott (5707.5 against 5047.5). A priori comfortable, but Horuna has to compete in the European championships and, potentially, in case of underperformance, may lose the 570 points gained in 2019 with his 3rd place. While Stanislav Horuna is in an excellent position to compete in the Olympics, the verdict is not yet final.
Already qualified : Bahman Asgari (Irn), Luigi Busa (Ita), Rafael Aghayev (Aze)
+75 kg : One qualified (Aktas), many unknowns
Before this K1 Lisbon, Ugur Aktas, Sajad Ganjzadeh, Jonathan Horne and Ivan Kvesic are qualified for Tokyo. But, in fact, only Aktas is officially (1st with 10,372.5 pts). Zabiollah Poorshab, although 2nd in the ranking (9225), is not. Why ? Because his compatriot Ganjzadeh (3rd with 8617.5 pts) is 1st in the +84 kg category and only one athlete per country can participate to the Games.
Ganjzadeh is 555 points ahead of Jonathan Horne (4th with 8,062.5 pts, qualified). If the German wins in Lisbon and the Iranian does not do better than 5th, he will get ahead of Ganjzadeh, thus qualifying Poorshab and eliminating Kvesic (5th in the ranking with 7,087.5 pts and 3rd -84 kg). But for Horne, as for Kvesic, there will still be the European championship to go. The German, winner in 2019, will not be able to glean any points, only to lose some. The Croatian, 3rd in 2019, can hope to get a few more (420 maximum), especially since he will be fighting at home.
We should not forget Gogita Arkania, 6th in the ranking with 7080 points. It would be a feat for the Georgian if he managed to qualify directly. With 982.5 points behind Horne, whom he must get ahead of to be qualified, Arkania is entitled to no mistakes. But he has one significant asset : the European championships. 5th in 2019, he can earn 540 more points if successful in Croatia in May. The situation should be clearer after Lisbon.
Already qualified : Ugur Aktas (Tur, -84 kg)
Kata M : The Games are done
The 4 qualified are already known : Damian Quintero (Spa), Ali Sofuoglu (Tur), Antonio Diaz (Ven), Mattia Busato (Ita)
-55 kg : Bahmanyar and Plank very close
For the last two places to be allocated, Taipei's Tzu-Yun Wen, 3rd in the ranking with 7,080 pts (-55 kg), is in a perfect position. With 1372.5 points ahead of Jana Messerschmidt (5th in the ranking with 5707.5 pts), she is almost qualified. But the German has one trump card : the European championships where she was not ranked in 2019. So, if she wins the 2 remaining competitions, she will win 1980 points. To be definitively qualified, Tzu-Yun Wen must finish at least 5th in Lisbon.
In -50 kg, the game is extremely tight. Only 450 points separate Sara Bahmanyar (6th in the ranking with 5647.5 pts and virtually qualified) from Bettina Plank (7th with 5197.5 pts), the difference between a 1st and a 5th place. The Austrian, 2nd in the 2019 Europeans, can even hope to get 240 more points if she wins in Croatia in May. Nothing is done !
Especially since China's Ranran Li (10th with 4680 pts) could come to play the spoilsport. But for that to happen, she would have to win in Lisbon and neither Plank nor Bahmanyar score any points. It would be a real miracle.
Already qualified : Serap Ozcelik (Tur, -50 kg), Anzhelica Terliuga (Ukr, -55 kg)
-61 kg : 5 contenders for 1 place, 1 decisive French duel !
Very smart who could predict the one that will accompany Yin, Lotfy and Coban in Tokyo in -61 kg ! They are 5 to be held in 967.5 points, that is to say less than what brings a success (990). For now, Serbia's Jovana Prekovic, 4th with 5482.5 pts, is the lucky winner.
But Canada's Haya Jumaa (5th) is 345 points behind her, Iran's Alipourkeshka (6th) at 375 points, France's Gwendoline Philippe and Leila Heurtault (7th and 8th) respectively at 592.5 and 967.5 points.
Jumaa and Alipourkeshka absolutely need to score as many points as possible in Lisbon because, unlike their rivals, they do not have the European championships option to glean more points. They must also pray that their opponents do not score many.
Qualification could well be played in Croatia in May. Of the 2 French women, only one will still have the opportunity to play her card. This K1 Lisbon is therefore decisive in the sense that the selection for the European championships (19-23 May) will be decided upon. Philippe or Heurtault will then be eliminated from the Olympic race in -61 kg.
In 2019, only Gwendoline Philippe scored points by finishing 3rd at the Europeans. 450 points are at stake. Leila Heurtault and Jovana Prekovic, unranked in 2019, can potentially dream of scoring 990 points by winning the title in Porec.
Already qualified: Xiaoyan Yin (Chn), Giana Lotfy (Egy), Merve Coban (Tur)
+61 kg : 8 for 2 tickets !!!
In -68 kg, Elena Quirici, 3rd in the ranking with 6525 points, is followed by China's Li Gong, 4th at 112.5 points from her. Egypt's Feryal Abdelaziz, 5th at 450 points and, to a lesser extent, Italy's Silvia Semeraro, 7th at 795 points, can also represent a threat. Lisbon is the last chance for Li Gong and Abdelaziz. If there make good performances in Portugal, Quirici and Semeraro could play the qualification at the European championships in Croatia. For the Italian, it is already a matter of closing a 682.5 points gap over Li Gong. In 2019, she ranked 3rd at the Europeans. By winning the title in Croatia, she would collect 420 additional points compared to the Chinese. In short, Semeraro must finish better ranked than Li and Abdelaziz in Lisbon to continue to believe in it. Apothecary calculations that will not happen if Elena Quirici, 2nd at Euro 2019, performs in both competitions.
For the last remaining ticket, at +68 kg, the suspense is also total. Turkey's Meltem Hocaoglu, 8th in the ranking, is qualified for the moment. But she is only ahead of Greece's Eleni Chatziliadou (9th) by… 22.5 points, Kazakh's Sofya Berultseva (10th) by 210 points and Italy's Clio Ferracuti by 660 points. In other words, nothing is done. Especially since all of them, but Berultseva, will participate in the European championships. In 2019, Chatziliadou ranked 2nd and Hocaoglu 3rd. They had collected 750 and 570 points. Ferracuti was not ranked. If she performs in Croatia and her rivals fail, she could well be the last minute surprise.
Already qualified : Irina Zaretska (Aze, -68 kg), Hamideh Abbasali (Irn, +68 kg)
Kata F : The Games are done
The 4 qualified are already known : Sandra Sanchez Jaime (Spa), Viviana Bottaro (Ita), Grace Lau (HK) and Sakura Kokumai (USA)
Tags