KaratePorec2021 / The European Championships at a glance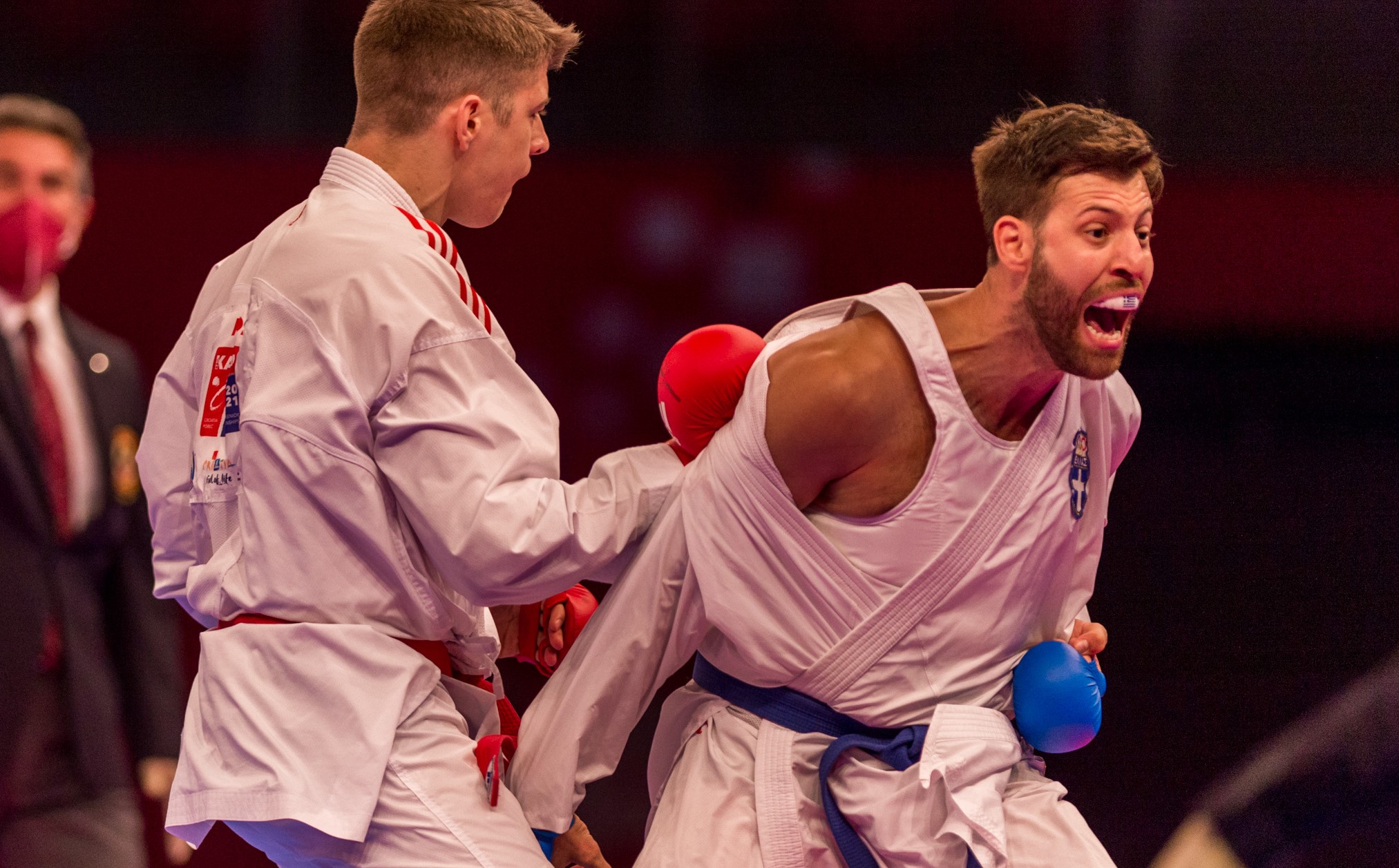 Horne, Horuna, Tzanos, Ozcelik, Sofuoglu, Montenegro, Croatia… In short, the exploits, the records, the firsts, the failures, the Olympic qualified… In short, the highlights of these 56th European Championships which took place in Croatia from May 18 to 23.
By Ludovic Mauchien and Florian Fournier in Porec (Croatia) / Photo: KaratePorec2021
---
World champion, European champion… Olympic champion ?
They are 4 to be World champion, European champion and to be able to hope for a historical hat-trick by becoming Olympic champion in Tokyo at the beginning of August : Sandra Sanchez (kata), Jovana Prekovic (-61 kg), Irina Zaretska (-68 kg) and Jonathan Horne (+84 kg). Considering the impressive level showed by these 4 "fantastic", they can dream of a unique hat-trick.
Games are done
They were not yet sure of being qualified directly for the Tokyo Olympics. As great champions, they left no one crumbs. The Turkish Meltem Hocaoglu (+68 kg) and the German Jonathan Horne (+84 kg) won the title and, thereby, ensured their participation in the Olympics.
Messerschmidt misses her flight to the Olympics
Only a win at the European Championships could allow Jana Messerschmidt to qualify directly for the Olympics. She was not far from it as she made it to the final. But the German bowed against Russia's Chernysheva and missed the plane. However, she consoled herself with a great victory in team.
Greece into feast days
We haven't seen Greece at such a level for a long time. With 5 medals (1 gold, 1 silver, 3 bronzes), it ranks 5th nation. If it does not have any qualified athletes via the ranking, the form of its troops presages an OQT in Paris (June 11-13) of the highest caliber. Dionysios Xenos (gold, -67 kg) or his brother Stefanos Xenos (bronze, -60 kg), Vicky Panetsidou (silver, -68 kg), Eleni Chatziliadou (bronze, +68 kg) and Georgios Tzanos (bronze, +84 kg) will be tough opponents given their performance in Porec.
Georgios Tzanos, medalist in 3 categories !
His 1st European medal dates to 2008 (silver). He was then in -75 kg. In all, he won 8 medals, including 2 golds. 3 in -75 kg, 4 in -84 kg and now 1 in +84 kg with the bronze won in Porec. Hats off to the artist !
Sofuoglu's achievement
If a 7th title seemed promised to him, Spain's Damian Quintero was cut off from under his feet by Turkey's Ali Sofuoglu who won his 1st European title with a powerful Gojushiho Sho. A real feat for the Turk as the Spaniard has been trusting international titles and podiums for almost 10 years.
Firsts, firsts, firsts
In Porec, the premiers were legion : Russian Chernysheva (-55 kg), Azerbaijani Irina Zaretska (-68 kg), Turkish Meltem Hocaoglu (+68 kg), Turkish Eray Samdan (-60 kg), who will be selected for the OQT, Greek Dionysios Xenos (-67 kg), Croatia (kumite men) and Germany (kumite women).
Horuna, a winning Ura Mawashi Geri
In -75 kg, the Ukrainian Stanislav Horuna defeated Rafael Aghayev in the final (3-1) and won his 1st European title thanks to an Ura-Mawashi Geri jodan with 3 seconds to go. Less than 3 months of the Olympics, he could not hope for better preparation and confidence.
Horne in 7th heaven
The reigning World champion, Germany's Jonathan Horne, played on two fronts at the European Championships : his Olympic qualification and a 7th European title. Fit and sure of his strength, he achieved both. Winner of his main opponent for the Olympic qualification in ¼ finals, Georgia's Arkania (8-0), the German completed the work by winning the final against Serbian Bitevic (2-0). A 7th European gold that places him better in the pantheon of heavyweights.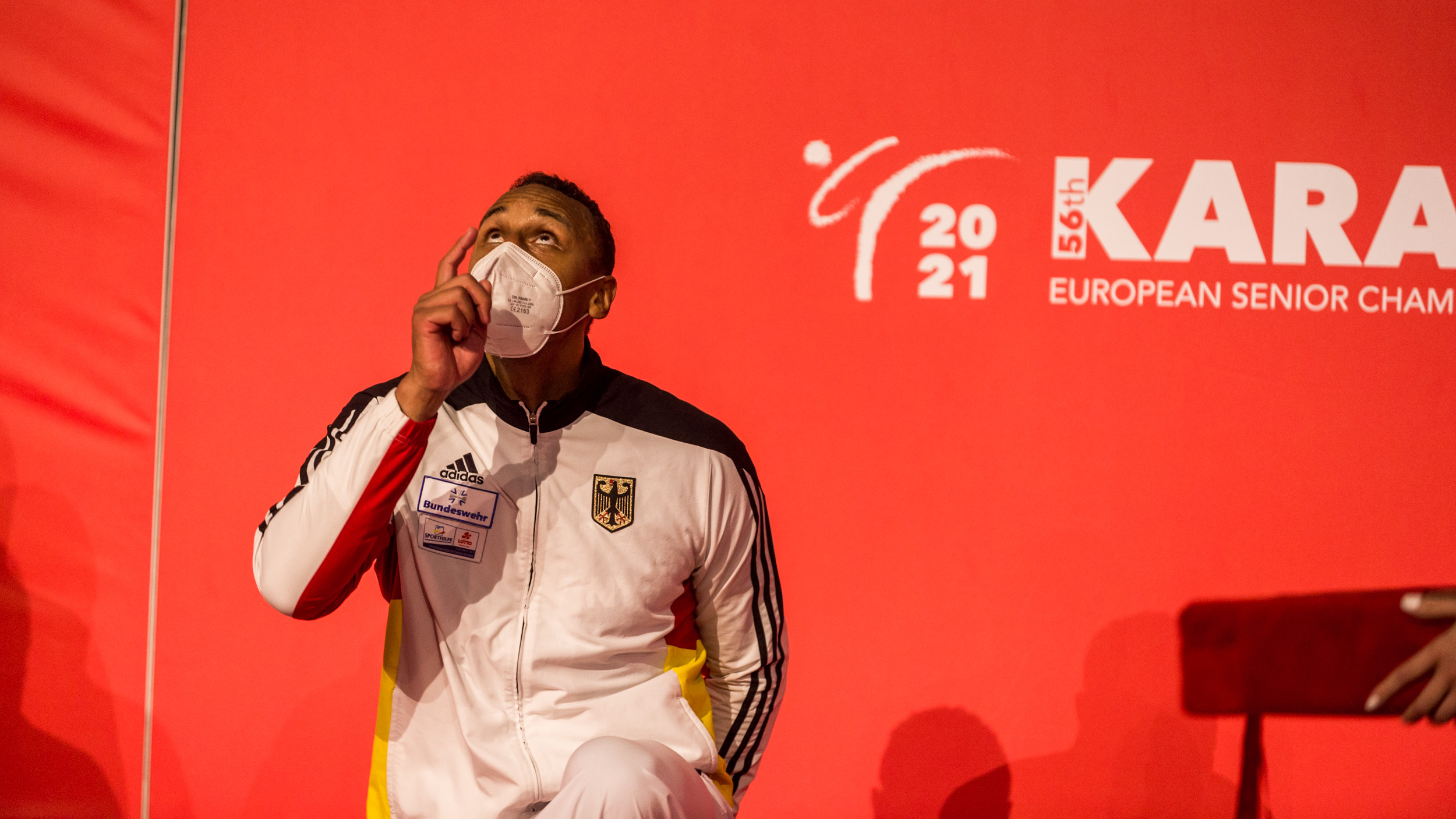 Ozcelik, Sanchez Jaime and Aktas earn
Turkish Serap Ozcelik (-50 kg) won her 5th European title in Croatia, her 12th continental medal ! The 1st one was in 2008. On her side, the Spain's Sandra Sanchez Jaime won her 6th title and Turkey's Ugur Aktas his 4th one.
Plakhutin put on (medal) weight
For his first outing in -67 kg, the Russian Evgeny Plakhutin, old tatami rider, did much better than participate. He reached the final, losing only to the Greek Dionysios. The -60 kg reigning World champion, Italian Angelo Crescenzo was also fighting in -67 kg but ended unranked.
France 14th nation
In Porec, the French team missed out on its competition. It is even the worst European championship in its history with only 4 bronze medals (Heurtault, S. Da Costa, Recchia, women's kata team) and a 14th place.
The Balkan countries in the record
The home advantage was assessed in a study conducted by UK Sports, the British sports agency : 25% more medals. In Porec, the Croatian male kumite team became European champion for the 1st time in its history and took the 3rd place in the women's category.
In Porec, the home advantage seemed to spread to neighboring countries. The men's Kumite final ? A great premier : Croatia (4.5 million people) vs Montenegro (650,000 people). Montenegro is breaking all its records : Radulovic is 7th in kata, Maksimovic 3rd in -55 kg and Hodzic 5th in -75 kg.
Kosovo also breaks its record with Nishevci's 3rd place (+84 kg) and Orana's 5th one (+68 kg). Bosnia places two fighters in 5th place : Muhovic (-84 kg) and Cavar (-68 kg). As for the Serbs, their two pillars, Jovana Prekovic, 1st in -61 kg, and Slobodan Bitevic, 2nd in +84 kg, hold their rank.
The Spanish mess
Surprise on Sunday for the team kumite bronze medal match. Spain does not show up on the tatami to face Azerbaijan. Forfeit ? No, rebellion ! The Spanish fighters have had a hectic week. On Tuesday, they made a party and broke a door at their hotel, which required police intervention. On Friday, one of them, Raul Cuerva, conspicuously touches his genitals after a win while watching his president. According to the newspaper AS, the latter would have insulted them, even harassed them. He is also summoned by the Spanish National Sports Council on Tuesday. In retaliation, the athletes therefore decided not to appear on the mat. To be followed…
Tags