-67 kg : Assadilov - Da Costa in ½ final !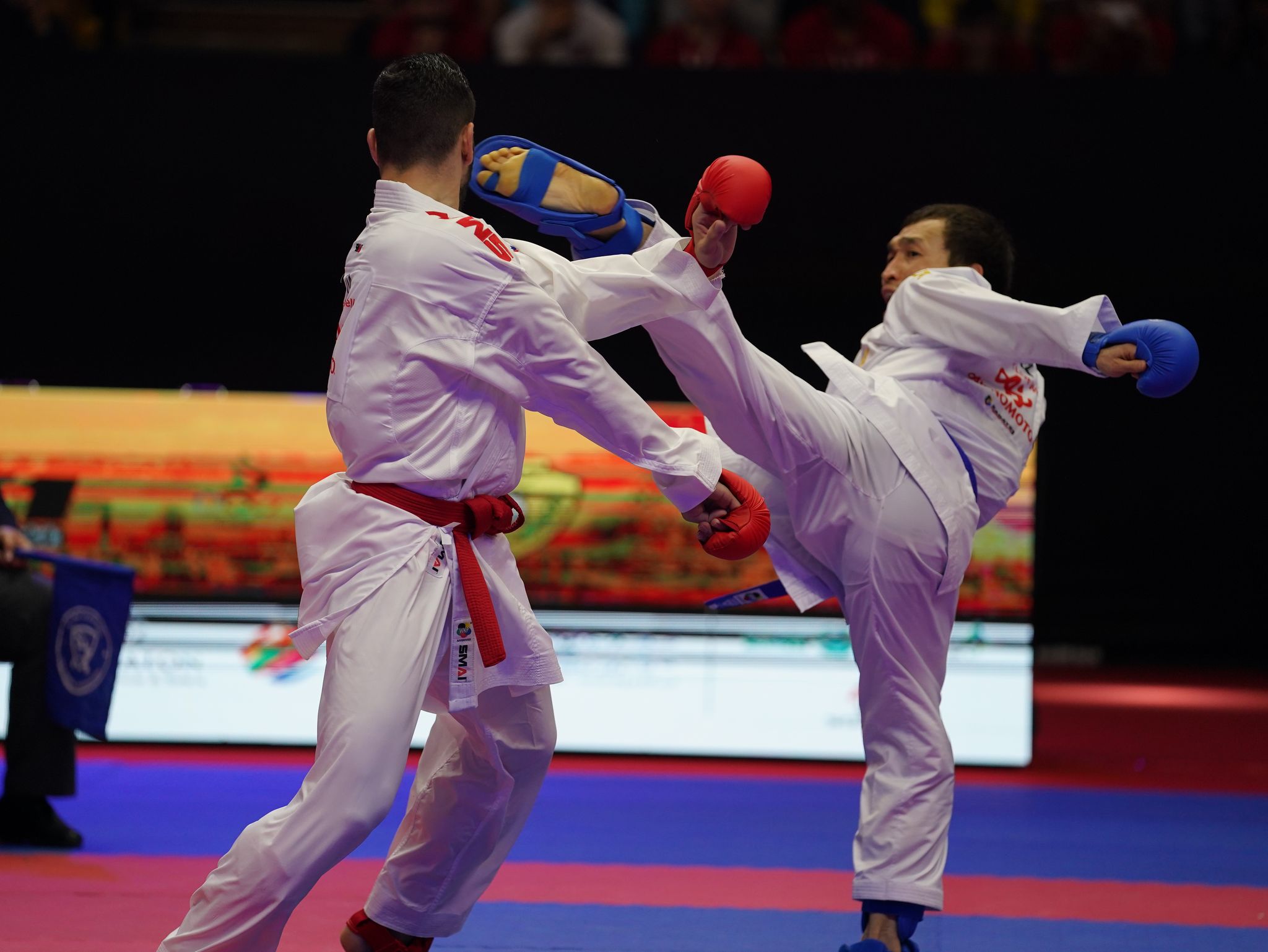 Surprised in his 2nd fight by Jordanian Almasatfa (loss 7-4), Steven Da Costa will face Olympic N)1 Kazakh Assadilov in the ½ final for a final before the hour. The other ½ final will oppose Jordanian Abdel Almasatfa, impressive in the qualification rounds (5 Ippons), and Turkish Eray Samdan. Let's notice the forfeit of Italian Crescenzo due to injury. Analysis and highlights.
By Ludovic Mauchien / Photo : Kphotos
---
Many Ippons, many Ura, even some Ushiro. Well done and thank you gentlemen ! For the premiere of Olympic kumite, the -67 kgs had a blast. Far from having listless fights, with very rare exceptions, most of them have been high level, exciting, attractive, spectacular. In fact, we don't even have a draw.
The two main gold contenders, Steven Da Costa and Darkhan Assadilov, will finally face each other in the ½ final. Blame it on a fiery-legged Abdel Almasatfa (5 Ura all by himself), who beat the Frenchman (7-4). The Jordanian, undefeated, will face Turkey's Eray Samdan in the other ½ final.
In pool A, as expected, Assadilov went it alone (4 wins, undefeated). But the Turkish Samdan made a very good impression, only beaten by the Kazakh (6-2). The Japanese Sago was not far away but he lacked the little extra to qualify (3 losses by 1 point), just like the Egyptian Elsawy. The surprise ? Farzaliyev's win over Sago (1-0),
In pool B, Crescenzo's injury during his first fight and his forfeit changed the game. Almasatfa's victory over World champion Steven Da Costa as well. The French, surprised by 2 Ura Mawashi of the Jordanian (his special, he achieved 5 in all), lets slip the 1st place with this defeat. In the end, there were them and the others. Their qualification is well deserved.
THE FIGHTS
Pool A
Eray Samdan (Tur), Firdovsi Farzaliyev (Aze), Ali Elsawy (Egy), Naoto Sago (Jap), Darkhan Assadilov (Kaz)
Samdan b. Farzaliyev, 7-1
Sago b. Elsawy, 4-3
Assadilov b. Samdan, 6-2
Farzaliyev b. Sago, 1-0
Samdan b. Elsawy, 4-1
Assadilov b. Farzaliyev, 6-2
Assadilov b. Sago, 3-0
Elsawy b. Farzaliyev, 1-0
Samdan b. Sago, 2-1
Assadilov b. Elsawy, 3-1
Ranking
1. Assadilov, 8 pts
2. Samdan, 6 pts
3. Elsawy, 2 pts
4. Sago, 2 pts
5. Farzaliyev, 2 pts
Pool B
Abdel Almasatfa (Jor), Kalvis Kalnins (Lat), Steven Da Costa (Fra), Hamoon Derafshipour (IOC), Angelo Crescenzo (Ita), Andres Madera (Ven)
Almasatfa b. Kalnins, 8-3
Da Costa b. Derafshipour, 4-0
Madera b. Crescenzo, 5-0 (annulé)
Almasatfa b. Da Costa, 7-4
Kalnins b. Madera, 4-2
Derafshipour b. Madera, 9-3
Da Costa b. Kalnins, 11-2
Da Costa b. Madera, 2-0
Almasatfa b. Derafshipour, 3-0
Almasatfa b. Madera, 4-1
Derafshipour b. Kalnins5-3
Ranking
1. Almasatfa, 8 pts
2. Da Costa, 6 pts
3. Derafshipour, 4 pts
4. Kalnins, 2pts
5. Madera, 0 pt
Tags