Tokyo2021 / Steven Da Costa : « I wanted to show my real face »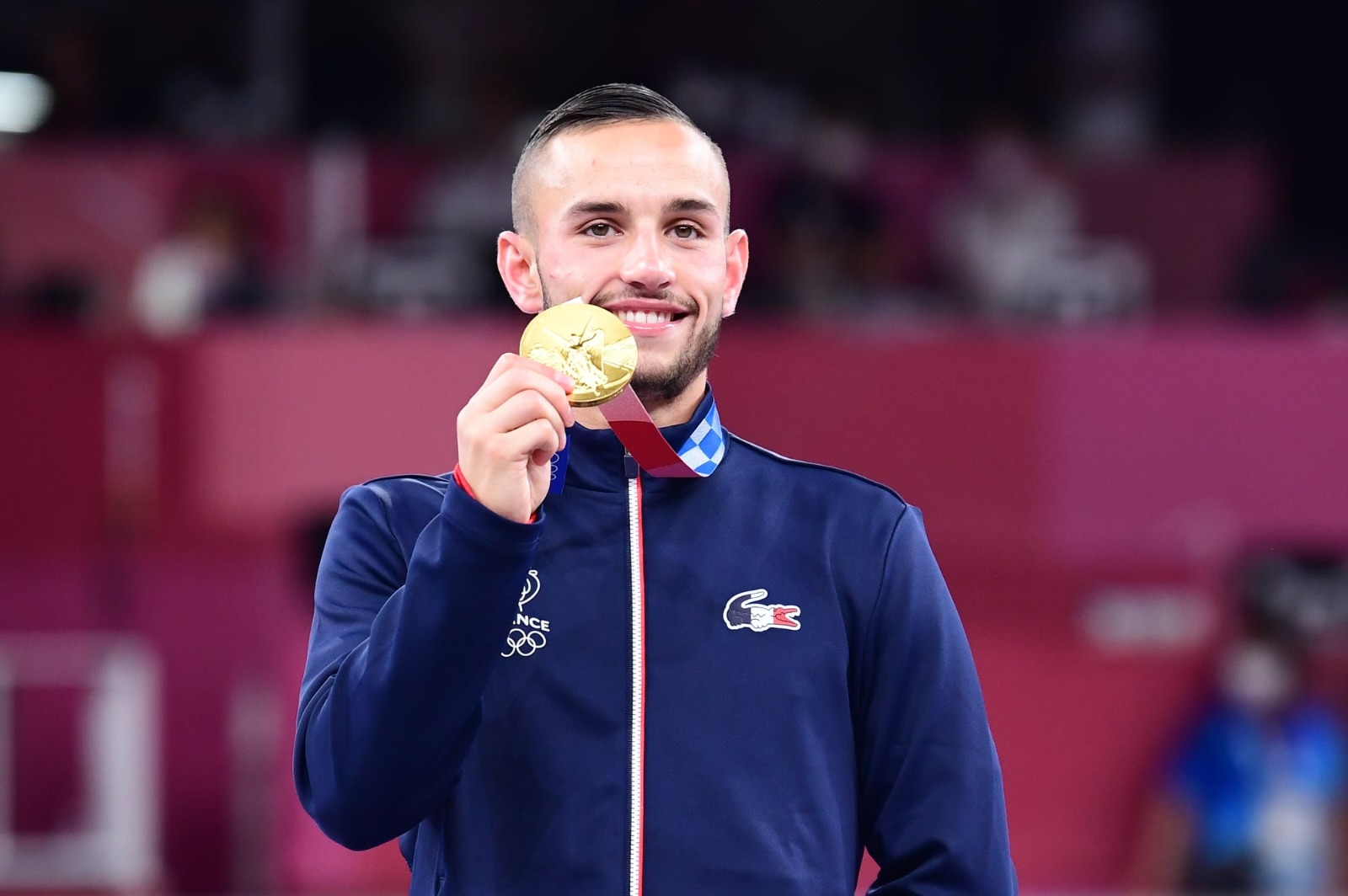 The night was very short for Steven Da Costa, gold medalist yesterday at the Tokyo Olympics (-67 kg). What does an Olympic champion's awakening look like ? How did he manage his competition ? Did he scare himself ? To what is due his metamorphosis between morning and evening ? How did he live his day ? Did he have fun ? The "little prince" of Karate looks back on his extraordinary performance and tells us why and how he became the 1st Olympic champion in history.
By Ludovic Mauchien
Photo: Kphotos
---
He doesn't realize it yet. We don't necessarily realize it yet. But what Steven Da Costa achieved in Tokyo is very, very strong. Obviously, when everything works and success is there, it seems easy.
However, the Frenchman has had ups and downs in the approach to the Olympics. He had to question himself, which he did admirably. The postponement of the Games last year hurt him. When coming back, the motivation was not optimal, nor was the manner. He needed a 3rd place at the European championships in mid-May to get back in line. Since ? Silence. He trained, trained, trained.
In the money-time, he withdraw from any form of activities. Managing the Olympic pressure is unique, complicated. He did this admirably, too.
"TF1, FRANCE TV, M6... IT'S GOING TO 2000 KM/H !"
And what about his tournament ?... On the reserve in the morning, with a loss (7-4 against the Jordanian Almasatfa), he wasn't the same when he came back in the afternoon, beating an Assadilov who was on fire. That too is strong. Being able to reset and switch in the same competition, only a great champion can do it. Steven Da Costa is one of them.
When we called him, it was noon in Japan. Steven Da Costa was at the Budokan, on the scene of his exploit, came to see… Karate.
How does it feel to wake up as an Olympic champion ?
Frankly, for the moment, nothing. I can't get back down. It's going to 2000 per hour ! I'm doing so much stuff that I still don't realize it. It will take me a few days anyway.
Since yesterday, I have done everything : TF1, France TV, M6… I went back to my room at 3 am. I didn't even eat. I was high. But, this medal… It is awesome !
"I FELT THE NEED TO INSULATE"
Why are you in the Budokan ? To see again the place of your exploits ?
No, to get out a bit, see the others fight. There are beautiful people out there today. There are going to be some great fights, some show. It's also about getting out of my room. I needed to ventilate a bit. And the phone doesn't stop ringing.
Your predominant feeling : relief, joy ?
This is... Finally ! FINALLY !!! It was tough. I have had difficult times. But I never gave up.
Have you been able to celebrate your Olympic title ?
No ! I got "home" too late. And in the village, there is nothing. Nada ! We have little bottles of Sake. We'll see when we have more time, to make a toast. Otherwise, I'll wait until I get home to celebrate it properly.
Why did you want to isolate yourself last week ? Did you feel the need ?
Yes, I felt the need to. I wanted to be in my bubble. At home, I am everywhere, my head is on all the 21 town halls of my area, bars… plus all the media, etc. The pressure was starting to grow. I didn't want to get lost in this. I haven't said anything for a month or two, I haven't published anything. I wanted to erase myself. I wanted to be in my stuff. I felt the need to get away from it all. I wanted to be really focused. Communication is the medal.
"THIS 3rd PLACE IN CROATIA WAS THE SLAP I NEEDED"
In Croatia, when you rank 3rd, you tell us : "I know what I have to do". What was it ?
It was to kill me in training. And I killed myself, really ! With my father, we put a big training schedule in place. Olivier (Beaudry) made a few round trips with us, some partners too.
I killed myself ! As I always did. In fact, I haven't changed a thing. But, at one point, with the Covid, etc, I was not feeling so good. This 3rd place in Croatia was the slap I needed to do things the hard way. Yesterday (Friday) I was ready. Mentally, I was ready in my head, even though it was very, very tough. Physically, I was also ready.
You don't scored so many fists, almost only legs, like before...
Yes, but I did find that they had a hard time getting out, especially in the pool. In the final stages yes ! The pressure that I have had for a few years... Every time, I am favorite, favorite, favorite. Sometimes, it's hard to carry. In the eliminatories, I was uptight. On the other hand, I am very, very happy with my ½ final and my final.
« I WANTED TO SHOW MY REAL FACE »
How did you mentally changed between morning and afternoon?
I cut. I returned to the village. Basically, I had to stay in the gym but I told my coach that I preferred to go back to the village. In my head, I had to change day.
When I got to my room, I said to myself : "okay, now, you have secured the medal". All the weight I had on my back, I put it in my room and said to myself : "now, I either have fun or I watch the others win for me". And when I came back, it was something else. I wanted to show my real face, my real myself. And what will happen will happen. It worked !
When you are led by Assadilov in the ½ final (0-2), what is in your head ?
Nothing ! At no time did I doubt. I was myself. I knew it was going to be tough. Besides, Darkhan was on fire yesterday. Either way, all the fights were tough. What bothered me a bit were the distances with the -60 kg. It doesn't sound like that but it's a whole different way of fighting. For me, when they are too close, they can still put legs on me. They are shorter than me. Sometimes, it can be complicated. But I didn't doubt. Actually, it was a bit of a remake of the World championships (he laughs).
"I DIDN'T CALCULATE ANYTHING, I DIDN'T CARE ABOUT ANYTHING. I WAS THERE TO WIN "
You had never fought against Assadilov and Samdan, since they are -60 kg. Is it more of an advantage or a disadvantage ?
Both. I knew why I was there. We were all there for the same thing. -60 or -67, there was no longer a difference. But it's true that when you've never faced each other, you can have surprises, good or bad. You have to adapt.
Did not finishing 1st in your group and having to meet Assadilov in the ½ final bother you, or not at all ?
Frankly, the pool ranking, I didn't care. I had to qualify and that was it. I would have finished 1st, I would certainly have taken Eray (Samdan) in ½ final and Darkhan (Assadilov) in the final. It would have been the same. The important thing was to get out of the pool. I didn't calculate anything, I didn't pay attention to anything. I was there to win my fights and that was it.
"I HAVE NOT SEEN ANYTHING IN THE VILLAGE ! I HAVE 3 DAYS TO ENJOY IT"
Your schedule for the next few days ?
I have no idea ! It's going to be tough… (he laughs). We go back to France on Monday. Here, we can't leave the village but, inside, you do what you want. It's a bit lighter. It's OK.
Talking about the Olympic village, will you try to enjoy it now ?
So far, I haven't seen anything. When I got there, the first thing I did was go to my room. And, since then, I haven't gone out, only to eat. I slept. I haven't seen anything from the village ! I took zero photos, not even with the rings, nothing.
I told myself that I would only do it if I had a medal around my neck. The Games are beautiful, it's awesome, but I had not come here to be a tourist. I didn't want to get lost in the Games atmosphere. This is such a crazy thing. Now I have 3 days to enjoy it. I think I did well (laughs).
Tags