Dubai 2021 D-8 / Ivet Goranova : « I am a hero for the Bulgarian people »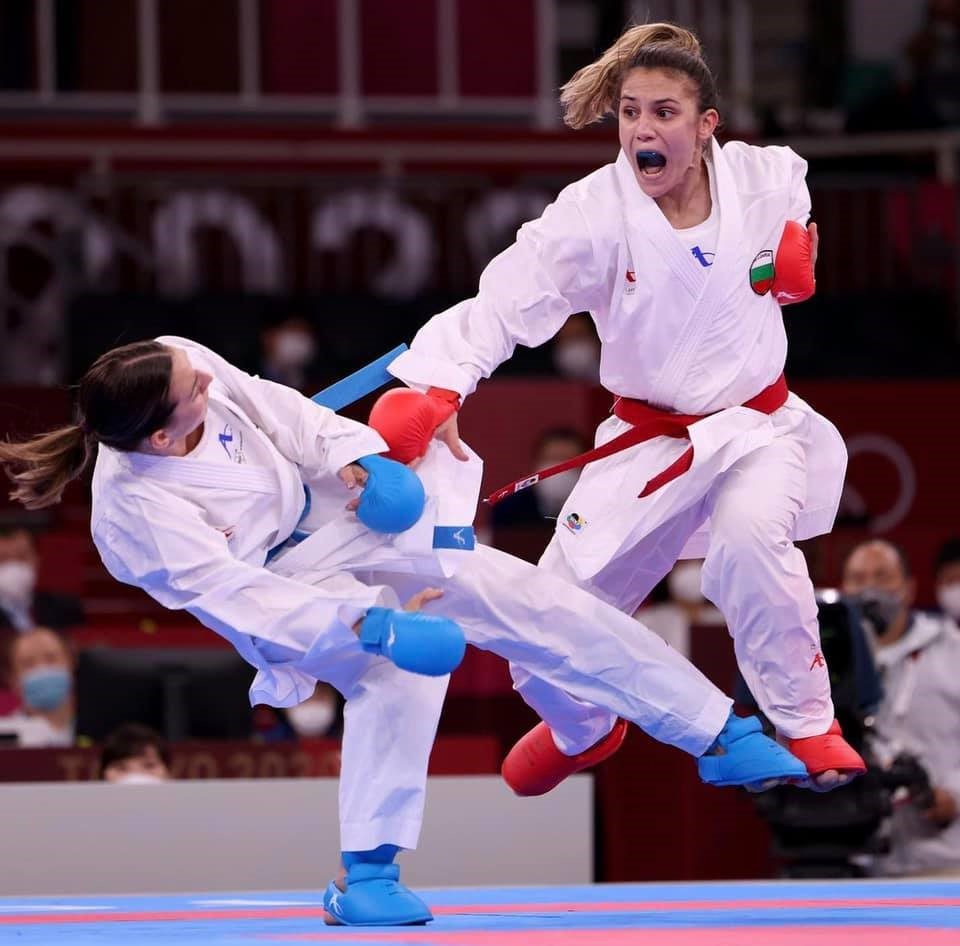 She is certainly the biggest surprise of the Tokyo Olympics. At 23, the Bulgarian Ivet Goranova became Olympic champion by clearly dominating all the favorites (Ozcelik, Terliuga, Wen…). Since then, her life has changed… She has become a hero. She tells us about her Games, her karate, her daily life, her ambitions for the Worlds in Dubai (November 16-21)...
By Ludovic Mauchien
---
We knew the Bulgarian umbrella. It will now also be necessary to deal with the Bulgarian Yoko Geri. Whose fault is it ? A 23-year-old Karateka who had the good idea this summer to win the Olympic Games.
Ivet Goranova won one of Bulgaria's 3 gold medals at the Tokyo Olympics, the 1st ones since 2008 for this small country of 7 million souls. And his life has changed… ! She has become a hero for the Bulgarian people, an example to follow. Not only did she win the Grail, the Olympic gold medal but she did it in a big way. In Tokyo, she swept away all her opponents, Wen (5-2), Ozcelik (5-1), Bahmanyar (5-1), Plank (4-3) and Terliuga (4-1).
She who loves the tranquility of small towns must have come to terms with the popularity of a gold medalist. But that did not mean that she changed her habits. She still lives in Dolna Mitropolia, a city of 3000 souls, in the heart of the country, not far from the border with Romania. She trains with her lifelong coach, Angel Stefanov, to whom she pays a great tribute, and prepared for the Worlds in Dubai as she had done for the Olympics in Tokyo, in Serbia with the Olympic and world champion, Jovana Prekovic. If she has achieved her biggest dream, she still has some left, starting with becoming World champion. Let's just remember that, in 2018, she ranked 3rd.
How is it to be Olympic champion ? What's the feeling ?
I feel very satisfied with myself. I made my biggest dream come true. But the royal crown is not light. It is difficult to stay on top after such a great success.
Since your comeback from Japan, what has happened ?
It was a very tiring time for me after my comeback from Japan. There was a lot of media interest in me and there still is. Only my interviews and photos were aired on television and social networks. Many people welcomed me at the airport and in my home town. Everyone is inspired and proud of me. At the moment, I am a hero for the Bulgarian people.
« IN TOKYO, I CARRIED A GOLD COIN AND AN ICON ! »
Your souvenirs from the Olympic village ?
My only and unique souvenir from Tokyo is my medal. I didn't have time to buy other souvenirs from the Olympic village.
If you have one image in your mind of the competition, what is it ?
How I stand at the top of the award ceremony !
The souvenirs of the competition day ? In the flow ?
I carried a gold coin and an icon ! I think all athletes are very religious before a competition. (Hahaha)
You beat Wen 5-2, then Ozcelik 5-0 : what did you think at that moment ?
After those two wins, I knew I had another battle with Iran in the group. I didn't want to relax and lose. I was focused until the end and I was thinking match after match. I had fun during all the matches.
« MY COACH WAS MY ONLY SPARRING PARTNER FOR THE GAMES »
What is the importance of your coach, Angel Stefanov ?
Our relationship as a coach and athlete is very strong. Most of the time, I trained only with him. He was my only sparring partner. We have been training together for about 9 years. Without him, I might not have won many of my medals.
You mind before the Olympic final ?
I was very calm. What do you have to lose in the Olympic final ? I had gone for the gold. I didn't think. I was 100% confident. All I could think about was : "everything or nothing".
You beat Terliuga in the final. Did you prepare something special against her ?
I have had many matches with Terliuga. I know her very well, as she knows me. I love fighting against her because she is n°1 in the ranking. What do you have to lose when you fight against one of the best ? You should just have fun. She is very experienced and cunning. Every match with her is interesting and attractive. I think I'm a very uncomfortable opponent for her.
If we say that you are the surprise of the Games, do you agree ?
I agree. I know that no one expected this small country Bulgaria to have an Olympic champion. But now everyone knows where Bulgaria is and how big it is !
What is your favorite technique ?
Yoko geri. Because it is a powerful technique and makes the opponent feel weak.
What do you like to do besides Karate ?
I like driving. I like to spend my free time with friends. I like watching movies.
What is your daily life in Bulgaria ?
In recent years, I have only devoted myself to karate. I am a student, studying economics. I started working in the police after the Olympics.
« MY DREAM IS TO BECOME WORLD CHAMPION ! »
Who are your role models ?
I have no idol. I like and respect all good athletes. But I think that every athlete is different and individual and should look for their strengths. I learn from famous athletes discipline, respect and sportsmanship. I observe their attitudes towards people and their humanity.
If you have an advice to give to a child who dreams to be a champion, what would it be ?
The secret of success is in discipline, perseverance, perseverance and how much you want it !
What is your dream now ?
My dream is to become World champion ! I want to climb all the peaks in karate !
What do you especially like in karate ?
What I like in karate is that it's not just a fight, you have to be smart ! This is an intelligent sport.
How have you been preparing for Dubaï ?
I am preparing for Dubaï again in Serbia. I train together with the other Olympic champion, Jovana Prekovic. I played several competitions.
NB : Thanks to Velin Hadjolov (Bulkempo) for the translation
Tags