My best fight / Alexandre Biamonti : « Against Kandaz, I overfly my karate » »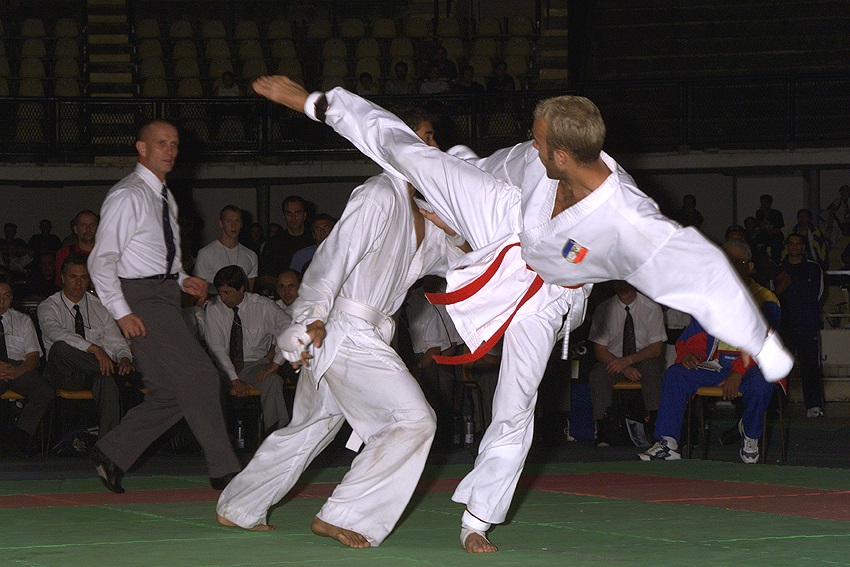 Multiple World and European champion, Alexandre Biamonti has one of the greatest records in French karate. Known and recognized for his titles but also for his way of fighting which was dynamic and spectacular, he comes back for this new issue of « My best fight » about his final of the 1996 European championships in Paris against Turkey's Kandaz in -65 kg .
By Florian Fournier / Photos : D.R
---
He can talk about hundreds of fights, as his career was successful. Alexandre Biamonti finally selected one of the most memorable. A score of 6-3, an electric atmosphere, a renowned spectator... It was his final of the 1996 European championships.
« Instinctively, two fights comes to my mind, the final of the World team championships in Germany (2000) where I won my fight in 27 seconds against a German fighter and my final of the European championships in 1996 in Paris. However, it is the latter that we are going to talk about. Emotionally, it's an unforgettable moment in my career. Before this competition, I did a lot of visualization and I kept repeating to myself : « the qualifying rounds will be easy but the final will be tough and only a fantastic technique will get me out of there ». And that's what happened.
This final, I won it with the guts and the fighting spirit that I had throughout my career. My father and Dominique Valera (my karate dad) were there that day. I couldn't fail in the final. In my visualizations, winning in front of my father and Dominique Valera was my dearest wish.
I face the Turkish silver World medalist Kandaz (current Aghayev's coach). Expecting to experience a rebounding final helped me win. I score first twice then he scores 3 points. I continue to be aggressive and score twice again with fist techniques to take the advantage (4-3). At the time, the fights ended when one reaches 6 points.
40 seconds from the end, we are in a corner of the tatami. He locked me up. I try an ashi barai like a judoka in the wake of his kizami tsuki. The technique scored (6-3) and I became European champion in Paris in a full Pierre de Coubertin stadium, in front of my father and Dominique Valera.
We can also see at the end of the fight that I extend my fist towards Dominique, a way to dedicate this success to him. He is a person who continued the education of my father who was respectful and working through karate. A great champion must combine technical tradition and the sporting, athletic side. And that's why Dominique brought me so much. Like my Sensei at the time, Albert Caelles.
Emotionally and psychologically, this final left a deep impression on me. I felt like a helicopter above the clouds. I was flying over my karate and I felt like I was untouchable. Add to that the love of the public and the pride of wearing the tricolor badge and you get this victory. Moreover, it is studied in college and university of sport with the help of Hubert Ripoll who analyzed and deciphered psychologically this final in his book « the mind of champions ».
Even today, this fight helps me when I coach. For the story, I followed Gwendoline Philippe during her three World championship titles (Junior and twice in U21). I helped her transcend herself to reach her goal with this visualization technique.
During my career and also in this fight, I have always had the attitude of a warrior, a beast. I always looked my opponent in the eye as if he was a prey. Without disrespect but a fight is a fight and the one who must come out victorious is me. I have never had the attitude that some people may have to check or speak with their opponents before a fight ».
Tags