How do they do ? / Anzhelica Terliuga : «  I live a normal human life, I've got a new job »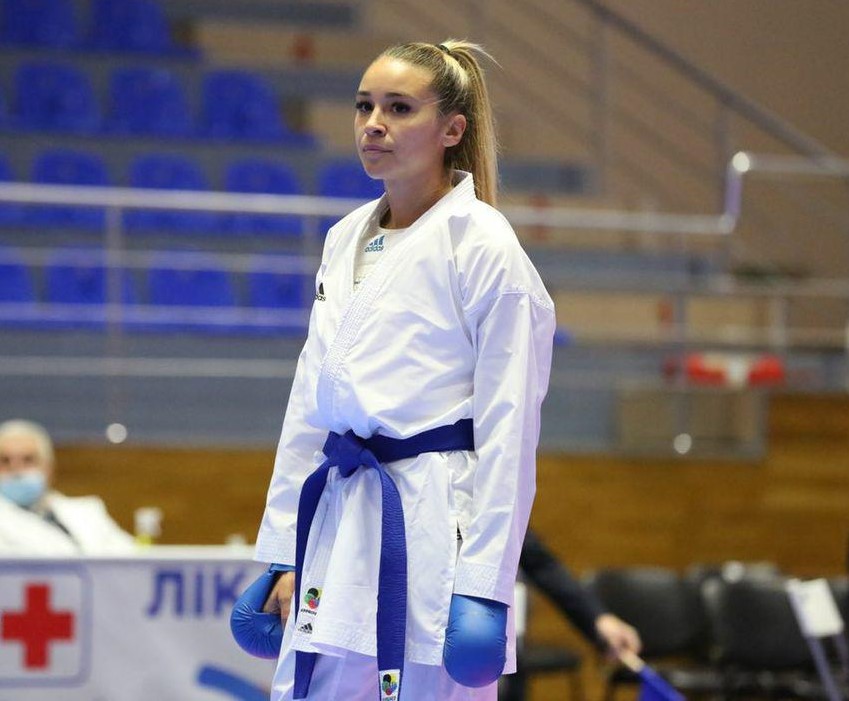 How are they doing ? How do they see their future ? How do they live the present, mentally, physically, financially ? Has 9 months without competition changed their priority, their outlook on life, their life ?
While the 25th World championships should have started yesterday in Dubai (November 18-22), we have got news from our champions around the world. As the week progresses, Elisa Au, El Mannani, Elsawy, Chatziliadou, Busa… will tell about their « new » life. Today, the -55 kg World n°1 Anzhelica Terliuga...
By Ludovic Mauchien / Photo : DR
---
In the life before, she was in her greatest shape ever ! Her karate was shining. She had won 12 medals including 7 gold in a single year. World N°1 and Olympic N°2 in -55 kg, Grand Winner 2019, Ukraine's Anzhelica Terliuga was almost invincible on her road to the Olympic Games in Tokyo.
She dreamed of being adorned with gold for her last one beauty. At 27, she had chosen to focus on her life as a woman and decided to put an end to her career in the wake of the Olympics.
But the Covid 19 came. Her plans fell through, postponed (at best) for a year. As if she was struck by a club. She does not live very well this 1st lockdown, without clear goals, without competitions, without training, far from her boyfriend, Germany's Noah Bitsch.
With the summer, she learns to accept it, then she bites the bullet. Her champion character takes over. No way to mope. She opens up to « normal » life, apprehends it, resumes her forward march, finds a job to prepare for the aftermath and assume the present time, lacking of seminars, looking forward to better days.
If I say competition, what comes to your mind ?
I really miss the competition time. The competition gives me emotions that I can't get from anything else. I really enjoy everything, from the beginning and the training process, when you train so hard in a gym, and then traveling, even how I cut my weight, then adrenaline and stress before competition, when you are getting these emotions in the warming-up area and your coming inside the gym, on the tatami… I miss all these emotions. That's I miss the most in my life. I would be happy if, one day, I could enjoy these things again.
What is your mindset after 9 months without competing ?
Mentally, I am OK. I am doing training every day. I don't have any stress now, because it's not the first wave of bad news. This second half of the year, I know I have to focus on 2021. I need to push all my energy for next year. Nowadays, I can relax with no stress, no mental bad things. My life is super normal. I am really feeling like a normal person.
When I wake up in the morning, I do some sport and then I go working as I've got a new job now in an office. Afterwards, I go to my evening session, I do some home stuff, some cooking, I always visit my family… I am more a family girl now. And I have also a lot of time to do some things with my friends. So, I live a normal human life. Of course, I am missing my ex life with travels, competitions, adrenaline, emotions, international friends but I am ready for that. I now need to live like a normal person and soon, everything will come back.
Why did you take a job ?
First, I was thinking about my future, that's why I did it, to build something, to start some career. Secondly, I cannot say that the money I get from the minister of sports is enough for a professional athlete, for the preparation, for the competitions, for doing some health stuff, for travels, and for life. That's why I was doing money from seminars. It was my extra money. Everything was giving me enough. But, when the corona started, all my seminars in different countries stopped, were cancelled and no competitions occurred. That's one of the reasons why I decided to go to an usual work.
To also read :
https://www.karate-k.com/en/sport/news/744-how-do-they-do-da-costa-almost-as-before-alex-recchia-in-the-world-after.html
Tags