Berlin K1 - Day 1 / Aghayev is on his way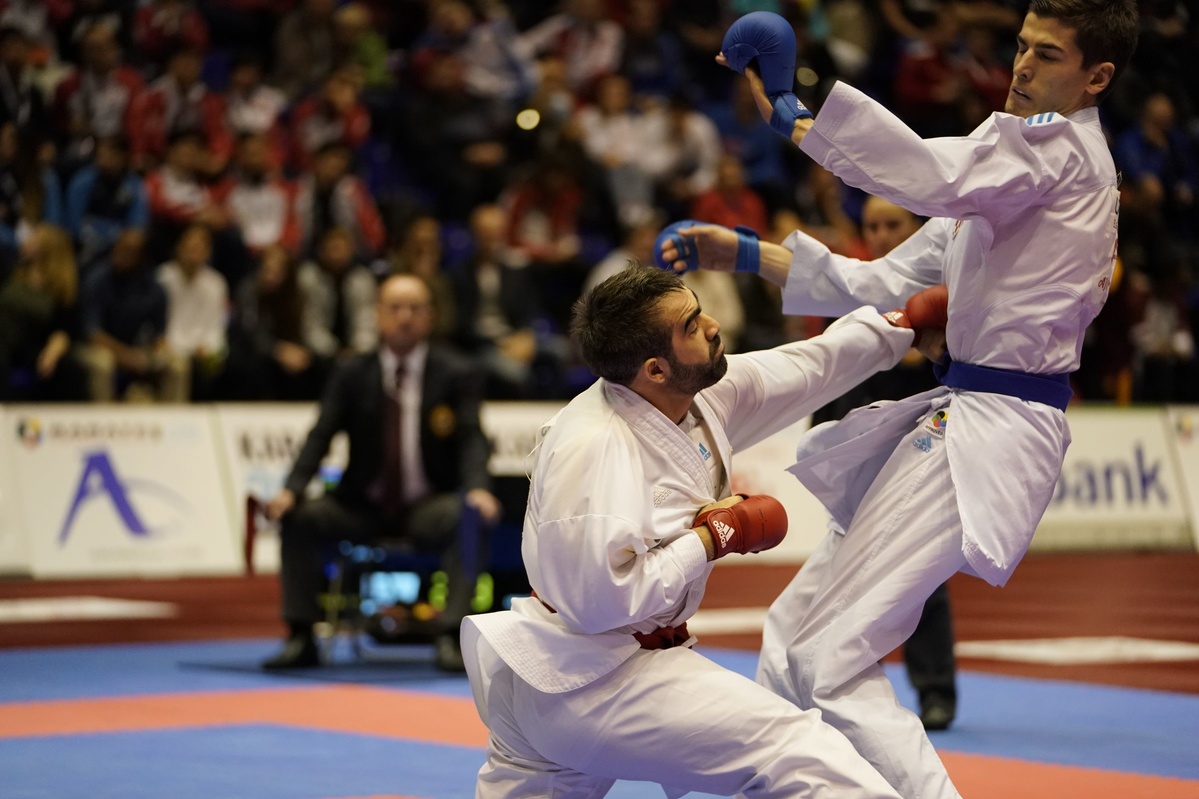 Rafael Aghayev (-75 kg) did not miss his Olympic qualification debut in Berlin (September 14-16). He will be in Sunday's final against Japan's Sakayama. This is one of the few favorites, with Ukraine's Terliuga (-55 kg), to confirm their status. Tomorrow will see the end of the preliminary rounds.
By Florian Fournier in Berlin / Photos : Kphotos
---
-60 kg : Crescenzo and Kozaki in the final
In a quite uncertain category, Italy's Crescenzo, 2018 European silver medalist, and Japan's Kozaki, the U21 World champion, got out of trouble and will meet on Sunday in the final.
Crescenzo defeated Matias Gomez of Spain (1-0) and then Farzaliyev of Azerbaijan in the semifinals. Regarding Kozaki, he showed maturity to get out Darkhan Assadilov in the first round and Amir Mehdizadeh, the running world champion, in the semifinal (4-3) with a beautiful mawashi geri jodan while walking back.
Final : Crescenzo (Ita) vs Kozaki (Jap)
Bronze : Alpysbay (Kaz) vs Farzaliyev (Aze) and Assadilov (Kaz) vs Mehdizadeh (Ira)
-67 kg : Figueira is on his way
Recent winner of the Pan American Championships, Brazil's Vinicius Figueira continues its momentum and joins the final of this first K1 of the season. Winner of Japan's Hiroto Shinohara in the quarter-finals (3-1), he defeated Xenos of Greece in the semifinals (5-2). Sunday, he will fight against Italy's Luca Maresca, winner of France's Steven Da Costa in the 8th finals (5-3).
The 2015 European Champion in -60 kg hopes to win again three years after his last title. In the semifinal, he beat the reigning World champion, England's Jordan Thomas (2-1).
Finale : Maresca (Ita) vs Figueira (Bra)
Bronze : S. Da Costa (Fra) vs Thomas (Eng) and Shinohara (Jap) vs Xenos (Gre)
-75kg : Aghayev is already fit
Expected as soon as this first competition of the year, Rafael Aghayev answered present. In a difficult journey, where he defeated Japan's Ken Nishimura in the quarter-finals after three straight defeats against him, and Germany's Noah Bitsch in ½ final, the Azerbaijani champion qualified for the final on Sunday.
Sunday, he could have crossed Hungary's Gabor Harspataki, finalist of the last European championships, or US Scott Thomas, but he will finally face Japan's Yusei Sakiyama, the U21 Asian champion.
Final : Tadano (Jap) / Ozcelik (Tur)
Bronze : Bitsch (Ger) vs Nishimura (Jap) and Eltemur (Tur) vs Scott (US)
-50 kg : A Japanese hides another one
We were expecting Miyahara, it will finally be Tadano Yaka in the final of this Berlin K1. Beaten by Germany's Hubrich Shara (3-1), the World and Japanese n°1 will miss the appointment on Sunday. Winning by the tightest score possible (1-0) against Hubrich in the semifinals, Tadano will fight one of the greatest records in the category in the final, Turkey Ozcelik. The lattest beat her best opponent and friend, France's Alexandra Recchia (1-1, senshu).
Final : Tadano (Jap) / Ozcelik (Tur)
Bronze : Recchia (Fra) vs Endo (Jap) and Sayed (Egy) vs Hubrich (Ger)
-55 kg : One confirmation, one surprise
French world champion, Emilie Thouy, lost in the first round to Iran's Travat Khaksar (5-4). The World N°1, Taiwan's Wen Tzu Yun, also lost in the first round against Estonia's Li Lirisman (decision). In the final, the Estonian surprise will face the Ukrainian ogre Anzhelika Terliuga. The former World N°1 and reigning European champion defeated Italy's Sara Cardin in the semi-finals (1-0).
Final : Lirisman (Est) vs Terliuga (Ukr)
Bronze : Fernandez (Spa) vs Cardin (Ita) and Brown (USA) vs Attia (Egy)
Tags