Karate1Salzburg 2020 / Aktas is back, Asgari is ahead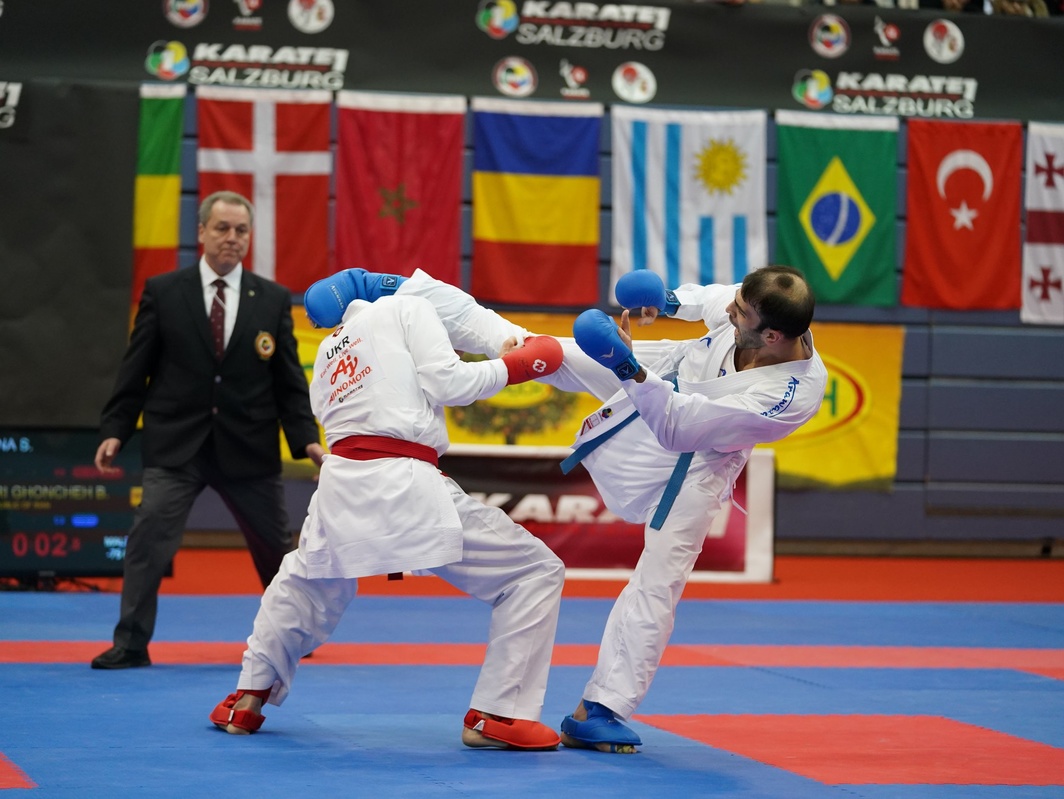 The Karate1 Salzburg (Feb 28-March 1) has just ended with a new success for Asgari, Aktas, Coban and Gong. With two tests remaining before the epilogue of the Olympic ranking (K1 Rabat and European championships), Stanislav Horuna (2nd), Angelo Crescenzo (2nd), Merve Coban (1st), Gong Li (1st)… score important points. Note the 1st win of Italy's Sara Cardin since June 2018 and a few surprise (success of Pavlov, Hasanov, Talibov…).
By Florian Fournier / Photos: Kphotos
---
The Phoenix
This K1Salzburg has seen the comeback of three great champions. In -50 kg, Alexandra Recchia of France wins bronze, her 1st podium since her silver medal last September in Tokyo. In -55 kg, Italy's Sara Cardin won her first victory since June 2018 and the K1 Istanbul (injured meanwhile).
Last phoenix of the day, France's Kenji Grillon. The 2012 World champion won his first medal in 2 years, since the 2018 Paris Open.
The moves
Led 4-2 by Italian world champion Angelo Crescenzo, Emil Pavlov made a sweep and won 5-4 seconds from the end.
In -68 kg, China's Gong Li wins her second K1 in a row with a Ura Mawashi Geri Jodan against Egypt's Abdelaziz.
The +68 kg final saw Iran's Abbasali win the title despite a knee injury in the final seconds. A win that could taste a bitter taste as it seemed such painful.
The fight of the day
Horuna vs Asgari : In the final between the Ukrainian esthete Stanislav Horuna and the Iranian tactician Bahman Asgari, the World champion won 3-0 thanks to an Ura Mawashi Geri Jodan validated 9 seconds from the end by the video review.
Podiums
-60kg
Final : Pavlov (Mkd) b. Crescenzo (Ita) 5/4
Bronze : Samdan (Tur) b. Plakhutin (Rus), 4-0 / Assadilov (Kaz) b. Baiturayev (Kaz), 0-0
-67kg
Final : Hasanov (Aze) b. Maresca (Ita), 3/1
Bronze : Elsawy (Egy) b. Pokorny (Ost, 3-1 / Bexultan (Kaz) b. Uygur (Tur), 0-0
-75kg
Final : Asgari (Ira) b. Horuna (Ukr), 3/0
Bronze : Eltemur (Tur) b. Kellaway (Eng), 2-0 / Harspataki (Hun) b. Busa (Ita), 0-0
-84kg
Final : Aktas (Tur) b. Kvesic (Cro), disq
Bronze : Grillon (Fra) b. Poorshab (Ira), 4-4 / Yudalshev (Kaz) b. Mamayev (Aze), 5-3
+84kg
Final : Talibov (Ukr) b. Irr (Usa), 3/1
Bronze : Arkania (Geo) b. Gaysinsky (Can), 3-2 / Mahmoud (Egy) b. Gurbanli (Aze), 4-2
Kata M
Final : Moto (Jap) b. Sofuoglu (Tur)
Bronze : Quintero (Spa) b. Tozaki (Usa) / Goktas (Tur) b. Ozdemir (Tur)
-50kg
Finale : Miyahara (Jap) b. Gomes Morales (Spa) 5/2
Bronze : Recchia (Fra) b. Sayed (Egy), 4-1 / Ozcelik (Tur) b. Plank (Ost) , 5-1
-55kg
Final : Cardin (Ita) b. Messerschmidt (Ger), 3/2
Bronze : Kumizaki (Bra) b. Brunori (Ita), 4-2 / Wen (Tpe) b. Attia (Egy), disq.
-61kg
Final : Coban (Tur) b. Jumaa (Can), 1/1
Bronze : Yin (Chn) b. Kochieva (Rus), 5-0 / Lotfy (Egy) b. Orbon (Phi), 4-3
-68kg
Final : Gong (Chn) b. Abdelaziz (Egy) 3/1
Bronze : Isaeva (Rus) b. Wold (Ned), 3-1 / Zaretska (Aze) b. Tang (Chn), 4-0
+68kg
Final : Abbasali (Ira) b. Ferracuti (Ita), 2/1
Bronze : Berultseva (Kaz) b. Torres Garcia (Spa) , 4-1 / Wen (Tpe) b. Grimm (Ger), 3-0
Kata F
Final : Sanchez (Spa) b. Kokumaï (Usa)
Bronze : Lau (Hk) b. Rodriguez (Esp) / Ono (Jap) b. Juettner (Ger)
Tags