Turkey 2022 / Aghayev-Busa, the insatiable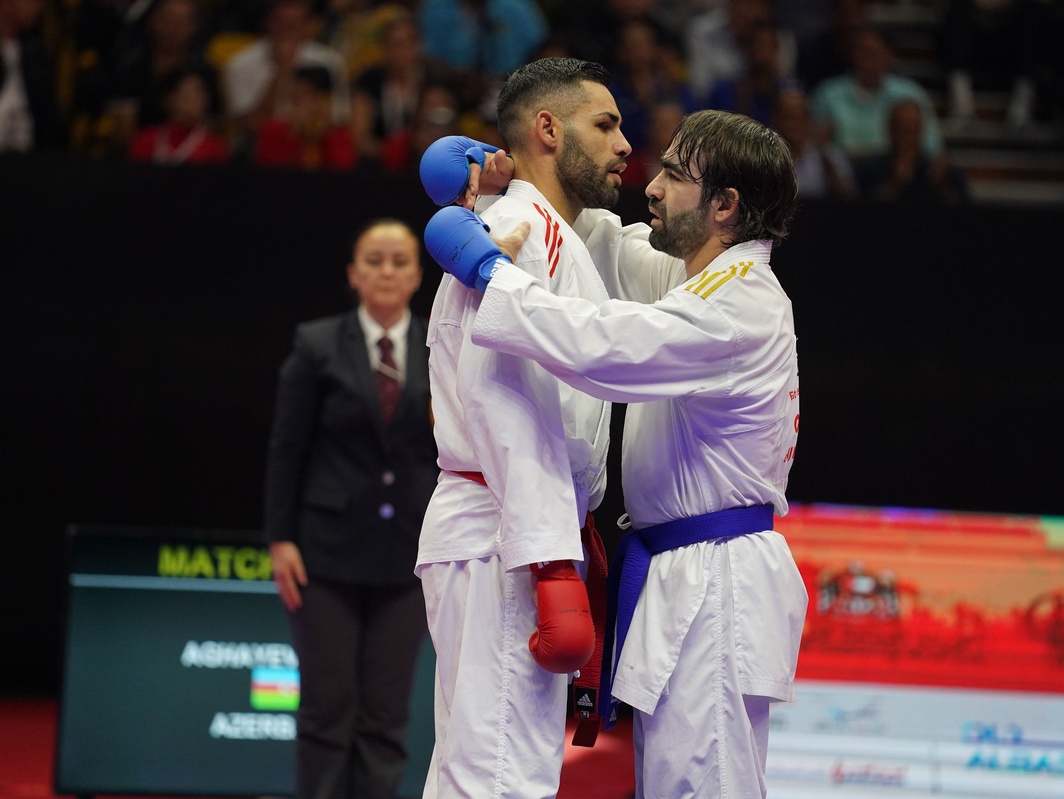 For 15 years, their games have bewitched us. Rafael Aghayev and Luigi Busa, 37 and 34 years old, will still be among the -75 kg main contenders at the 55th European championships which begin on Wednesday in Gaziantep, Turkey (May 25-29). As usual !
We thought they were retired, or almost. No ! The flame that animates them is still alive. We left them on an Olympic final won by the Italian. We will find them in Turkey with the same thirst for victory.
By Ludovic Mauchien / Photo :
---
Their first final ? The 2009 European championships. The last one ? The Tokyo Olympics. Meanwhile, 5 European titles, 2 world titles (+3 finals), 1 Olympic title for Luigi Busa ; 11 European titles, 5 world titles, 1 Olympic final for Rafa2l Aghayev. That is to say the 2 most beautiful records of Karate in activity.
The Italian and the Azerbaijani are the Federer and Nadal of international Karate, 2 living legends with a totally different style, karate and personality. One is attacking, the 2nd counter-attacking. What bring them closer ? Their thirst for victories. Their common point ? The finals.
The first two were won by Rafael Aghayev, Euro 2009 and the 2010 World championships in Serbia. The little elf climbed from -65 kg while Luigi Busa came from -80 kg. The 1st was 3-times World champion (2006, 2008 in -70 kg, 2008 in Open), the 2nd had been crowned World champion in -80 kg in 2006.
But the Italian took his revenge at the 2012 Worlds in Bercy and pocketed a second world champion title. The Azerbaijani regained control at the Combat Games in St Petersburg in 2013.
We will have to wait for the 2019 European championships in Spain to find our two opposing friends in the final. Luigi Busa won, like 2 years later, in 2021, in the final of the Tokyo Olympics, certainly the bitterest defeat for Aghayev.
In the meantime, you want duels, here you go. Impossible to precisely quantify their matches, but it has been counted in dozens since 2009. As for the finals, after 12 years, they are... tied, 3-3.
The European championships which start tomorrow Wednesday could offer the final verdict. A new Aghayev – Busa final ? In any case, what is certain is that these 55th European championships will be the last for Rafael Aghayev. For his part, Luigi Busa does not forbid himself anything and would see himself continuing until the next World championships.
The story of their final of the 2019 European championships in video
https://www.youtube.com/watch?v=5NR2sSGAjtA
Behind the scenes of their final at Karate1 Dubai in 2020 on video
https://www.youtube.com/watch?v=_-uFvmSbRrc
THE EUROPEAN CHAMPIONSHIPS
Wednesday 25
Eliminations and repechages: -61 kg, -68 kg, +68 kg, -75 kg, -84 kg, +84 kg, Kata F + M
Thursday 26
Eliminations and repechages : Kata team M + F, -60 kg, -67 kg, -50 kg, -55 kg
1st rounds: Team Kumite
Friday 27
Eliminations and Repechages: M+F Team Kumite, Para Karate
Saturday 28
Bronze and finals of all individual categories + Kumite team F
Sunday 29
Bronze and finals : Kata team M + F, Kumite M, Para Karate
Tags