KaratePorec2021/ First final for Montenegro and Croatia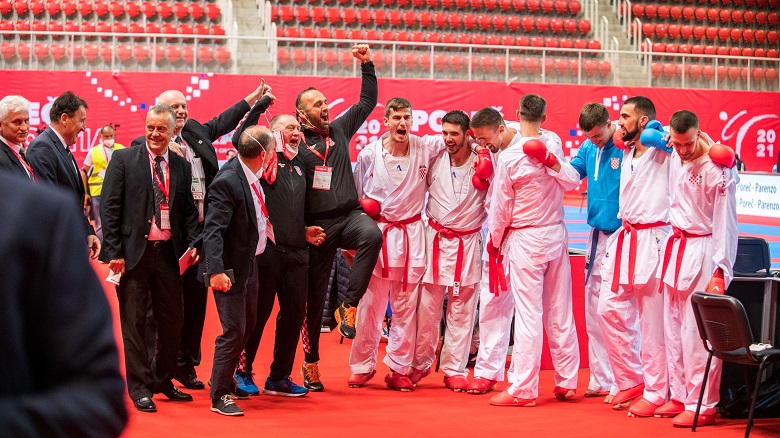 This is the story of the day. The Montenegro male team reaches the final for the first time in its history. After beating Russia by kiken in ¼ final (3-2), the Montenegro karatekas beat Azerbaijan in semi-final. A great performance for these small countries that respectively have 650 000 and 4.5 millions inhabitants.

By Florian Fournier
Photo : D.R
---
Team Kumite M
Finale : Croatia vs Montenegro
Bronze : France vs Ukraine / Azerbaijan vs Spain
½ finals : Croatia b. France, 3-1 / Montenegro b. Azerbaijan, 3-2
Highlights :
Defeated by Croatia 3-1 in the semi-final, France will play bronze on Sunday. Scoring the 1st point by Jessie Da Costa, Croatia comes back with a victory of Andjelo Kvesic over Mehdi Filali 2-1, followed by a loss of Steven Da Costa 2-0 before Kenji Grillon also lost 2-1 in a contestable game.
Shortly before this semi-final, Russia and Montenegro met in quarter-finals. While the score was 2-2 between the two teams (and 4-4 in the last fight), the Russian karateka landed an unchecked blow in his opponent's plexus which required the intervention of the medical team. Throwing an icy cold in the hall, the Montenegrin gets up after a few minutes. Disqualified, Russia stops in ¼ finals and Montenegro goes to face Azerbaijan in the semi-finals.
In a final-like showdown, Azerbaijan overtook Turkey in the round of 16. Perfectly launched by Aghayev who won 2-0 despite a fear in the right knee early in the fight, Azerbaijan will never let go its advantage in an electric climate between the two teams, summarized by the fight of Eltemur who is disqualified after 3 kizami tsuki stroke in the face of his opponent. Aktas's 2-0 victory did not change anything. Turkey is eliminated and Azerbaijan goes in ¼ finals.
Team Kumite F
Final : Germany vs Turkey
Bronze : France vs Croatia / Italy vs Bulgaria
½ finals : Germany b. France, 2-1 / Turkey b. Italy, 2-1
Hightlights :
With her victory in semi final, Germany makes the performance of the day. After beating Croatia in ¼ finals, the German girls win against the French world champion. In final against Turkey, they will try to purchase their dream.
Tags