They will not go to the Olympics. Their testimonies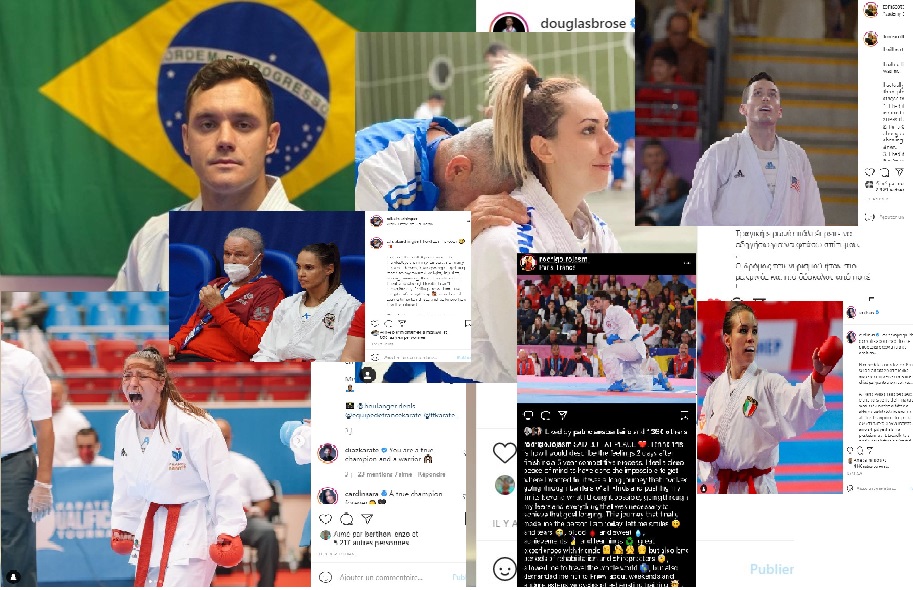 Thomas Scott, Eleni Chatziliadou, Jordan Thomas, Vicky Panetsidou, Sara Cardin, Alexandra Recchia, George Tzanos, Douglas Brose, Maria Torres Garcia, Rodriguo Rojas, Alisa Buchinger…
Their dream was broken at the Paris qualifiers (June 11-13). Their social media posts touched us. Certainly imbued with sadness, they are also full of humanism, hope and truthfulness. Simply emotions.
By Ludovic Mauchien / Photos : DR
---
@tomscott75 : « God said no. I asked him. I tried. But the answer was no"
"God said no. I will not go to the Olympics. I asked him. I tried. But the answer was no. I actually "qualified" in 2 of the 3 phases but lost in all 3 stages to bizarre events :
1. I had it in the world ranking and I entered into a 3 month losing streak that gave it away.
2. The Paris Qualifier should have been a strong event for me and despite showing up prepared, couldn't get it done.
3. I had it as the highest ranked PanAmerican male athlete but my Olympic category was full when the continental inclusion came around.
It's a crazy feeling to have been that close that many times… If the saying is : "God doesn't give you more than you can handle", then, hopefully, losing my ticket 3 times can prove me that much stronger or wiser.
If I've learned anything from sport, it's that you never know how long it will take to get closure, and it may not be what you expect. But mine will come, and I pray I am wise enough to recognize it that day.
If this doesn't break me then I am pretty sure nothing will for the rest of my life. Therefore, that is what this one was meant for. I refuse to live in jealousy and I will not give in to anger. I will not roll over. Congratulations to my Olympic opponents. A great group of gentlemen that I owe so much to. But when I see you next, bring your best game with you. Congratulations to my teammates who did it!! I cannot wait to see your greatness realized.
I did not level up my game and my life for the Olympics. I level up because that is what I live to do. I am not afraid of suffering. It will bring me closer to God if I let it. That is very much still exciting enough for me 😌."
@eleni_chatziliadou : « I am feeling empty. God can't leave it like this after all I have been through"
"After 3 long and difficult years, my Olympic road comes to an END. I am feeling empty but with the time I suppose I will get used to it and I will be fine. Call me crazy, I still believe that God can't leave it like this after all I have been through.
One flash back from this journey : I competed in 16 tournaments over 21 for Olympic points and I ranked in the 1st non qualifying position, without a team and without any kind of support from my federation.
I am the current World Champion, Vice-World and European champion, Bronze World and European medalist, Bronze European Games, Vice Mediterranean Games and K1 medalists. All these years, I was on the World and European podiums. I was competing alone during a war in our federation and I was continuing winning medals.
Every day was hard. They fight me, they made me doubt, they pressured me. I couldn't train with other people. I was training only with my family in our dojo. I had serious injuries in some tournaments and I didn't have any doctor or physio to care me. And many more... We gave all we had as a family for this dream. I feel winner !
I am grateful for all things that happened to my life because I know from which metal I am made from. I want to thank everyone who supported me on this difficult road, my family, my father-coach […].
Today, I am free from all this. I can start finding joy in my life. I am sure I will have only good things in my life and only happiness. I am grateful for each moment I share with all of you. Thank you for your messages and your support. I will be back with a new Greek federation."
@vicky_panetsidou : "I can't believe I won't be there, but not regret. I continue with all my soul"
The Olympic goal has come to an end ! What a crazy 3.5 years have they been ! And I still cannot believe that I will not be there either ! 😢😢😢
It's so hard to fit my thoughts and feelings into a post ! I really fought with all my soul, I did my best to get 1 of the 5 Olympic tickets (there were 10 in total worldwide).
I was injured very badly, I was challenged and fought by people that should have protected me. I ALWAYS traveled completely alone without a coach or even an athlete and at my own expense. I played for a medal without anyone absolutely next to me ! As a last challenge, I was forced to lose 5 kilos to compete in another category than the one I should and that I distinguished myself all these years (-68 kg to -61 kg).
But, in the end, I do not regret any of this ! Because I was distinguished, I glorified my flag around the earth, I traveled, I learned, I met new people and, most of all, I did what makes me happy, while discovering how strong a person can become facing difficulties and situations outside his safety belt !
I thank my angels who were by my side in the joys and sorrows and the people who support me selflessly all these years. I continue with all my soul for the World championship next November with a lot of appetite and a smile! 💪🇬🇷
@jordanthomaskarate : « I gave it my absolute best. I am not ready to stop"
"I gave it my absolute best to achieve something that until a couple of years ago we could only dream of. There has been countless sacrifices made to give myself the best chance, but for me, the Olympic Journey ends here in Paris.
It was a very long and hard competition which sadly came to ahead in just a few short seconds. I am proud of how I battled and how I represented my nation and I can assure you I am not ready to stop. I know who I am. I am a champion.
To all the people at home who have always shown incredible support to me and the team, putting it all out there on the tatami on Friday was for you. And most importantly, My Family and friends who are my absolute rocks through not only the glory days, but the days were it feels like you can't throw another punch or kick. I know I'm not always around, but I wouldn't be where I am today without you and I hope I made you proud.
My heart also goes out to my teammates who gave it everything this weekend; I'm proud to have been representing with you".
@cardinsara : « What can I regret ?! I never gave up. Sometimes, things need to fit in the right way"
"... It always takes a few days off before saying sensible words after a great disappointment... It didn't go the way I wanted. I did not qualify and saying it still brings me a tear falls. And who knows how long it will be like this...
We worked hard for this event even knowing that anything can happen in a tournament and we all believed in it until the end. The European championships two weeks ago motivated us even more because my performance had been excellent and because I had beaten the strongest in the world. Two weeks later, it's still me, Sara, except that sport and especially karate are very unpredictable and there are many variables.
I am angry with myself because I was sure that if I had passed this qualification, I would have won the Olympics and would have liked to put the icing on the cake to this long sporting career. Unfortunately, it did not go like this. To play everything in a race wasn't easy, but I didn't have the choice.
In 2018, when the Olympic qualification began, I suffered from a PL and I started it by breaking my collateral cruciate and meniscus. I had a surgery and came back after 6 months. I reached the ½ final in the first tournament but I had two ligaments broken in my right ankle and a bone edema... I came back after another 2 months, but I had missed a lot of tournaments and points...
I came back to competition left-handed, with a different karate... Maybe even better sometimes, but it still had to be consolidated. Then I won medals again, a bronze, a silver and a gold in Salzburg in 2020. I would have done a come back in the ranking in a few months but the World pandemic came...
I didn't stop, I came back and I had Covid too... Then, I finally got back to my performance standard, I did good in Lisbon and did a really excellent job at the European championships. At that time, we were all dreaming big... But this last competition in Paris didn't go well.
What can I regret ?! I never gave up and the sporting and personal events never took away my determination and smile. But, sometimes, things also need to fit together in the right way."
@Alexandra Recchia : « No words »
"No Words, just a great sadness and a lost soul Thanks for all your messages".
@george_tzanos : strength is about how much can you endure once you've been broken"
"Strength isn't about how much you can handle before you break... It's about how much can you endure once you've been broken..."
@douglasbrose : « It was the most difficult 4,5 years of my life but karate lives in me"
"My Olympic dream ! In fact, it's not over. It will never end, because Olympism and its precepts live inside me. It was the most difficult 4,5 years of my life, 1 torn tendon, 4 ligaments, 1 broken finger, lose weight, gain weight, change category, pandemic, travel, don't travel, and so on.
I did everything, gave my best and left with my head held high. Thanks to everyone who supported me and took the time to try to help me. Thanks to the hundreds of messages of affection I received, karate lives in me and I will remain firm. Oss !
@mariatorresgr : "The sadness is enormous. But we will come back stronger"
"Never, in my worst nightmares, I thought of the end of this Olympic process for which I have fought, trained, suffered and cried so much but I have also won, as an athlete, as a person and I have shown things to myself during these 5 years that I never imagined that could have.
I can also assure you that I have given absolutely my all person to achieve this goal. The sadness that I have right now is enormous, but as time goes by, I will feel proud of this whole process.
Infinite thanks to all of you for your messages of encouragement, to all those who have been part of my team and have helped me get here. To my unconditional support : My family, what to say to you, I have no words for you, I am very lucky of the family that I have. To my father, because today I am who I am thanks to him and once again I am surprised that his support is endless, and he comes as a surprise to be with me. To my mother for always being at the foot of the canyon. We will come back stronger 🤞🏾 »
@rodrigo.rojasm : « The dividends from all this ? I don't know, time will tell..."
SAD BUT IN PEACE❤️. I think this is how I would describe feelings 2 days after finishing a 5 year competitive process.
I feel a deep tranquility of having done the impossible to get where I wanted, it was a long journey that involved crossing barriers of all kinds and pushing my limits beyond what I thought possible, crossing my fears and everything that was necessary to achieve that longed-for goal. This journey finally made me the person I am today, left me smiles and tears😭, blood🩸 and sweat💧, achievements🏅and learnings♻️, great experiences with friends👨‍👩‍👧‍👦 but also long periods of rehabilitation, it allowed me to travel the world 🌎 all over the world, but it also required me not to know about weekends and to endure extensive cycles of exhausting training.
This process of seeking perfection has not been easy and has had great costs, and finally the last objective was not met, I did not qualify for the Olympic Games. This Sunday, I went out to fight with my soul, convinced that I would achieve it, I had been perfecting my mind for 8 years and 21 years of 🥋 at that time, and for details I lost... Of course, I could have done better and I assume full responsibility🙏🏻.
Seeing my dream escape and everything I worked for makes me sad, I know it was not in vain, but a process ends without a happy ending. But at the end of it all, I lived it exactly how I wanted, I chose every path I wanted to travel, every fight I wanted to fight and always in my own way, just as I am. The dividends from all this ? I don't know, time will tell...
@alisabuchinger : « I need some time to reflect and to know how I will continue"
The dream is over 🥺 ❌ For me, the last 3 years were the hardest years in my career... So many up and downs, losing weight, getting back to my normal weight, injuries, losing, winning, this all made me so tired and strengthless !!! I can't describe my feelings now, I am just empty of everything 🙈 Now, I need some time to reflect and to know how I will continue!!
Thanks to everybody who always believed in me and stand behind my back 🙏🏼 I am sorry that I didn't took the ticket for the Olympic Games but I really tried everything over the past 3 years 😘
Tags