My best fight / Eleni Chatziliadou : « I promised it to my father as a little child »…
Play a world final against the running World champion, moreover a Japanese, marks you for life, even more if you win it. Eleni Chatziliadou lived this extraordinary moment in Madrid, in 2018. In the +68 kg final, the Greek was opposed to Ayumi Uekusa. How did she approach her final ? How did she feel... She tells us about it...
By Ludovic Mauchien / Photo : Kphotos
---
« My best fight is definitely my final at the Madrid World championship where I became World champion. I had to fight against the 2016 World champion Ayumi Uekusa so the level of difficulty was high because, first, she was Japanese and, secondly, she was by then the current World champion.
Another factor of difficulty was that, at that time, I had neither professional team behind me (training partners, coaches, psychologists, etc) nor financial support. I did everything on my own with the help of my father and we paid all the expenses of my preparation and the competitions by ourselves until then. Since, I have several private sponsors and the federation. I am so thankful because without them, I couldn't afford to participate any longer and do the Olympic qualification.
This situation, for me, was one more reason to win : to make the impossible possible. And to be able to do it only by ourselves was my biggest challenge. I promised to my father when I was a little child that, one day, I would be the best in the world. Those words, as all the situation, came to my mind before the final. It was a great chance for me and my father to get the opportunity to conquer the world together.
On that day, I had never felt like this before. When I scored the first point in the first minute, I thought time came to win and I was not going to let it escape. I had never felt so focused again.
By scoring the 2nd point, I felt very powerful and confident so I tried to keep the score until the end. The last seconds was the most emotional moment for me and I thought I could take 3 Yuko even if it was not really possible. I decided to score a 3rd point and that was the end of the fight. It's funny because I wanted to fight more. I didn't want to end the fight.
When I heard « and the new world champion is » with my name next to it, I raised my head and my hands up and I had many great feelings. But I had so much respect to my opponent and her coach so I needed to express it with raising her hands and hug them. Then, I hug my father and feel those feelings together. Because that was our moment of joy and happiness that we will remember forever and that will make us feel proud ».
To watch the fight :
https://www.facebook.com/ichliebehellas/videos/282626799043629/?vh=e&extid=ZwEoG6dUZP2qpG3f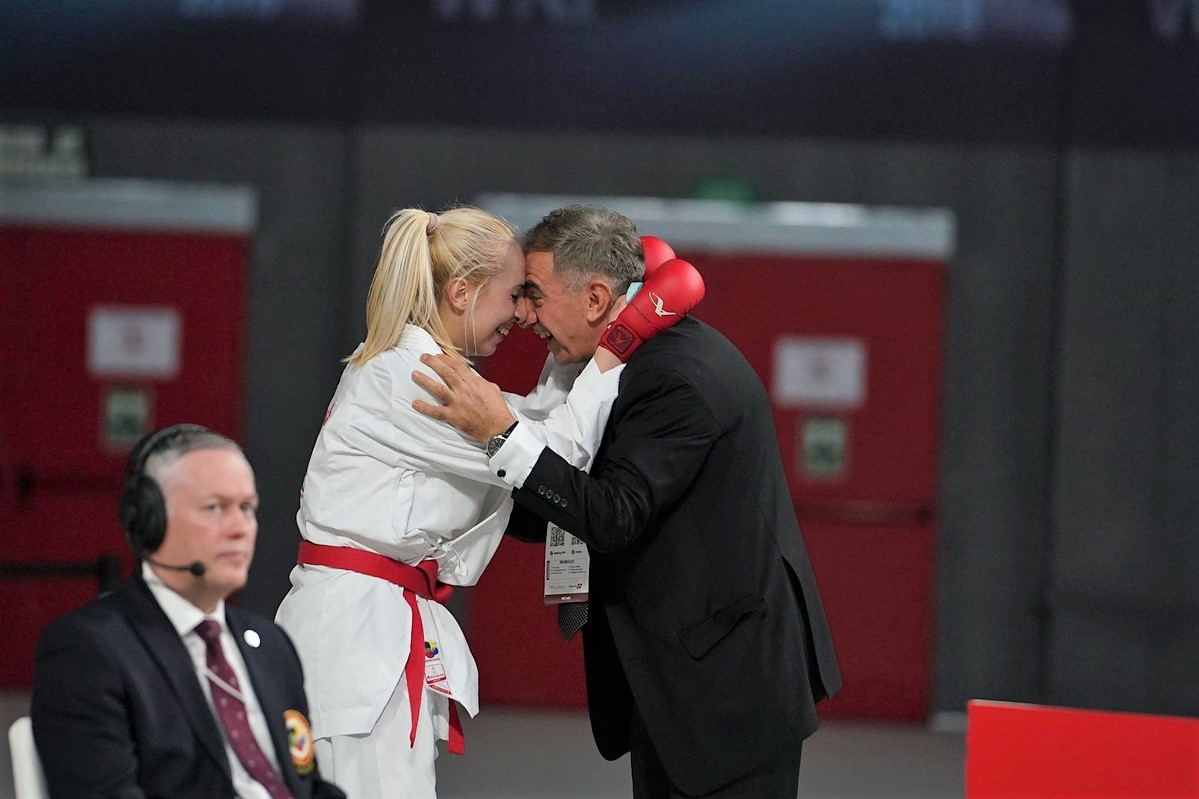 With her father
Tags