Euro2019 / Da Costa and Busa kings of Europe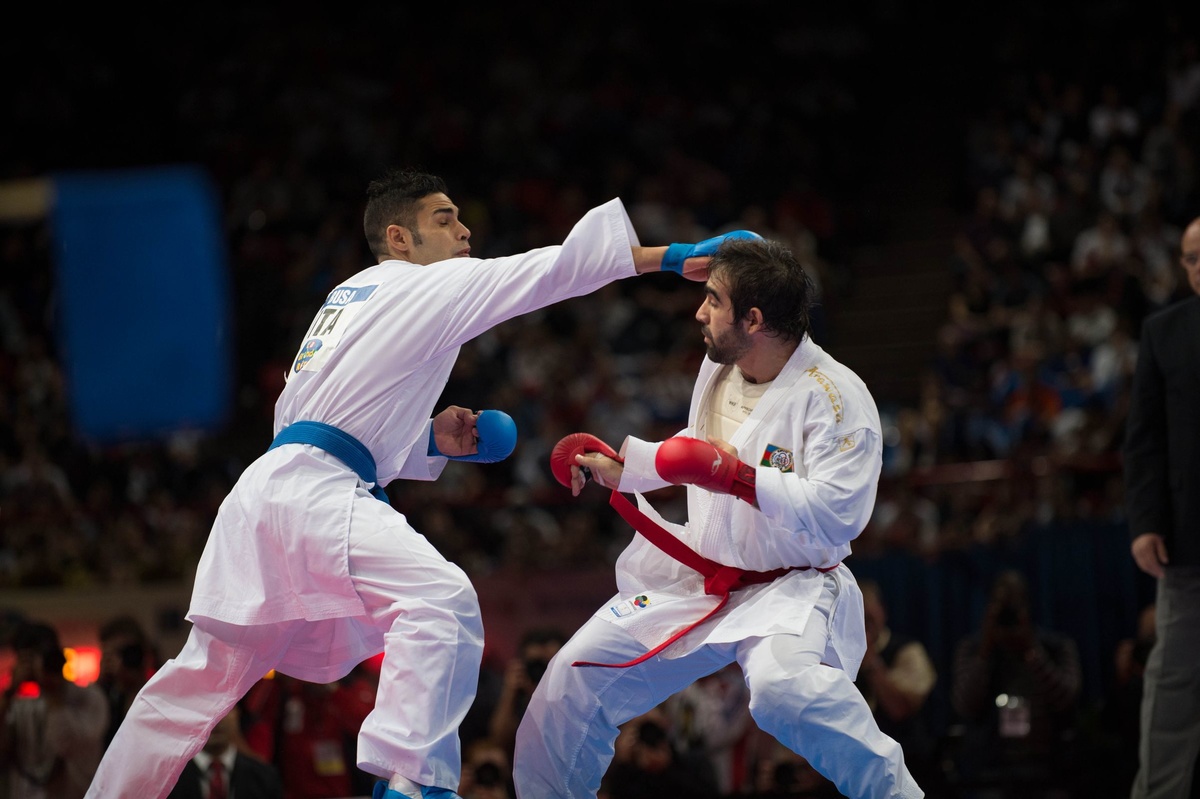 The French World champion Steven Da Costa (-67 kg) won his 2nd continental title by winning 10-1 in the final. Luigi Busa won his 6th one by beating Rafael Aghayev (1-0), as Germany's Jonathan Horne (+84 kg).
By Florian Fournier
Photo : Kphotos
---
-60kg
Surprised by the Russian Plakhutin in the final 2-1, Italy's Crescenzo does not become European champion. Never titled, the Russian fighter achieved the best performance of his career by winning the European championships.
Plakhutin (Rus)
Crescenzo (Ita)
Samdan (Tur) and Pavlolv (Fyr)
-67kg
Steven Da Costa achieved the double "world-Europe". The young French champion won the title of European champion at the expense of Montenegro's Hodzic 10-1 ! Between Yoko Geri, Mawashi Geri and Ura Mawashi Geri, Steven Da Costa gave a real lesson to his opponent.
Da Costa (Fra)
Hodzic (Mng)
Tadissi (Hun) and Pokorny (Aut)
-75kg
In a fight opposing two titans of the sport, it is Italy's Luigi Busa who won by the smallest margins (1-0) against Azerbaijan's Rafael Aghayev. The fight of the day goes to Stanislav Horuna. The Ukrainian champion gave to the public a 9-1 victory over Bosnia's Suljic by scoring a Mawashi-geri chudan followed by a Ura Mawashi-geri jodan.
Luigi Busa (Ita)
Rafael Aghayev (Aze)
3.Horuna (Ukr) and Kellaway (Eng)
-84kg
World n°1 in the category, Turkey's Ugur Aktas won his 3rd European champion title by beating Belarus Isakau (6-0).
Aktas (Tur)
Isakau (Blr)
3. Kvesic (Cro) and Malovic (Mne)
+ 84kg
Reigning world champion, Germany's Jonathan Horne won his 6th European title. Opposed to Serbian Bitevic, the boss of the heavyweight category did not do in detail by winning 4-1.
Horne (Ger)
2. Bitevic (Srb)
3. Kvesic (Cro) and Gurbanli (Aze)

Kata

Damian Quintero won his 6th European champion title without trembling. In the remake of the last final against Turkey's Sofuoglu, the Spaniard once again imposed his technical and physical domination to seek gold.

1. Quintero (Spain)
2. Sofuoglu (Tur)
3. Heydarov (Aze) and Busato (Ita)
Kumite Women

-50kg

She did it ! Sophia Bouderbane became European champion five years after her last European championships (3rd). The young Frenchwoman fulfilled her mission by winning this title. In the final, it is full of control that she won 5-0 against Austria's Plank.

1. Bouderbane (Fra)
2. Plank (Aut)
3. Ozcelik (Tur) and Milivojcevic (Ser)
-55kg
Great premiere for Luxemburg which, thanks to Jennifer Warling, wins a first European title. By beating Turkey's Yakan Tuba 5-4, she signed the performance of the day.

1. Warling (Lux)
2. Yakan (Tur)
3. Connell (Eco) and Goranova (Bul)

-61kg

Winner 4-0 of Slovenia's Ristic, Turkey's Merve Coban won her first title of European Champion. A deserved reward for this athlete always present on the international podiums.

1. Coban (Tur)
2. Ristic (Slo)
3. Serogina (Ukr) and Suchankova (Svk)

-68kg

World champion in 2014 but never titled on the continent, Alizee Agier has just corrected the shot. The French won in the final against Switzerland's Elena Quirici, the running champion (2-1) and thus writes a new line to his record.
1. Agier (Fra)
2. Quirici (Sui)
3. Semeraro (Ita) and Pedersen (Dan)

+ 68kg

At home, Spain's Laura Palacio carried by her public won the European title by winning 2-1 against the world champion, Greece's Eleni Chatziliadou. This is the first continental title for the Spanish.

1. Palacio (Spa)
2. Chatziliadou (Gre)
3. Keinanen (Fin) and Hocaoglu (Tur)

Team Kumite

1. Ukraine
2. Turkey
3. Italy and Germany

Kata

Sandra Sanchez expands her reign. The Spanish won the title of European champion after becoming world champion last November. Never medaled in senior at the continental level, Alexandra Feracci won her first medal. In bronze, the Frenchwoman who performed Papuren overcame Macedonian Jovanoska with a score of 26.08 against 25.46.

1. Sanchez (Spain)
2. Botaro (Ita)
3. Feracci (Fra) and Eltemur (Tur)
Tags