Karate1 Dubai 2020 / Abdelaziz 2020 revelation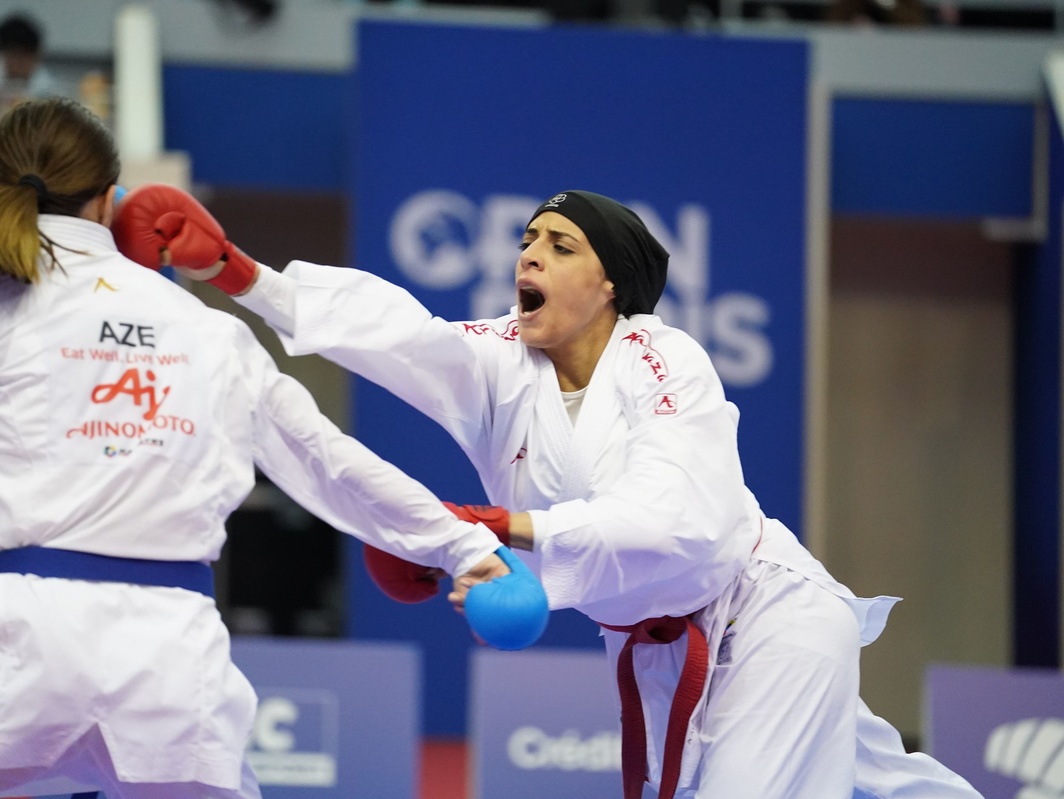 For this second day of the Karate1Dubai, the intensity is always present and the show goes on. Finalist in Paris, the Young Egyptian Abdelaziz continues her brillant season start. Like her, Yin, Horne, Arkania, Hocaoglu, Quintero and Diaz are qualified for the final.
By Florian Fournier / Photo : KPhotos
---
THE MAN OF THE DAY
European Junior champion, Turkey's Ozdemir reached the bronze final in Kata. Hope of the Turkish karate, he achieves here a high-ranking performance despite his young age. In a discipline like kata which requires maturity, Ozdemir already confirms all the promises placed in him. On Sunday, he will face his teammate Goktas to try to win his first medal in K1.
On his side, one proved that veterans are always in place. Antonio Diaz, 5th at OpenParisKarate, 2 times World champion (2010 and 2012), will face Quintero in final.
FIGHT OF THE DAY
Abdelaziz / Zaretska : U21 world champion, finalist of the Open Paris Karate and since last week, African champion, Egypt's Feryal Abdelaziz takes her revenge on Azerbaijan's Zaretska who had beaten her in Paris. In a one-way semi-final, the young Egyptian won 4-0 (Zaretska was on a series of 4 wins over the last 4 K1).
FINALS
KATA M
Final : Diaz (Ven) / Quintero (Spa)
Bronze : Busato (Ita) / Wang (Tpe) and Ozdemir (Tur) / Goktas (Tur)
-61kg
Final : Alesaadi (Ira) / Yin (Chn)
Bronze : Lotfy (Egy) / Suchankova (Svk) and Alipourkeshka (Ira) / Gataulina (Rus)
-68kg
Final : Abdelaziz (Egy) / Gong (Chn)
Bronze : Quirici (Swi) / Buchinger (Aut) and Agier (Fra) / Zaretska (Aze)
+68kg
Final : Hocaoglu (Tur) / Abouel (Egy)
Bronze : Chatziliadou (Gre) / Okila (Egy) and Berultseva (Kaz) / Palacio (Spa)
-84kg
Final : Poorshab (Ira) / Yuldashev (Kaz)
Bronze : Khodabakhshi (Ira) / XXX and Abdesselem (Fra) / Spasenovski (Mkd)
+84kg
Final : Horne (Ger) / Arkania (Geo)
Bronze : Jacquet (Fra) / Mahmoud (Egy) and Rojas (Chi) / Hamedi (Ksa)
Tags