Karate1Dubaï 2020 / Aghayev wins again !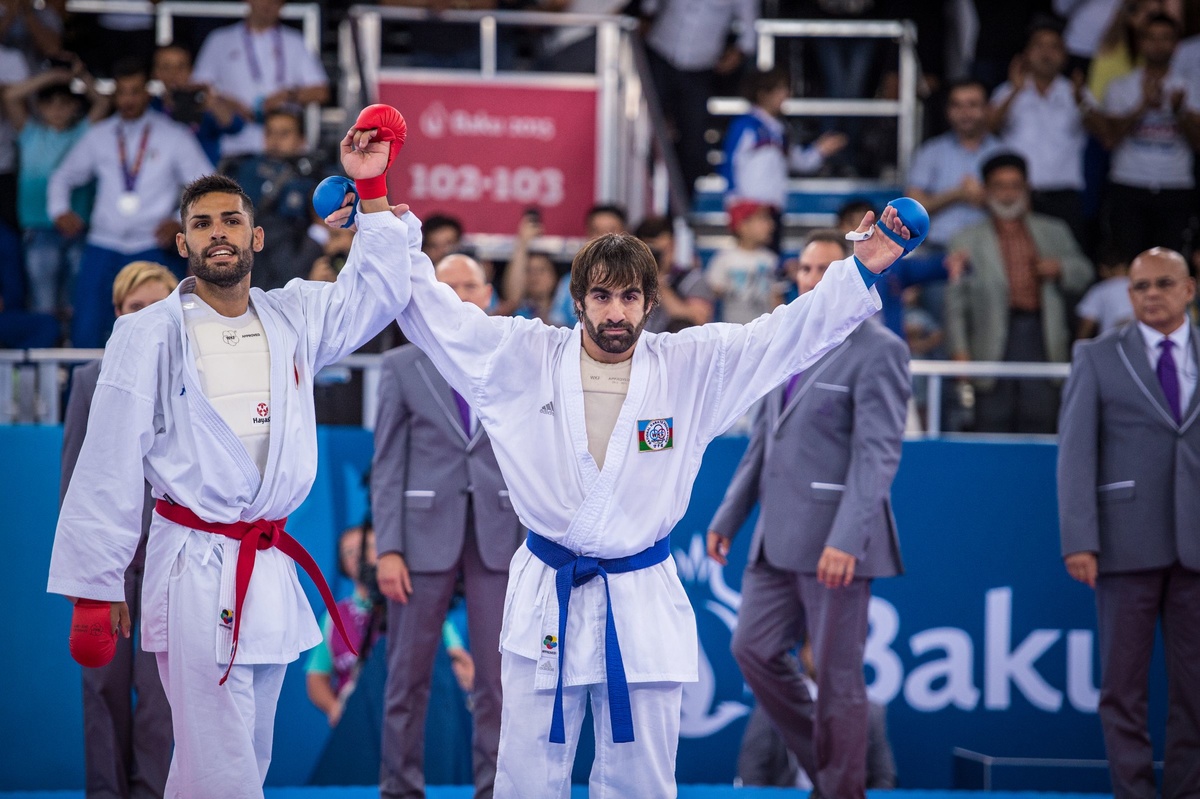 On this last day of the Karate1Dubaï 2020, Rafael Aghayev won the title with a great final against Luigi Busa. With a mawashi geri shudan at the last second of the fight, he won 3-2. Like Aghayev, Da Costa, Yin, Poorshaab, Ozcelik and Gong mage a great show during this finals.
By Florian Fournier / Photos : KPhotos
---
Today's scores
Several fights for the bronze were rich of points. The first one is the -55kg one between Tuba Yakan and Dorota Banaszczyk. Led 6-0, the Polish World champion came back to 6-6, then tehy both scored at the same time (7/7). The sensu of the Turkish was removed for a penalty but she won thanks to the flags.
In the + 84kg, Hamedi inflicts a severe 7/0 to Chile's Rojas.
The move of the day
In an unprecedented final between Turkey's Ozcelik and Spain's Morales, Serap Ozcelik scored a mawashi geri jodan at 2/2 to win 5/2.
Magistral in Paris, Steven Da Costa inflicted a 6/0 in 35 seconds with two Ura Mawashi Geri to Brazil's Vinicus Figueira.
In the -84kg category, Iran's Zabiollah Poorshab performed the comeback of the day and the move of the day. Led 4-1 by Kazakhstan's Yuldashev, Poorshab scored a Mawashi Geri Jodan (4-4). It was then 5-5 before a fantastic sweep of the Iranian who won 8-5.
The fight of the day
Aghayev vs Busa : Rivals, friends, champions, Rafael Aghayev and Luigi Busa fought a match as they are used to, tight but this time it is untied 1 second from the end. Led 2/1 after suffering a counter-atatck, the five-time Azerbaijani World champion scored a Mawashi Geri Shudan 1 second from the end which allowed him to win 3/2.
Podiums
-60kg
Finale : Crescenzo (Ita) b. Assadilov (Kaz) 2/0
Bronze : Arifi (Alb) b. Plakhutin (Rus) 3/3 et Xenos (Gre) b. Dulovic (Mne) 2/0
-67kg
Finale : Da Costa (Fra) b. Figueira (Bra) 6/0
Bronze : Ngamphuengphit (Tha) b. Garin (Fra) 6/2 et Uygur (Tur) b. Hasanov (Aze) 2/0
-75kg
Finale : Aghayev (Aze) b. Busa (Ita) 3/2
Bronze : Asgari (Ira) b. Eltemur (Tur) 2/0 et Abdelaziz (Egy) b. Ainazarov (Kaz) 5/0
-84kg
Finale : Poorshab (Ira) b. Yuldashev (Kaz) 8-5
Bronze : Abdesselem (Fra) b. Spanenovski (Mkd) 4/0 et Khodabakhsi (Ira) b. Chikhmarev (Kaz) 1/0
+84kg
Finale : Horne (All) b. Arkania (Geo) 2/1
Bronze : Jacquet (Fra) b. Mahmoud (Egy) 6/4 et Hamedi (Ksa) b. Rojas (Chi) 7/0
Kata M
Finale : Quintero (Esp) b. Diaz (Ven)
Bronze : Busato (Ita) b. Wang (Tpe) et Ozdemir (Tur) b. Goktas (Tur)
-50kg
Finale : Ozcelik (Tur) b. Miyahara (Jap) 5/2
Bronze : Plank (Aut) b. Li (Chn) 2/0 et Bahmanyar (Ira) b. Sayah (Mar) 3/2
-55kg
Finale : Terliuga (Ukr) b. Attia (Egy) 1/0
Bronze : Yakan (Tur) b. Banaszczyk 7/7 et Messerschmidt (All) b. Wen (Tpe) 2/1
-61kg
Finale : Yin (Chn) b. Alesaadi (Ira) 3/1
Bronze : Lotfy (Egy) b. Suchankova (Rus) 2/1 et Alipourkheshka (Ira) b. Gataulina (Rus) 3/1
-68kg
Finale : Gong (Chn) b. Abdelaziz (Egy) 3/0
Bronze : Zaretska (Aze) b. Agier (Fra) 3/3 et Quirici (Sui) b. Buchinger (Aut) 1/0
+68kg
Finale : Hocaoglu (Tur) b. Abouel (Egy) 2/1
Bronze : Palacio (Esp) b. Berultseva (Kaz) 4/0 et Okila (Egy) b. Chatziliadou (Gre) 1/0
Kata F
Finale : Sanchez (Esp) b. Kokumaï (Usa)
Bronze : Lau (Hkg) b. Afsaneh (Ira) et Eltemur (Tur) b. Chien (Tpe)
Tags